Hays goes for gold thanks to post-COVID-19 recruiting boost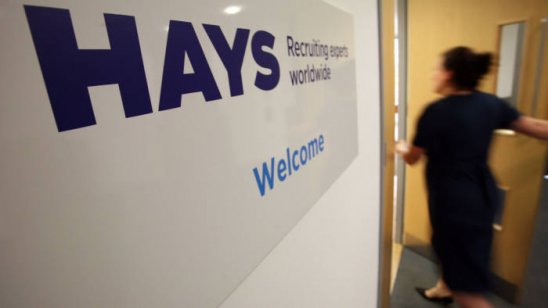 British recruitment and human resources firm Hays has reported strong growth in its fourth-quarter statement today, down to a boost in recruitment driven by a strong recovery.
Recruiting fees rise
The company posted a 39% rise in fourth-quarter net fees and saw a sharp rise across all markets, including permeant jobs with fees, which was up 67%
Hays, which mainly focuses on office and clerical hiring, said it now expects operating profit for the year to be about £95m, compared with the fourth quarter for 2020 where its operating profit was £135m.
However, the company warned that the strengthening of sterling compared with the euro and Australian dollar – its main trading currencies – could act as a headwind to 2022's operating profit.
"If we retranslate our full year 2021 operating profit guidance of circa £95m at today's exchange rates, we will see a circa £4m decrease in full year 2021 group operating profit, and clearly FX movements will have a larger negative impact as group operating profit increases in full year 2022," said Hays.
What is your sentiment on HAS_GBP?
Vote to see Traders sentiment!
Good quarterly momentum
Alistair Cox, Hays' CEO, said: "We continued to see good momentum throughout the quarter, particularly in Perm, and I am pleased to say group fees and profits were ahead of our expectations. All our key markets rebounded significantly as business confidence rose and we saw strong recovery in our largest markets of Germany, Australia and the UK.
"This was also mirrored in the rest of the world, including nine record fee performances including the USA and China. There are clear signs of skill shortages and wage inflation in certain industries, particularly technology and life sciences.
"We see many opportunities to build much bigger businesses and we are focused on positioning Hays to be the market leader in the most attractive long-term sectors and geographies. Our strong brand and management teams globally, and our financial strength, give me confidence that we will take further market share as the economic recovery continues."
Recovery from the pandemic
The recruitment industry took a severe hit last year due to the COVID-19 pandemic. With offices closed and people working from home, most businesses implemented a hiring freeze – and Hays admitted in its fourth-quarter statement last year that its business was "heavily impacted by the pandemic".
Kunal Sawhney, CEO of independent equities research firm Kalkine Group, told Capital.com: "The recruitment firm Hays has recognised a 39% growth in the net fees in the fourth quarter [that] ended 30 June 2021, on the basis of like-for-like sales.
"The total fees in temporary hiring, constituting 58% of the group fees, and permanent employment services, accounting for 42% of the total, surged by 24% and 67%, respectively. With a sharp growth in the reporting quarter, the London-headquartered human resources services provider has started the new fiscal year on a positive note.
"The company remains on track to capitalise and deliver a sustainable increase in the headcount, subsequent to the massive reopening in England, as well as in plans of [the] moderate restart in various locations across the world.
"Anticipating a net profit of approximately £95m for full year 2021, Hays stands with net cash of £410m, nearly 12% higher as compared with the net cash of £366.2m as on 30 June 2020. With the board planning to resume core dividends, the management has set aside a sum equivalent to £150m, which is likely to be distributed to the shareholders through a special dividend in two phases."
Trade Hays PLC - HAS_GBP CFD
Read more: UK job market continues to recover