H&M reinstates dividend as it posts September profit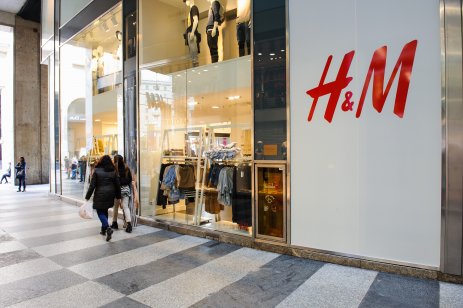 Swedish fashion group H&M has reported an increase in profit for September and is reinstating its dividend as it recovers from the impact of Covid-19.
The retailer posted a pre-tax profit of SEK6.1bn ($693.3m) for the third quarter ending 31 August, up 158% from a year earlier.
Overall net sales increased 14% year on year, while online sales were up 22%. Of the company's physical stores, 100 remained closed at the end of the quarter compared with 180 at the start of the quarter.
At one point during the Covid-19 pandemic, 1,800 stores were temporarily closed.
"The H&M group's increase in profit for the quarter is mainly a result of well-received collections with more full-price sales, lower markdowns and good cost control," chief executive Helena Helmersson said in a statement.
Supply disruptions
However, H&M said supply disruptions had still hampered sales in September, with the pandemic upsetting global supply chains, leading to shortages of goods, containers, storage and transport drivers – all causing a spike in shipping costs.
"Sales in September 2021 were slightly higher than in the corresponding month the previous year in local currencies, even though demand was not able to be fully met because of disruption and delays in product flow," the company said.
Helmersson also warned the consequences of the pandemic are not yet over.
"​​We are humbled by the many challenges in the world around us that affect our business, which call for a high level of flexibility and drive. We have quickly adapted by prioritising cash flow, cost control and flexibility," she said.
"With our continued transformation and our well-positioned customer offering – to meet customers' ever-increasing expectations of good value and sustainable fashion – we are optimistic that we will see long-term, profitable and sustainable growth for the H&M group."
Dividend payment
The group's board also proposed a dividend of SEK6.5 per share on Thursday, to be paid in November.
H&M had said in July that the prospects of paying a dividend in the autumn were very good after it suspended its 2020 payout proposal last March when the pandemic hit.
"The board now considers that the H&M group's improved profitability, strong financial position and the stabilised market conditions, combined with our ability to manage to impact of the pandemic on our business, makes a dividend possible," said board chair Karl-Johan Persson in a statement.
"Even after the dividend we will be financially strong and able to continue investing in the customer offering and our business, thereby strengthening our position further."
H&M's shares were down 1.2% late Thursday morning at SEK182.44.
Read more: Pound boosted by upward revision to second-quarter UK growth