Green products seller Grove to merge with Virgin Group SPAC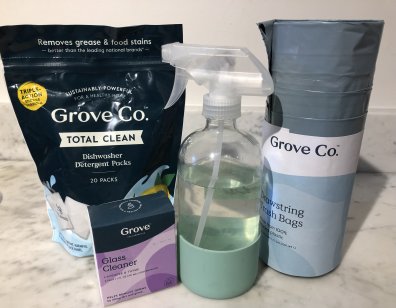 Environmentally friendly consumer-products company Grove Collaborative has entered into an agreement to merge with Virgin Group Acquisition Corp. II (VGII), a special purpose acquisition company affiliated with Sir Richard Branson.
The SPAC transaction is expected to close in late Q1 or early Q2 of 2022. The deal implies a combined company enterprise value of about $1.5bn (£1.14bn).
Grove, which sells household and personal care products that are natural and sustainable, is based in San Francisco and was founded in 2016. It anticipates revenue in 2021 will total $385m and aims to grow that figure to $600m by 2024.
Company to be on NYSE
The merger transaction is expected to generate $435m in net proceeds for Grove if there are no SPAC shareholder redemptions. The newly combined company intends to list on the New York Stock Exchange under the ticker GROV.
Speaking on CNBC's Squawk on the Street in an appearance with Grove co-founder and CEO Stuart Landesberg, Branson said the Virgin SPAC is merging with Grove because the company combines its purpose with profit potential.
"What it's doing is deeply aligned with Virgin's purpose and ethos," Branson said. "It's at the forefront of the growing demand for purpose-led home and personal care products. It's focused on a sustainable future with the ability to grow quickly, to innovate quickly, and it has access to millions of customers and it's the leader in this space."
Direct selling
Although Grove started selling some of its own brand-name products through Target this past spring, it mainly offers its goods directly to consumers as either a subscription model or on an as-needed basis. Customers receive a free gift with each order, provided a minimum is purchased. The company currently has 1.5 million consumers actively using its platform, where Grove carries products it manufactures under its own brand name alongside items from other manufacturers that fit the green theme.
In a Grove press release, Branson said, "Grove is paving the way for people to have more access to healthy, sustainable goods for their homes, and I am excited to see the company's impact on customers' health and well-being."
Grove's Landesberg said the merger will help the company remain at the forefront of innovation when it comes to producing sustainable products that perform as well as conventional ones while still being offered at an attractive price point.
Transforming consumer products
"Grove's purpose has always been to transform the consumer products category," Landesberg said. "These are products that are in almost every home in the world – dish soap, laundry detergent, bath tissue – products that have a mixed track record in human health and a terrible track record in terms of their impact on the environment. We believe that these products can be transformed to have a positive impact on our health and on the environment."
The SPAC transaction includes a fully committed $87m common stock PIPE (private investment in public equity) with contributions coming from an affiliate of the sponsor of Virgin Group Acquisition Corp. II, plus new and existing Grove investors, including Lone Pine Capital, Sculptor Capital Management, General Atlantic and Paul Polman. Grove CEO Stuart Landesberg participated in the PIPE financing. All of Grove's existing shareholders will roll their equity into the combined company.
Read more: Vera Bradley (VRA) stock falls after missing Q3 estimates