Grab app celebrates historic listing, but stock price drops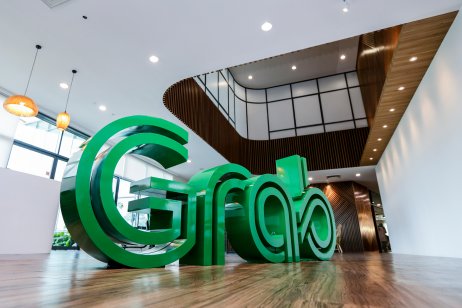 Grab Holdings, a Singapore-based tech company that provides a super-app offering ride hailing, deliveries and financial services, started trading on the Nasdaq on Thursday following a special purpose acquisition company (SPAC) merger.
A super app is a mobile application that offers various seemingly unrelated services through a single mobile interface.
Grab's founders rang the opening bell to commemorate the largest-ever US public listing of a Southeast Asian company. The share price opened at $13.06 on Thursday and had dipped below $9 by mid-day.
Grab merged with Altimeter Growth in a transaction that implies an enterprise value of $39.55bn (£29.7bn). The deal raised $4.5bn in cash proceeds for Grab.
Spotlight on SE Asia
The opening ceremony held in Singapore was another milestone as it marked the first time the Nasdaq had its bell rung from Southeast Asia, said Bob McCooey, Nasdaq's global head of capital markets and chair of the Asia-Pacific region.
"Today we shine a spotlight on Southeast Asia and how its homegrown tech companies are powering new possibilities for the region's 660 million people," Grab CEO and co-founder Anthony Tan said.
In addition to Singapore, Grab also serves customers in Thailand, Vietnam, Cambodia, Myanmar, Malaysia, Indonesia and the Philippines, covering 465 cities in all. As of December 2020, Grab had 25 million monthly transacting users and 5 million registered drivers.
Grab financials
In 2021, Grab's first three quarters ending on 30 September showed record gross merchandise value (GMV), totalling $11.5bn. In 2020, GMV, or total volume sold, came to $12.5bn with an adjusted net revenue of $1.6bn.
The company has not yet turned a profit.
Grab began operations in 2012 as a ride-hailing app. Since that time, its offerings have grown to include food, grocery and parcel delivery. It also added financial services such as mobile payments, a GrabPay Mastercard, loans for drivers, working capital loans and invoice financing for merchants, as well as insurance for drivers and consumers.
Harvard connection
Tan and Tan Hooi Ling, the Grab co-founders, first met at Harvard Business School.
"We were greatly inspired by the many examples of double bottom-line companies – those dedicated to delivering profit and social impact at the same time" the co-founders said in a presentation.
They decided to start with ride-hailing because they felt the taxi system already in place was not safe.
"Back then, you would not have felt great about your family members taking a taxi alone in many cities around the region. The simple act of going somewhere could be a safety risk," they said.
The entrepreneurs also believed they could provide a financial lifeline for drivers who did not have adequate access to economic opportunity.
"The nexus of both the passenger and driver needs gave rise to the idea behind the business that became Grab in 2012," they said.
Digitisation of SE Asia
"Grab's powerful flywheel combining ride-hailing, delivery and payments has demonstrated durable growth even during the pandemic and is playing a foundational role in the digitisation of Southeast Asia," Altimeter founder and CEO Brad Gerstner stated in a press release.
The merger with Grab was approved by Altimeter's stockholders on 30 November.
Proceeds of the transaction include a fully committed $4bn PIPE, or private investment in public equity, with $750m from funds managed by Altimeter Capital Management. Other investors include funds and accounts managed or advised by BlackRock, Counterpoint Global and T. Rowe Price Associates.
Read more: Grab delays bn SPAC merger