Gold: Technical Outlook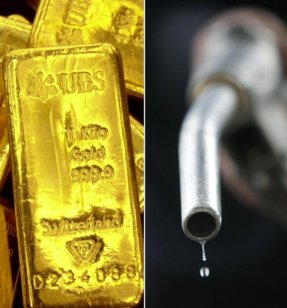 Any material provided is for information purposes only and is not investment advice. Any opinions that may be provided are not a recommendation by Capital Com or its agents. We do not make any representations or warranty on the accuracy or completeness of the information that is provided. If you rely on the information on this page then you do so entirely on your own risk.
Gold Stalls at Resistance

Since the start of the conflict in Gaza gold has rallied a whopping 10%, reflecting investor demand for its safe-haven attributes during times of heightened global geopolitical tensions.

Initially, gold prices were languishing near the February and March lows in early October. However, since then, the precious metal has made a strong move upwards, approaching the resistance levels formed in July, as illustrated in the daily candle chart below.

Nevertheless, in recent trading sessions, the momentum behind gold's rally has shown signs of diminishing. The spot gold price has managed to close above the July swing highs only on two occasions since it was initially tested on October 20th.

While it's common for markets to consolidate after rapid upward movements, there is now potential for an extended period of mean reversion. Notably, the 50-day moving average (MA), closely aligned with the 100MA and 200MA, coincides with the Volume Weighted Average Price (VWAP) from the outset of the October rally, creating a "value cluster." This cluster may serve as a target for a deeper pullback.

Gold (spot price) Daily Candle Chart
Past performance is not a reliable indicator of future results

If we drill down to the detail of the 4hr candle chart (below), we can see that prices are starting to form a head and shoulders reversal pattern at the July swing high resistance level.

A break below the neckline would confirm the head and shoulders reversal and could trigger a deeper pullback into the 'value cluster' outlined above.

Gold (spot price) 4hr Candle Chart
Past performance is not a reliable indicator of future results



Risk Management:

The price of gold is highly sensitive to fluctuations in the US dollar, geopolitical tensions, and economic growth indicators. Ongoing conflicts, such as the one in Gaza, are expected to keep gold's volatility elevated. Additionally, this week's economic calendar features Chinese November Consumer Price Index (CPI) and Producer Price Index (PPI) inflation rate data, which could impact the price of gold.