Gold stocks fall as Treasury yields sink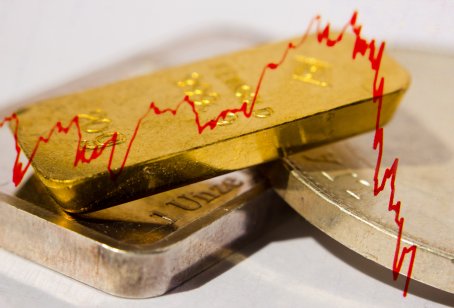 Gold contracts fell on Thursday, losing more than $41 (£30) in value in one of the worst single trading drops in nearly two months.
The contracts finished trading at $1,753.80.
Shares of gold mining companies felt the heat as well, with Hecla Mining and Coeur Mining down 9% and 13.1% on the day, respectively.
Other precious metals such as silver, copper, and platinum also tumbled. Silver lost more than 1% in value while copper and platinum lost 0.12% and 7.2%, respectively.
Palladium finished the day up 29.5% to $2,021.50 per contract.
Optimistic picture
Some analysts say that part of the reason for the drop is that recent data is painting an optimistic picture for the US economy.
US Treasury yields have been climbing after data showed US inflation is beginning to cool off and the US retail industry is beginning to recover, growing 0.7% in August.
Ross Norman, chief executive officer at Metals Daily, told MarketWatch that the numbers show confidence in gold is "light, vulnerable even."
"Clearly, the unexpectedly strong U.S. retail sales have boosted the dollar and gold has corrected sharply lower," he said. "It appears the move lower has been accelerated by stops being triggered and is now touching support at $1,750."
What is your sentiment on Gold?
Vote to see Traders sentiment!
Room to drop
Other analysts say the worst is yet to come and that there is still room for the precious metal to drop.
Next week, the US federal Reserve is expected to announce whether it will taper its bond purchases, a sign that the central bank is slowly letting the economy stand on its own two legs.
If the Fed reverses course, however, gold shares could go skyrocketing, Edward Moya of OANDA told Investor Palace.
"Once the market can see past these next few months of pricing pressures, the reality of global disinflation forces will likely put an abrupt end to the move higher in Treasury yields, triggering a resumption of gold buying for many investors," Moya said.