GM seeks to double revenue with new EVs, software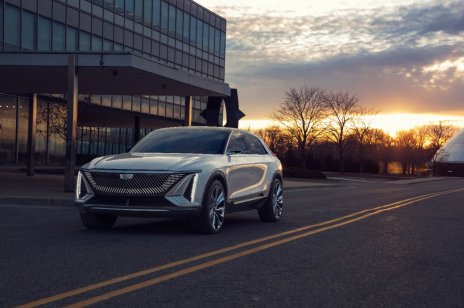 US automaker General Motors laid out its vision of an electric vehicle and autonomous future that will double annual revenue to $280bn by 2030, the company said during its 2021 investor day presentation.
GM also intends to increase its operating profit margins by 2030 to 12%–14%, up from around 8% in full-year 2020, according to Wedbush automotive analyst Daniel Ives. Wedbush maintained its $85 per share price target for GM, which represents a strong upside from the $54 range it was trading on Wednesday.
"We believe GM's financial targets are achievable and ultimately beatable as the company converts the vast majority of its customer base to EVs (electric vehicles) over the coming years," Ives wrote in the report obtained by Capital.com. "We believe by 2026 GM will be able to convert 20% of the installed base to EVs which remains the key to our re-rating thesis as part of this renaissance of growth happening in Detroit with the green tidal wave."
New vehicles
The first way GM intends to reach those lofty revenue figures is through the sale of 30 new EV models it has pledged to produce by 2025.
These include its existing Chevy Bolt, the Cadillac Lyriq, which went on advance sale last month and is expected to ship late next year, the GMC Hummer EV pickup and SUV and the new electric Chevy Silverado and GMC Sierra pickups.
GM teased a photo of the new Silverado EV's glass roof during the presentation and said it plans to unveil both pickups during its keynote speech at the Consumer Electronics Show in January.
In June GM increased its targeted electric vehicle/ autonomous vehicle investment spend to $35bn over the 2020-2025 time frame. GM also plans to achieve annual global EV sales of more than one million by 2025, with 40%-50% EV penetration in the US by 2030.
"The company is a clear leader among its peers in what we characterise as a necessary core to future transition efforts for the industry," Bank of America analysts wrote in a report obtained by Capital.com. "Bold steps such as exiting Europe and preemptive structural cost actions are evidence that GM is capable of transformative change, which is encouraging. Ultimately, we believe GM already has much of the pieces in place for its Future business, with some incremental refinement/rationalisation likely forthcoming."
What is your sentiment on GM?
Vote to see Traders sentiment!
Software enhancements
Reaching its revenue goals also requires new revenue streams from the sale of software as a service.
The carmaker said it will drive subscription revenue through its Super Cruise and Ultra Cruise hands-free driving platforms, which provide GM drivers varying levels of autonomous driving capabilities. GM also said the autonomous rideshare company Cruise, which is majority-owned by GM, will be commercially viable in the near term.
GM also announced its Ultify software that will enable over-the-air software updates in all new GM EVs and internal combustion engine cars.
Battery platform
General Motors also highlighted its battery platform Ultium, which it says provides more flexibility than what other car manufacturers do when they try to stick batteries into existing car frames.
Eventually, GM intends for this battery framework to be a new source of revenue in the same way it has sold engines for boats, trains and other all-terrain vehicles throughout its history.
That includes innovations in hydrogen fuel cell technologies, which it says can replace many diesel-operated vehicles today including semi-trucks, trains and planes.
General Motors also announced it signed a non-binding memorandum of understanding with GE Renewable Energy to improve supplies of heavy and light rare earth materials and magnets, copper and electrical steel used for manufacturing of electric vehicles and renewable energy equipment.
GM said it cut the cost of battery production by 60% in its latest Ultium platform compared to its first-generation product for the Bolt EV. New spending on battery facilities will help reduce those costs even further.
Read more: Automaker shares up on strong September sales, EV news