Global stocks fall on fears of growth-sapping rate hikes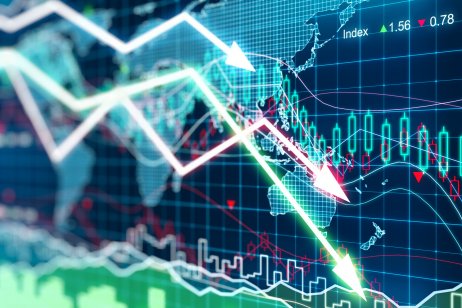 Global equity markets fell sharply on Wednesday as concerns over surging energy inflation raised investor expectations that growth-sapping interest rate hikes will arrive sooner than forecast.
In Europe, the STOXX 50 index fell 2.3%, while the main indices in Germany and France were both down by the same amount. In Asia, Tokyo's Nikkei 255 ended 1.1% lower, while the Hang Seng in Hong Kong shed 0.6% and South Korea's Kospi Composite lost 1.8%.
Early equity market futures trading in New York indicated opening losses for US stocks, with Dow, S&P 500 and Nasdaq futures all down by more than 1% at midday in London.
"Worries about inflation and rising energy prices and shortages around the world are pushing global stock markets lower," said Jennifer Lee, senior economist at BMO Capital Markets.
Haven trade breakdown
Despite the 'risk-off' mood in equity markets there was little support for haven assets such as gold and US Treasuries.
Inflationary fears in the US have driven a sell-off in US Treasury markets, forcing yields higher. The yield on the benchmark 10-year Treasury hit a four-month high of 1.57% on Wednesday.
The rise in yields provided support for the dollar, which was trading near a 12-month high, with the US Dollar Index, a measure of the US currency's strength against a basket of its rivals, up 0.5% at 94.41 by midday on Wednesday.
Even the New Zealand dollar – whose central bank today embarked on an interest rate tightening cycle – fell sharply against its strong US counterpart, down 1% at $0.6891.
Haven plays such as gold were not in play, however, due to dollar strength: because gold is denominated in the US currency, rising dollar values makes it more expensive to purchase gold in non-dollar currencies.
"Gold's link to other market developments looks increasingly broken with the metal struggling to find a bid despite the continued surge in costs seen through higher prices from crude oil and gas to cotton," said Steen Jakobsen, chief investment officer at Saxo Bank.
What is your sentiment on NZD/USD?
Vote to see Traders sentiment!
Brent crude breaks link with WTI
While both natural gas and the West Texas Intermediate (WTI) US crude oil futures both eased back in face of suppressed risk appetite, the European oil benchmark Brent crude rose 1% to a fresh three-year high as energy shortages in Europe persisted.
Oil inventory data in the US on Tuesday indicated that supplies remained robust, as stockpiles of crude grew by 951,000 barrels last week.
Conversely, Europe's oil and gas supplies are dwindling, while even North Sea wind power has provided less energy this year.
Read more: Dollar strength underpinned by rising inflation expectations