Steel output falls 10% in November as China curbs production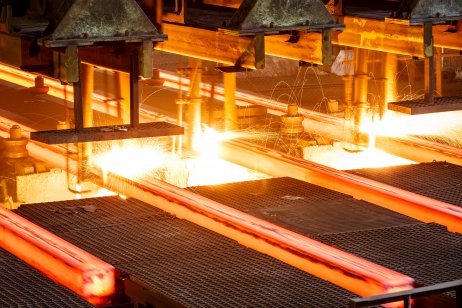 World crude steel production dropped by 9.9% to 143.3 million tonnes in November from the same period a year ago on lower production from China, the world's top producer, according to recent data from the World Steel Association (WSA).
China's crude steel production fell sharply by 22% to 69.3 million tonnes in November year-on-year. WSA did not give details on the reason for the fall, but the country remained the top producer among 64 countries that reported their production to the Brussels-based association.
China has been curbing its energy-intensive steel production as the country is cutting emission ahead of the 2022 Winter Olympics in February.
More China output cut
Fitch Ratings in November forecast a 30 million tonnes cut in China's steel production in the first quarter of 2022 from the winter heating season production control.
"In addition, air-control measures for the Beijing Winter Olympics Games could potentially cause a further decrease," the rating agency said.
India churned out 9.8 million tonnes of crude steel, a 2.2% increase from a year ago that puts the country in second place after China. Japan is the third largest producer among the countries, with output rose by 10.7% to eight million tonnes.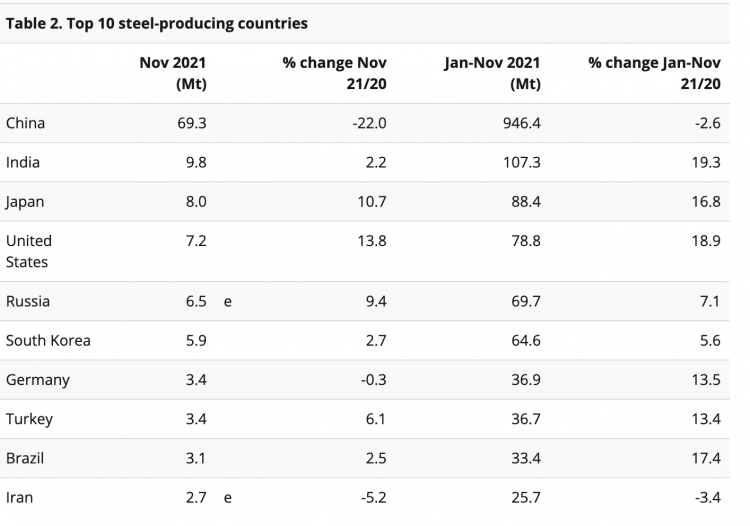 Top 10 steel-producing countries – Credit: World Steel Association
Asia remains biggest producer
The US ranks fourth with output up 13.8% to 7.2 million tonnes.
For production by regions, Asia and Oceania combined remain the biggest producer, accounting for 68.5%, despite a drop in output. The region produced 98.3 million tonnes in November, down 15.5% year-on-year.
The 27-nation European Union produced 12.9 million tonnes of crude steel in November, up 3.7% year-on-year, while non EU countries produced 4.3 million tonnes, up 4.4%. The 64 countries in WSA account for 98% of total world crude steel production in 2020.
Read more: Iron ore prices advance on bullish China's demand