Global risk assets slump as new Covid variant emerges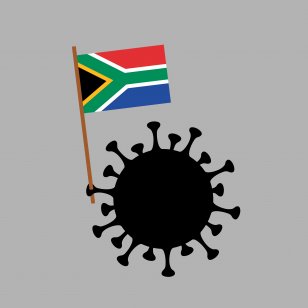 Global equities, crude oil and emerging market currencies suffered their worst losses since the early days of the pandemic in 2020 on Friday after the discovery of a South African variant of the coronavirus spooked investors.
Concerns over the economic impact of further national lockdowns and other restrictions dominated trade, prompting a heavy sell-off in risk assets such as stocks, and a flight to safety in assets such as gold and quality sovereign bonds.
Black Friday seen on Wall St
As markets in Europe were closing, stock indices on Wall Street, which reopened on Friday following Thursday's closure for the Thanksgiving holiday, were sharply lower at midsession. The Dow Jones Industrial Average was down 1,025 points, or 2.9% at 34,779, the Nasdaq fell 2,2% and the S&P 500 lost 2.3%.
The new Covid variant, which carries a mutation called N501Y that appears to make it more contagious, was clearly striking fear into global markets on a trading day - the Friday after US Thanksgiving - that is traditionally one of low volumes, which added to the turbulence.
"More information on the variant will be needed, but it looks like it is indeed going to be a very 'black' Friday for global risk sentiment," said Chris Turner global head of markets at ING.
Nigel Green, chief executive of financial advisory group DeVere, was more positive, expecting the sell-off to be brief.
"Wall Street was closed yesterday meaning that a large bulk of global trades were missing, making other moves more pronounced," he said
He added: "This wobble is likely to be temporary with markets remaining bullish for the time being. They largely shrugged off the Delta variant that caused a mini wave of market nerves in the summer and it's likely they will do the same with this new variant."
What is your sentiment on UK100?
Vote to see Traders sentiment!
European equities
European equity markets closed at their lowest points of the session as losses in the US accelerated. The Chris Beauchamp, chief market analyst at IG.
The biggest fallers in London were travel stocks, with the likes of cruise operator Carnival and holiday booking agency Tui both losing more than 11% in midsession trade.
Equity markets in Asia were also sharply lower with the Nikkei 225 in Tokyo down 2.5% and the Hang Seng in Hong Kong down 2.7%.
Unnerved currencies and energy
The South African rand was among the emerging market currencies worst hit by the global sell off in risk assets, down 1.8% against the dollar, while the Mexican peso was down 1.6%.
Oil also sufferred heavy selling taking Brent crude back below $80 a barrel to a two-month low on fears that demand could be hit by potential lockdowns, business closures and travel restrictions, should the new Covid variant become a deadly and highly transmissable threat. Brent fell 10.5% to $73.48 a barrel, while West Texas Intermediate shed 12.1% to $68.87 - it's lowest level in nearly 10 weeks.
Commodity currencies fell as oil prices dropped: the Australian dollar was down 1%, while the New Zealand dollar fell 0.8%.
Havens sought
Safe haven currencies including the Japanese Yen and Swiss franc were up 1.6% and 1.3% respectively against the dollar. Gold, which is also seen as a haven asset, found support, up 0.3% at $1,787 an ounce.
According to Antoine Bouvet, senior rates strategist at ING: "US Treasuries and German Bunds received a significant bid for safety overnight on concerns of the emergence of a new, more transmissible, Covid-19 variant in South Africa."
Haven support for Treasuries and Bunds saw their yields tumble, with the benchmark 10-year Treasury yield down 14.5 basis points to 1.5%.
Read more: Asian stocks down on risk of new Covid variant