GitLab's share price skyrockets on upsized IPO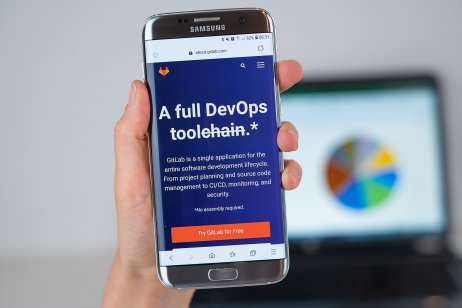 Developer operations company GitLab's shares skyrocketed on their first day of trading on Thursday.
The share price closed up 34.92% or by $26.89, at $103.89 following GitLab's upsized IPO on the Nasdaq Global Select Market. The strong investor appetite continued after market close as the price continued to rise.
Stock opens well above targets
GitLab opened at $94.25 after the company set a price for its IPO at $77 on Wednesday in a news release.
Earlier, GitLab boosted its share price range to $66-$69 from $55-$60.
The offering consisted to 8.42 million shares of class A common shares sold by GitLab and another 1.98 million of the same share type divested by company founder and CEO Sid Sijbrandij. GitLab and Sijbrandij granted the underwriters an option to purchase an additional 1.4 million shares.
San Francisco, California-based GitLab bills itself as a "remote-only" company and has more than 1,350 employees in 65 countries, according to the company's IPO registration statement. GitLab said that, by operating remotely, it has access to a global talent pool and can hire team members regardless of their location, gaining an advantage over competitors.
Firm hatched in Ukraine
The company, which originated in a house in Ukraine, set a $100m capital raise target in the regulatory document, which was filed with the US Securities and Exchange Commission.
Prior to launching GitLab, Sijbrandij was a part-time software architect with the Dutch safety and justice ministry, founded a software firm known as Comcoaster, and directed operations for Dutch recreational-submersible company U-Boat Worx.
The other co-founder, Ukrainian tech developer Dmytriy Zaporozhets, now serves as an engineering fellow with the company after previously holding its chief technology officer post.
Competitors include GitHub
GitLab's competitors include Microsoft-owned GitHub and Atlassian. In 2018, Microsoft acquired GitHub for $7.5bn (£5.49bn). Atlassian generated $2.1bn (£1.54bn) in revenue in its 2021 fiscal year, according to a company earnings report.
GitLab achieved a market valuation of $6bn through a secondary capital raise in 2020.
The company said its revenue increased 87% between its 2020 and 2021 fiscal years, rising to $152m from $81.2m. The net loss narrowed to $69m for the six months ending 31 July, but its loss increased 47.05% to $192.2m (£140.57m) from $130.7m (£95.59m) in fiscal-year 2020.
Company strives for full transparency
GitLab prides itself on using an open-source platform, which allows other software developers to build programmes without having to pay licensing fees. But the company said in the registration statement it has been a target of cyberattacks, and its open-source technology use could leave it vulnerable to more in the future.
As part of its full-transparency goal, GitLab published a handbook online that contains more than 2,000 webpages.
Read More: Cannabis giant Canopy growth to buy edibles brand Wana