Gas prices creep upwards, OPEC projects reduction in oil demand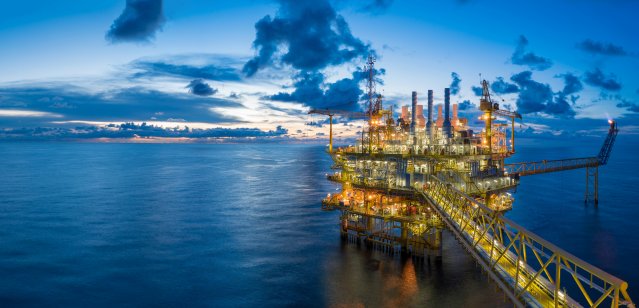 According to a Financial Times article, Belarus president Alexander Lukashenko has threatened to block the transit of gas and goods to Europe if the European Union (EU) imposes any further sanctions over the migrant crisis on the Belarusian–Polish border.
At present, migrants from various countries (Iraq, Syria and Yemen, among others) have gathered on the Belarus–Poland border in their thousands. The EU has accused Belarus of funnelling migrants to its borders with the bloc, thereby escalating the conflict between the EU and Belarus.

This escalating dispute is causing gas prices to inch upward and accelerating concerns over disruptions of gas flows from Russia.
The Organization of the Petroleum Exporting Countries (OPEC) has reported a reduction in the demand for crude oil and predicted higher production against demand, which has resulted in a downward pressure on oil prices.
Oil prices
Given the above scenario, it is no surprise oil prices have been affected. Brent crude-oil prices are presently edging lower, trading under $82 per barrel. This is an almost 5% decline from a seven-year peak at the end of October.
The outlook for oil prices is facing downward pressure, with a downgraded demand forecast from OPEC and the threat of US government intervention on oil reserves and export.
OPEC's report also cited the impact of higher energy costs on economic recovery, dampening any improvement and negatively affecting demand.

US President Joe Biden has said that reducing energy prices is a priority. According to energy secretary Jennifer Granholm, the president is facing pressure to tap into the nation's Strategic Petroleum Reserves (SPR) in order to deal with the rising crude-oil price at the same time fellow Democrats are urging him to ban oil exports, both of which pose different risks.
Meanwhile, US crude-oil stockpiles have increased, according to the US Energy and Information Administration (EIA). The EIA noted that: "in October, the price of Brent crude oil averaged $84 per barrel (/b), and the price of West Texas Intermediate (WTI) crude oil averaged $81/b, the highest nominal prices since October 2014".
In the EIA's November Short-Term Energy Outlook (STEO), the agency forecast that the build-up of global liquid fuels inventories in 2022, driven by rising production from OPEC+ and the US, will see crude oil prices begin to decline this month and continue their downward trajectory throughout 2022.
What is your sentiment on Natural Gas?
Vote to see Traders sentiment!
Brent crude-oil futures price chart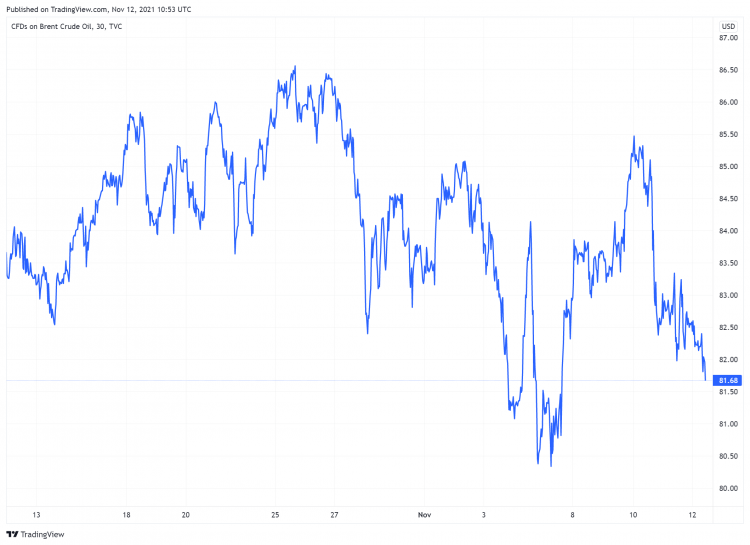 Brent crude-oil futures price chart – Credit: Tradingview
European natural gas prices
European natural gas prices are currently extending yesterday's price increase. Dutch natural gas futures are trading just under €77.77 (£66.47, $88.95) per megawatt hour (MW/h).
The dip follows a mid-week price trim after Belarus president Alexander Lukashenko threatened to close a key pipeline linking Russia's gas supply to Europe in response to the EU's plans to impose sanctions on the regime over the current migrant dispute.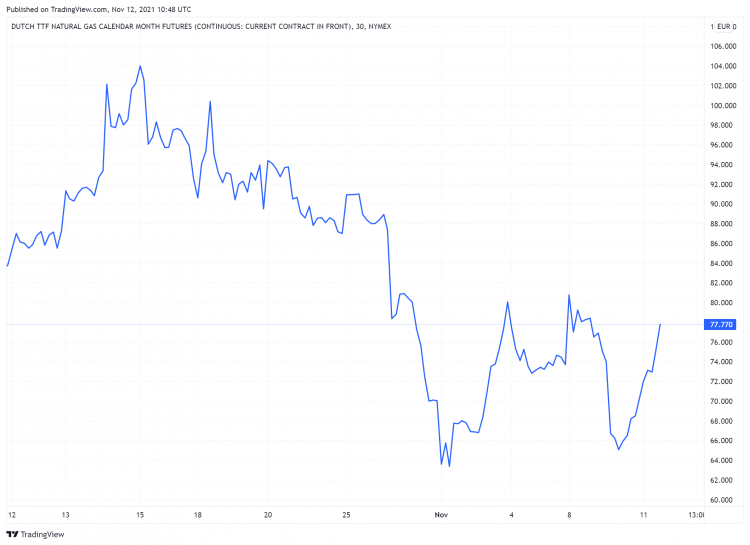 Dutch natural gas
Coal prices
Paired with greater gas supply in Europe, the increase in China's daily coal output in November has resulted in a downward price pressure on coal.
GC Newcastle coal futures price is currently trading at $151.50 per metric tonne today, a drop of more than 6% since Monday. Coal prices peaked at around $269 on 5 October driven by increased demand, largely as a result of Chinese supply constraints in the midst of a growing energy crisis and record fuel shortages.
As Reuters reported, China's thermal coal prices have surged to record highs over the past few days as a result of severe floods in key coal-producing province Shanxi, which worsened an already existing supply crunch. As China is the world's largest coal consumer, its growing energy crisis – brought on by shortages and record high prices for the fuel – has led to a massive ramp-up of imports.
According to China's National Development and Reform Commission (NDRC), China's stockpiles have reached a record high, reaching more than 117 million tonnes over the weekend. Portside stockpiles have also increased in volume as the demand for coal decreases due to increased gas supplies in Europe from Russia.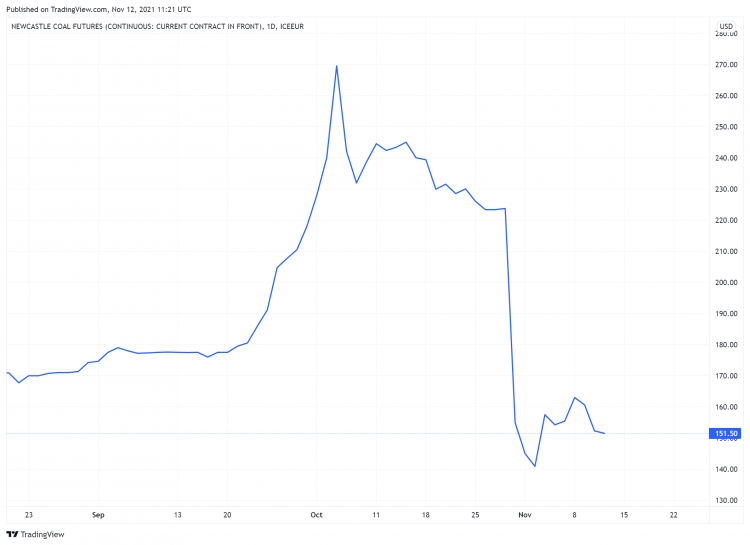 Coal price chart – Credit: Tradingview
Read more: More energy firms could collapse as industry crisis continues