Fresh Vine Wine (VINE) debut acidificates as shares fall 30%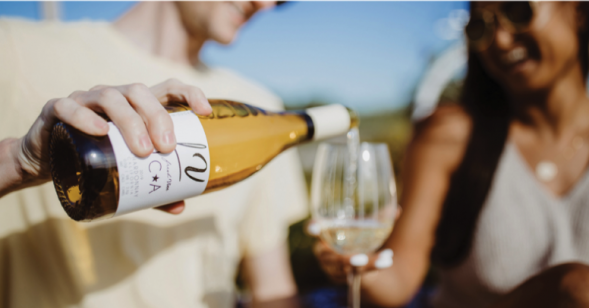 Fresh Vine stock fell immediately after freeing to trade on Tuesday, sinking to a session low $6.81 per share, down 31.9% from the $10 IPO price.
After bottoming out before noon Tuesday, shares gained some in afternoon trading to close at $7.05 per share, down 29.5%% on its debut.
Just over 1.09 million shares traded Tuesday, according to data maintained by Nasdaq. Fresh Vine stock trades on the NYSE under the ticker VINE.
Oak Ridge Financial acted as sole lead underwriter on the offering, with Boustead Securities acting as co-manager. The underwriting group was granted the right to purchase up to an additional 110,000 shares at 120% over the IPO price, or $12 per share.
Part of the proceeds went to repaying $2.04m in debt to Fresh Grapes co-founder Damian Novak, who had provided working capital and two promissory notes which become payable upon closing.
In wine makers' terms, "acidificates" is the process of wine burning to vinegar.
About Fresh Vine Wine
Plymouth, Minnesota-based oenologer Fresh Vine Wine, which changed its name from Fresh Grapes upon setting the IPO price, buys its grapes and bottles its wine in Napa Valley, California.
Backed by models and actors Nina Dobrev and Julianne Hough, who each own 9% of Fresh Vine's equity after the IPO, Fresh Vine Wine's market capitalisation fell to $70.5m from $100m.
Share dilution upon setting price
Upon setting the price per share, Fresh Vine Wine equity became significantly diluted, the company reported in its prospectus supplement filed with the US Securities and Exchange Commission Tuesday.
"Investors in this offering will incur immediate and substantial dilution," the company stated.
Post-IPO, Fresh Vine Wine will have 12.2 million total shares, up from just over 10 million total shares, the company said.
After repaying the debt, as well as underwriting fees, Fresh Vine Wine calculates its post-IPO net tangible book value as $1.39 per share, an $8.61 per share dilution.
Further, the roughly 10 million total shares do not include 1.8 million shares reserved for issuance under an employee incentive plan, 1.5 million shares reserved for issuance under executive stock options and up to 110,000 shares granted to the underwriting group.
Upon closing today, Fresh Vine Wine CEO Janelle Anderson will be granted 427,001 shares from the employee incentive plan, and 377,777 shares will be granted to other company executives.
Retail sales channels
Fresh Vine Wine is sold both direct to consumers and through retail channels, including 7-11, Food Lion and Walgreens. Its wines sell for between $15 to $22 per bottle.
Both Dobrev and Hough are a pivotable part of the future marketing for Fresh Vine Wine and the company, promoting the brand over their respective social media platforms. The company expects "that they will continue to do so pursuant to the agreements we have in place with each of them."
Additionally, Fresh Vine Wine has sponsorship agreements with Major League Baseball's Tampa Bay Rays, the National Basketball Association's Washington Wizards and the National Football League's Los Angeles Chargers and Washington Football Team.
Fresh Vine Wines lost $8.09m, or $5.99 per share, through the first nine months of 2021 on $1.05m in revenue. Through the comparable period in 2020, Fresh Vine Wine lost $919,473, or $0.93 per share, on $115.535 in revenue. For the full year 2020, Fresh Vine Wine lost $1.29m, or $1.30 per share, on $217,074 in revenue.
Read more: Snoop Dogg lights up Aussie winemaker's US business