Forex: US dollar takes the lead after the jump in inflation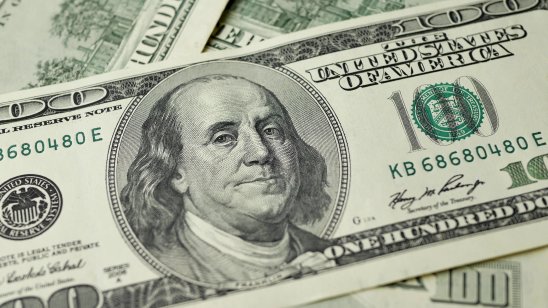 The US dollar rallied against all other currencies on Thursday, after US Consumer Price Index (CPI) rose more than expected in October, reviving speculations about faster interest rate hikes next year.
The US Dollar index (DXY) hovers around new 52-week highs at 95.00 level, gaining 0.8% since the CPI release. US Treasury yields also rose after the inflation surprise, with a 7 basis points (bps) increase in the 2-year yield and 9 bps on the 10-year benchmark.
EUR/USD and GBP/USD both slipped by nearly 0.7% from yesterday's midday London trading, while they edged down around 0.1% from previous close.
The Swiss franc (CHF) and the Japanese yen (JPY) have lost 0.7% of their value against the greenback since the CPI was out, while the Aussie (AUD) and the Kiwi (NZD) weakened 1.2% and 1.9% respectively.
Elsewhere, emerging market currencies sold-off after the inflation print, with the South African rand (ZAR) and the Mexican peso (MXN) both down 1.4% against the dollar, while the Turkish lira (TRY) hit new all-time lows by weakening 1% versus the greenback.
What is your sentiment on EUR/SEK?
Vote to see Traders sentiment!
Forex Daily Matrix

–

11 November 2021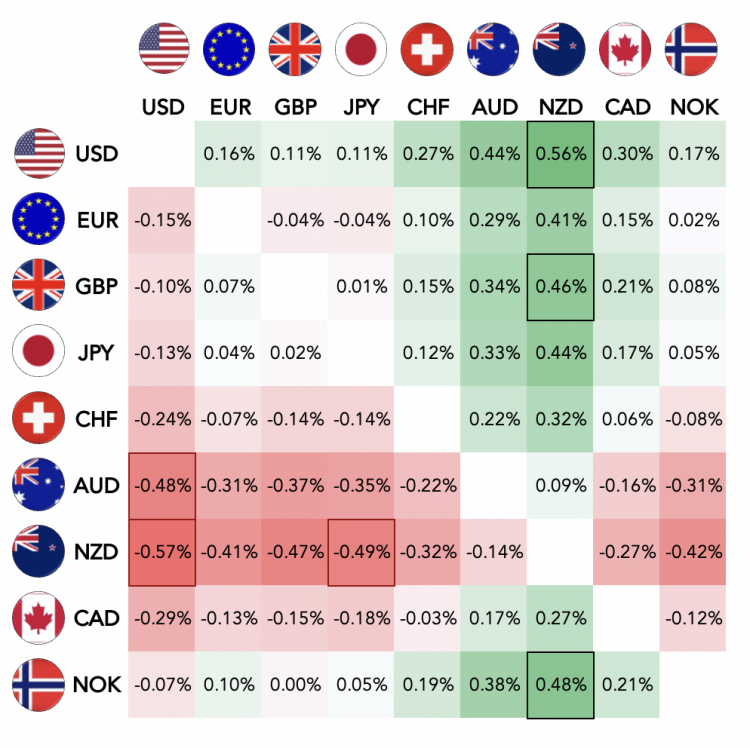 Forex Daily Matrix as of 11 November 2021, 09:30 UTC – Source: Capital.com
US dollar
As of writing, the US Dollar index (DXY) was last at 94.98 level, up 0.21% on the day.
In October, US inflation was substantially higher than market forecasts and not only confined to COVID-related items but broad based across the main items in the index, as the cost of services is also rising.
Core CPI inflation, which excludes food and energy prices, increased by 0.6% points to 4.6% on the year, well above consensus (4.3%). Core inflation in the US reached the highest level since 1991.

Headline inflation rose by 0.8% points to 6.2% on the year, hitting the highest level since 1990 and again above expectations of a 5.8% year-on-year rise.

Markets are now pricing in a 71% probability, up from 56.5% yesterday, Fed starts hiking interest rate in June next year.
DXY technical levels:
52-week high: 95.03

52-week low: 89.212

50-day moving average: 93.59

200-day moving average: 92.08

14-day Relative Strength Index (RSI): 64.83
Chart of the day: US inflation rate jumps to 30-year highs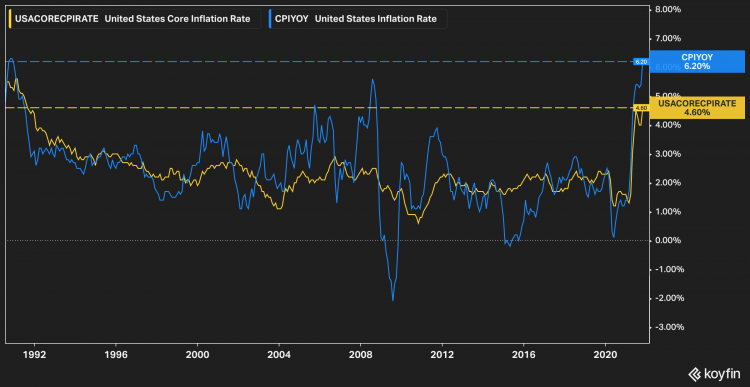 US Headline and core inflation rate – Credit: Koyfin
Euro
As of writing, the euro is down 0.15% from previous close versus the US dollar (EUR/USD) and flat against the British pound (EUR/GBP).
Yesterday, ECB Governing Council member Robert Holzmann said that asset purchases (QE) could end next in September or December next year, depending on the inflation dynamics.
Today, ECB Chief Economist Philip Lane will speak at the 2nd joint ECB-FED New York conference, while ECB executive board member Isabel Schnabel will take part at a Q&A organized by Ludwig-Maximilians-Universität.
EUR/USD technical levels:
52-week high: 1.2349

52-week low: 1.1455

50-day moving average: 1.1662

200-day moving average: 1.1882

14-day Relative Strength Index (RSI): 35.72
British pound
GBP/USD is down 0.15% to 1.3532 as of writing.
On the data front, UK gross domestic product (GDP) preliminary figure came in at 6.6% year-on-year in Q3 (1.3% quarter-over-quarter), disappointing market expectations by 0.2%.
Manufacturing production increased 2.8% year-on-year in September, missing market forecast of 3.1%, while business investment was up 0.8% quarter-over-market in Q3, disappointing market expectations of a 2.6% increase.
GBP/USD technical levels.
52-week high: 1.4248

52-week low: 1.3091

50-day moving average: 1.3684

200-day moving average: 1.3845

14-day Relative Strength Index (RSI): 33.39
Forex Performance Heatmap – 11 November 2021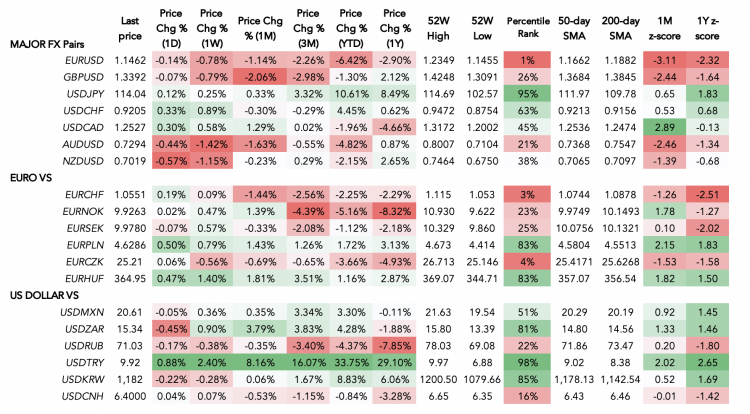 Forex Performance Heatmap as of 11 November 2021 09:40 UTC – Source: Capital.com
Other currency pairs (% change from previous close):