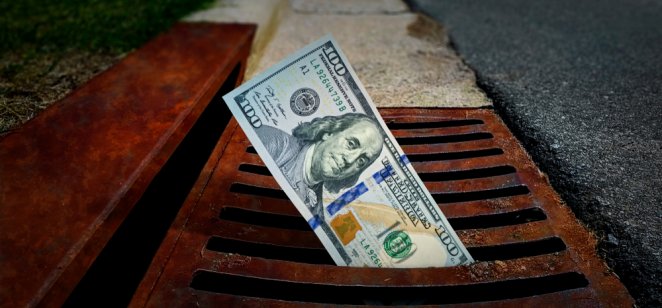 The US dollar weakened in London midday trade, with the dollar index (DXY) – which measures the greenback's performance versus six major currencies – falling to 101.5 levels and on track to suffer a second straight week of losses.
The dollar's rally has been recently halted by the market as the Fed's upcoming moves become more predictable and as concern grows that excessively strong rate hikes might hasten the onset of a US recession.
Meanwhile, US macro data on the economic cycle's momentum are deteriorating and falling short of expectations.
The first-quarter US economic contraction has been lowered down to an annualised 1.5% fall from an early estimate of a 1.3% decline.
In April, US pending home sales fell 9.8 percent year on year, while new house sales fell 16.6 percent month on month, both considerably below estimates, showing that the US real estate market is deteriorating.
The yield on a 10-year US Treasury note is on track to decline for the third week in a row, falling from its high of 3.20% in early May to its current level of 2.74%.
Additionally, market-based inflation expectations have cooled, as investors expect that inflation may have already reached its peak.
Today, the market will focus on April's personal spending and income statistics, as well as the Fed's preferred inflation indicator, the Personal Consumption Expenditures (PCE) price index, which is predicted to hit 6.6% year-over-year in April. If consumer and inflationary figures disappoint today, the dollar might suffer further.
Chart of the day: falling US yields weigh on the greenback
The US dollar is tightly linked with Treasury yields – – Photo: Capital.com / Source: Tradingview
Forex markets today – 27 May 2022
High-beta major currencies such as the Australian dollar (AUD), New Zealand dollar (NZD), and Norwegian krone (NOK), rallied as risk appetite returned amid broader dollar weakness.
The Aussie (AUD/USD) rose by 0.6% to $0.714 levels, bringing the month's performance to a positive territory.
The Kiwi (NZD/USD) also gained 0.6% to $0.652, reaching its highest level since May 5.
What is your sentiment on AUD/USD?
Vote to see Traders sentiment!
The oil-linked Norwegian krone (NOK) was the strongest performer of the day, rising 0.8% against the U.S. dollar, following yesterday's fantastic performance of crude prices, with WTI reaching its highest levels in 2 months.
The British pound (GBP/USD) reclaimed $1.26 levels seen a month ago.
The other major currencies, such as the euro (EUR/USD), the Japanese yen (USD/JPY) and the Swiss franc (USD/CHF) are little moved against the USD and they await the release of US macro data in the afternoon.
Major pairs: top risers and fallers today – 27 May 2022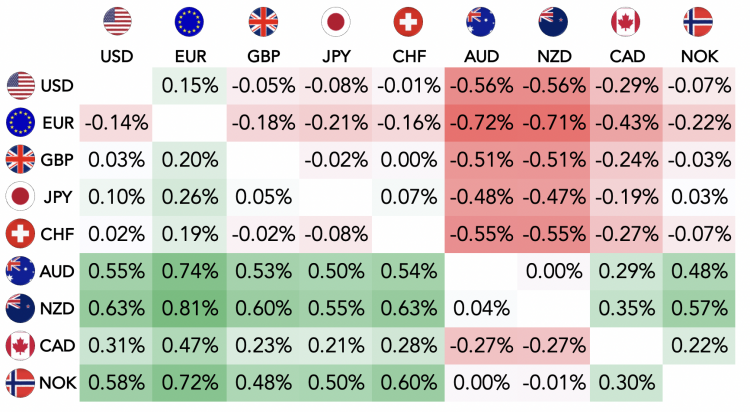 Major currencies: Today's top risers and fallers, 27 May 2022, 11:00 UTC – Photo: Capital.com
Forex market heatmap – 27 May 2022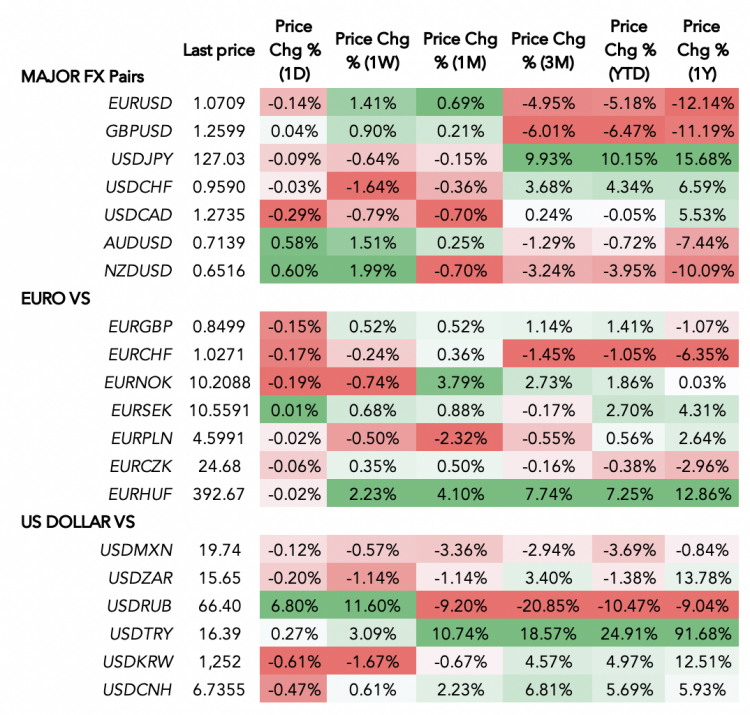 Forex market heatmap 27 May 2022, 11:00 UTC – Photo: Capital.com
Turkish lira (TRY) in a free fall despite rate on hold
The Turkish lira (TRY) continues to sink inexorably, reaching its lowest value since December 17, the day before Erdogan bolstered the lira with the announcement of deposit support plans, and despite the fact that the Turkish central bank (CBT) maintained rates steady yesterday.
Market speculation has once again targeted the Turkish currency as inflation reached 70% in April 2022, real rates went into extreme negative territory, and CBT's foreign reserves continue to dwindle.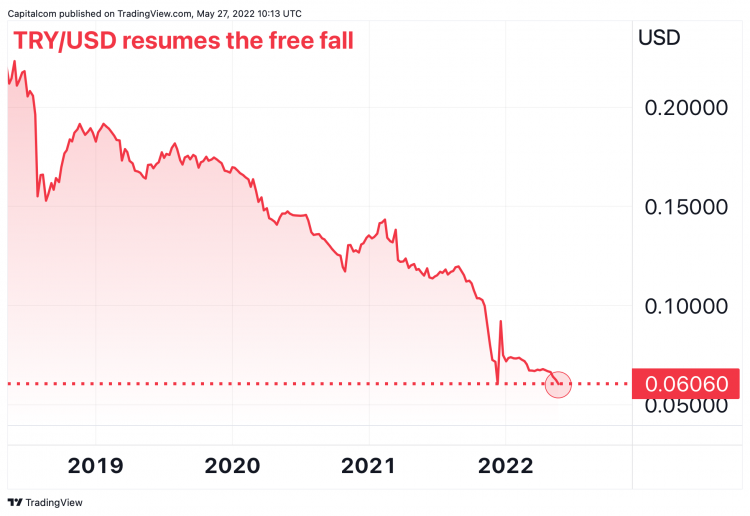 US dollar needed to buy 1 Turkish lira – – Photo: Capital.com / Source: Tradingview
Read more