Forex: Dollar holding firm at 12-month highs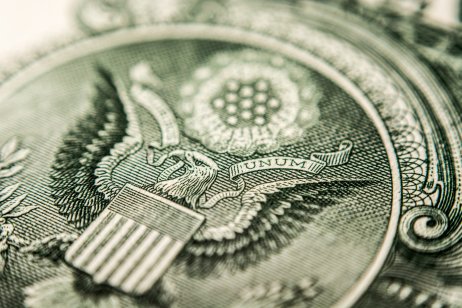 The US dollar (DXY) is holding firm at its one-year highs versus most other major currencies, amid expectations of growing interest rate differentials.
This week, inflation hitting 30-year highs drove short-term US Treasury yields up to their highest level since March 2020, fuelling market bets on earlier-than-expected interest rate hikes next year.
EUR/USD broke its 2021 lows and is now trading at 1.1449, flat on the day but falling around 1% over the past week.
The British pound edged up against other major currencies, with GBP/USD hovering around 1.3389 and up 0.15% from its previous close.
The Japanese yen remains under pressure, with USD/JPY testing its November 2018 highs and up 4.65% over the past two months.
Meanwhile, oil-related currencies such as the Canadian dollar (CAD) and the Norwegian krone (NOK) softened amid lower crude prices.
What is your sentiment on DXY?
Vote to see Traders sentiment!
Forex Daily Matrix – 12 November 2021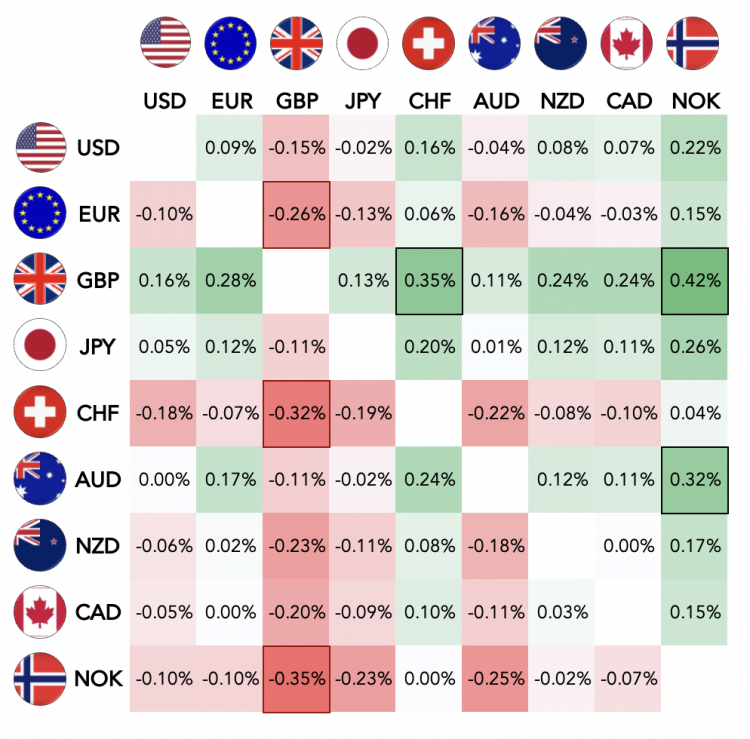 Forex Daily Matrix as of 12 November 2021, 10:30 UTC – Source: Capital.com
US dollar
At time of writing the US dollar index (DXY) was hovering around its 12-month highs at 95.13, up 0.06% from previous close.
The dollar appreciated following the release of October's US inflation rate, which surprised expectations substantially on the upside. The jump in consumer prices has fuelled the market's bets on faster-than-expected rate hikes by the Federal Reserve next year.

Markets are now pricing in a 70% probability, up from 53% a week ago, that the Fed starts hiking interest rates in June next year.
DXY technical levels:
52-week high: 95.21
52-week low: 89.22
50-day moving average: 93.66
200-day moving average: 92.10
14-day Relative Strength Index (RSI): 66.16
Chart of the day: Market prices in 70% chance of Fed hikes in June 2022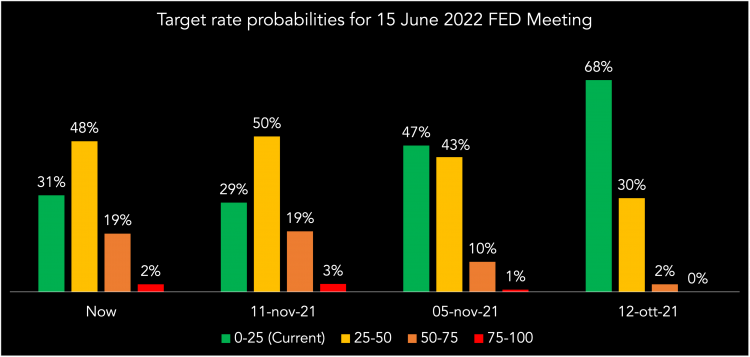 Market-based probabilties on US interest rates – Data: CME FedWatch Tool; – Credit: Capital.com
Euro
At time of writing, EUR/USD is down 0.1% from previous close and EUR/GBP is 0.2% lower in London midday trading.
The euro is at its lowest against the greenback since July 2020, weakening by more than 2% over the past two weeks, as rising expectations about interest rate differentials with the US weighed on the pair.
On the data front, euro area industrial production was up 5.2% year-on-year in September 2021, above market expectation of a 4.1% rise.
EUR/USD technical levels:
52-week high: 1.2349
52-week low: 1.1437
50-day moving average: 1.1653
200-day moving average: 1.1880
14-day Relative Strength Index (RSI): 34.22
British pound
GBP/USD is up 0.15% to 1.3589 at time of writing.
The cable has lost 3.3% of its value over the past two weeks, as Bank of England data disappointed market expectations while US inflation fuelled speculations regarding faster rate hikes.
GBP/USD technical levels:
52-week high: 1.4248
52-week low: 1.3104
50-day moving average: 1.3675
200-day moving average: 1.3844
14-day Relative Strength Index (RSI): 34.63
Forex Performance Heatmap – 12 November 2021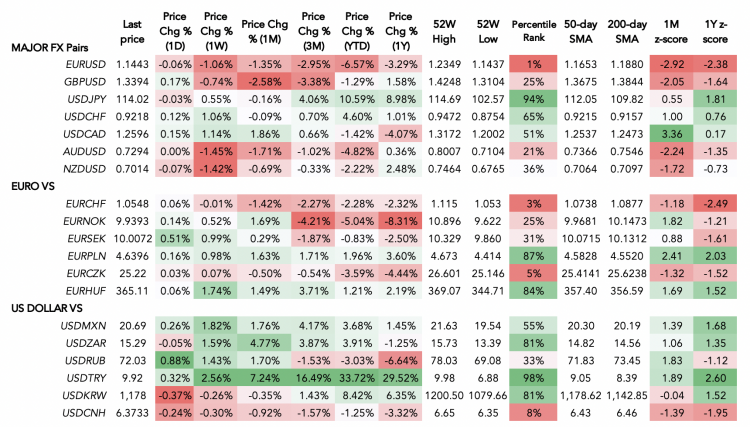 Forex Performance Heatmap as of 12 November 2021 10:00 UTC – Source: Capital.com
Other currency pairs (% change from previous close):
Chart of the week: USD rallied against all other majors this week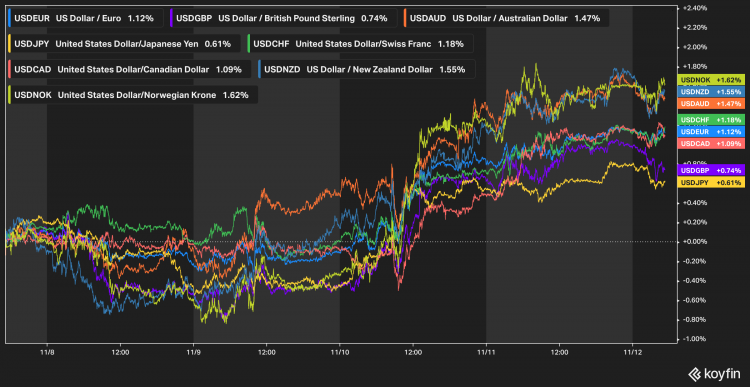 USD Weekly performance vs Majors – Credit: Koyfin
Read more: Pound boost on rate-hike forecasts likely too optimistic