Ford Motor races past EPS Revenue estimates
Subscribe to Weekly Highlights
The major market events for the week ahead right in your inbox.
Subscribe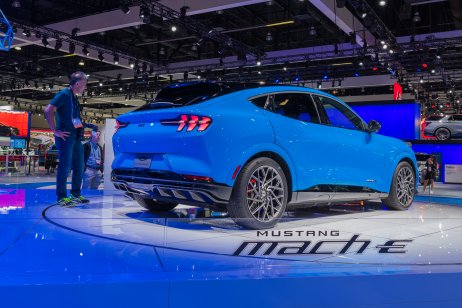 Ford Motor topped both EPS and revenue estimates on Wednesday, sending Ford shares up as high as 8.45% ($16.82) in after-market trading.
The Dearborn, Michigan, auto manufacturer reported $0.45 earnings-per-share, topping $0.27 per share estimates, on $37.5bn (£27.3 bn) in revenue, surpassing analyst expectations of $32.8bn. Ford shares, closed Wednesday at $15.52.
Ford credited strong demand for its EV models, as well as increased semiconductor availability increasing Ford's wholesale inventory deliveries.
"This is the most exciting Ford lineup I've seen, but what matters is that customers love our new products and services – and we're just getting started," said Ford CEO Jim Farley, in a prepared release.
"The trajectory of our business gives us huge confidence in Ford+, and we're obsessively turning the plan's promise into reality."
Strong demand for EVs
On the subsequent earnings conference call, Farley reported strong demand for its battery-electric vehicles. "The way I see it, we have three complete hits on our hands," Farley said.
"The Mustang Mach-E has 200,000 units of demand, the Lightning has over 160,000 units of demand and the E-Transport is completely sold out."
Ford CFO John Lawler said on the same call that Ford expects to invest $40bn to $45bn in strategic capital expenditures between 2020 and 2025, including roughly $15bn in expanding its EVs production. Ford will also reinstate paying shareholder dividends starting in the 4Q 2021, having suspended dividend payments in the first quarter 2000.
Lawler added Ford increased the company's guidance for full-year 2021 earnings to between $10.5bn and $11.5bn, driven by stronger wholesale inventory deliveries. Online orders have increased as well, topping 139,000 in its online order bank in the third quarter Lawler said.
"When you have a full order bank, you can match your orders to demand," Farley added, interrupting his CFO.
Chip shortages
While industry-wide chip shortages are seen as persisting through 2022, Ford's suppliers don't purchase magnesium from China, Lawler noted, adding Ford is "doing everything we can to get our hands on as many chips as we can."
Ford also expects to realize a return on its investment in EV manufacturer Rivian, should it successfully complete its planned offering of public shares in the fourth quarter. As a result, the $900m non-cash gain it recorded in 1Q 2021 will be recast in its 4Q 2021 earnings as a special item.