What is familiarity bias?
Familiarity bias is the preference of traders to invest in shares they are familiar with – stock from their home country, in sectors familiar to them or globally renowned branded shares.

Traders sometimes like to feel familiar with and loyal to their trades. They like well-known domestically quoted shares rather than venturing into international investments that are harder to research or monitor.
It's great to be able to see that your retail investment has a high-street shop near you, or the oil company whose shares you own is the branded petrol station around the corner. You can see it and trust it, and it's familiar – even if the shares are underperforming compared with similar firms in other countries.
A trader is more likely to invest in something they know, even if it's just the name of their favourite pizza brand. However, in doing so, they miss out on the opportunities presented by lesser-known more volatile stocks.
Familiarity bias prejudices the trader against the unknown, keeping their focus narrow. The main problem is that an asset may not suit your goals, just because it seems familiar. Keeping loyalty to one or several stocks makes your portfolio undiversified and limits your opportunities as a trader.
Familiarity bias in trading and investing
Financial theory says that before making any investments, you should carefully weigh up the potential risks and returns. However, it's so tempting to remain in a delusive state, putting your money into a company you "know", or at least think you know.
Speaking about familiarity bias, behavioural finance expert Gur Huberman says: "Familiarity is associated with a general sense of comfort with the known and discomfort with – even distaste for and fear of – the alien and distant."
As a result of familiarity bias, you expect higher returns and underestimate the risks of an investment. Misjudging the risks, you don't take all the necessary risk management steps, disregarding one of the most effective tools – diversification.
Familiarity bias implications
Investing only in "what you know" means throwing away numerous other attractive trading opportunities with lower risks and higher returns. The first and the foremost thing you should remember about familiarity bias is that familiar doesn't mean safe. This common behavioural bias has several implications, including the following:
Trading just one or several familiar stocks
Undiversified allocation of assets
Trading only domestic stocks (equity home bias)
Trading stocks that seem close to your cultural outlook
Trading stocks related to your professional activity
If you recognise yourself in some of these behavioural patterns, you're probably a victim of the familiarity bias. It's time to leave your comfort zone and find your way through the familiar stocks to a well-diversified portfolio, which will bring your greater returns.
Causes of familiarity bias
The number one reason why traders suffer from the familiarity bias has been explained by Benjamin Graham in "The Intelligent Investor". He is sure that an investor's worst enemy is likely to be himself. Sometimes, traders and investors simply don't want to ask for help, while making their own investment decisions. They consider it a sign of weakness. The main ways to become a better trader is to learn from real professionals and to gain your own experience.
Another reason of familiarity bias is loss aversion. In order to escape from losses, traders avoid diversification and remain confined in their comfort zone – within familiar stocks. One more reason is the availability of information about the stocks, which have already been familiar, and lack of information about all the other stocks.
Types of familiarity bias
Wishing to stay inside familiar pool of assets, traders are not always ready to walk the road less travelled. Inclination towards familiar stocks may be divided into several types: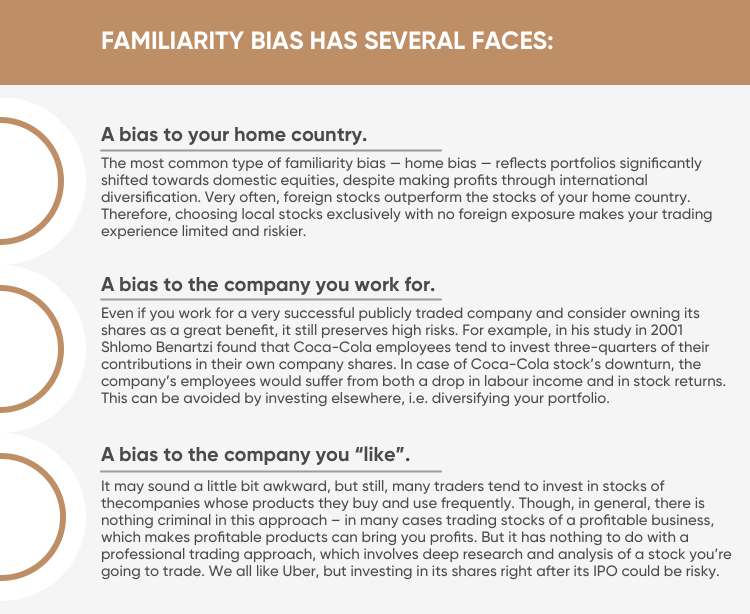 How to avoid familiarity?
The markets aren't your new best friend; they are not emotionally tied to you. To overcome this bias, you need to expand your portfolio and gain wider diversification to reduce your level of risk.
There are several reasons why:
Different types of assets perform in a different way
A diversified portfolio has lower risk than the combined risks of investing in individual stocks
Different markets are differently affected by the world's economic and political events, creating various trading opportunities.
By trading different asset classes on different markets, you are more likely to avoid familiarity bias and emotional attachments to market instruments.