Evergrande news: government steps in, $260m default looms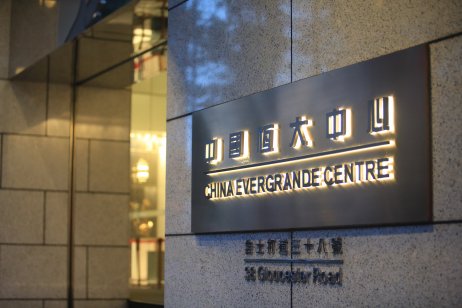 Chinese governmental officials on Friday agreed to send a team of advisors to real estate company Evergrande to "resolve its risks" as the company warned it could default on its sizable financial debt obligations.
The Chinese real estate developer has struggled to pay more than $300bn (£226bn) in liabilities on its books – $19bn of which are dollar bonds – culminating in a demand from creditors this week to pay some $260m due, according to Evergrande's disclosures on the Hong Kong stock exchange. Evergrande is already late paying $82.5m in interest payments due on 6 November, Reuters reported.
"In light of the current liquidity status of the Group, there is no guarantee that the Group will have sufficient funds to continue to perform its financial obligations," Evergrande said in the statement. "In the event that the Group is unable to meet its guarantee obligations or certain other financial obligations, it may lead to creditors demanding acceleration of repayment."
Upon this news the people's government of Guangdong province agreed to send advisors, who are given the task with resolving Evergrande's risks, enhancing its internal risk management and maintaining normal business operation. The People's Bank of China supported the move but said, "Evergrande's problem was mainly caused by its own mismanagement and break-neck expansion."
Market reaction
Should Evergrande default on its debts, it threatens to increase risks across the Chinese real estate sector and possibly spread to the broader global financial markets, often drawing comparisons to the collapse of US investment bank Lehman Brothers back in 2008.
Indeed, US stock indices that were trading in the green earlier in the day turned negative following the news.
The Dow Jones Industrial Average fell by as much as 0.79% Friday mid-day while the S&P 500 and Nasdaq moved as much as 1.55% and 2.83% lower at mid-day. In Asian markets, the Shanghai Composite closed up 0.94% while Tokyo's Nikkei 225 gained 1% on the day ahead of the news from Evergrande.
Evergradne shares fell by 8.28% on over-the-counter US markets to trade at just 27 cents per share.
Chinese officials weigh in
In a series of releases on Friday Chinese government officials sought to tame those fears.
"The risks caused by a certain individual real estate firm in the short term will not undermine the fund-raising function of the market for the medium and long run," the People's Bank China said in a statement. "Housing sales, land purchases and financing have already returned to normal in China. Some Chinese property developers are beginning to buy back their overseas bonds, and investors are also starting to buy dollar bonds issued by Chinese property developers."
The China Banking and Insurance Regulatory Commission (CBIRC) said Evergrande's investment in financial institutions is "quite limited" and has little impact on the soundness of banking and insurance industries.
Likewise, the China Securities Regulatory Commission (CSRC) said the potential overflow effect of Evergrande's risks on the stability of China's capital markets is under control.
"Evergrande's risk is an individual case mainly resulted from its mismanagement and blind expansion in diversified directions," the CSRC said in a statement. "China's real estate industry as a whole remains robust and most property firms are focussing on and properly managing their main lines of business."
Read more: Evergrande Group stock forecast: will it manage to reverse default?