Stock markets: European stocks hit all-time high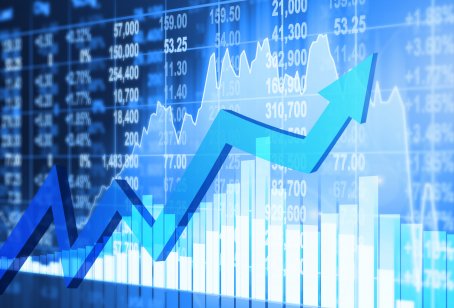 European stocks rallied on Friday with the Euro Stoxx 600 hitting an all-time high, while the Euro Stoxx 50 hovered near its own 20-day high. The market was pulled up by luxury good stocks, especially Richemont, which agreed to give up control of its loss-making company Yoox Net-a-Porter.
UK stocks on the other hand had dipped by mid-morning after briefly touching a fresh 20-month high earlier in the day, amid labour market woes, with the number of unfilled job vacancies in London at an all-time high.
Overnight in Asia, Hong Kong's Hang Seng index also gained, as the market was buoyed by Chinese group Evergrande's retreat from bankruptcy with its latest payment.
What's interesting today: Investors eyed the University of Michigan consumer sentiment data and inflation expectations, which may hopefully buoy market sentiment, which was significantly lower following the US CPI data announcement. AstraZeneca also came under fire for announcing that it would start moving to a profit system for its Covid-19 vaccine, once the pandemic stabilises further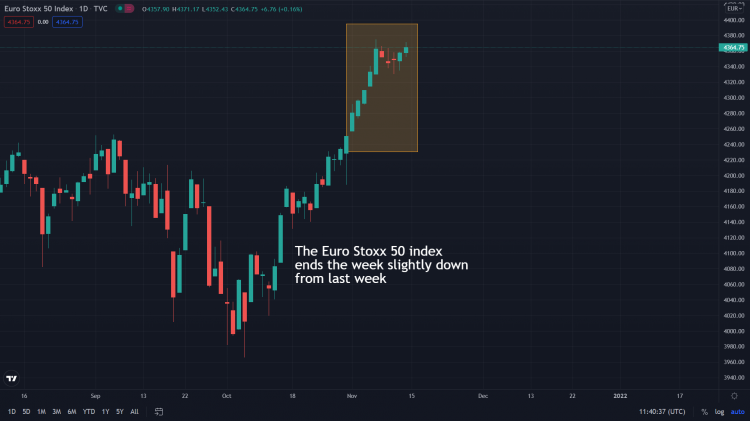 Stocks chart – Credit: TradingView
Why are stocks up today?
Richemont releases control of Yoox: Luxury goods company Richemont has finally agreed to sell off its loss-making enterprise Yoox Net-a-Porter, much to the relief of investors – thus causing shares to rally.
What this means

: Yoox Net-a-Porter has unfortunately been one of the few e-commerce companies not to benefit from the sharp increase in online shopping during the Covid-19 lockdowns. This has led to consistent losses and investor worries, especially once activist hedge fund Third Point obtained a stake in Richemont and lobbied for changes, particularly when it came to loss-making subsidiaries. The decision to let go of Yoox has caused Richemont's shares to climb more than 9%.
Strong European earnings: The Euro Stoxx 600 index was bolstered by continuing strong earnings reports from the likes of Merck, Siemens, Delivery Hero, Bilfinger and more.
What is your sentiment on UK100?
Vote to see Traders sentiment!
What this means:

With European markets having widely been affected by the pandemic this year, as well as by natural catastrophes such as floods, continuing strong earnings reports from a number of companies have helped boost investor confidence in the resilience of the market. Positive forecasts for the fourth quarter from several companies also contributed to the market sentiment.
Stock markets today: key highlights
The FTSE 100 index edged down 0.22% to touch 7,367.66 points

The Euro Stoxx 50 index climbed 0.25% to touch 4,369.0 points

Germany's DAX index rose 0.17% to reach 16,110.8 points

France's CAC 40 index increased 0.44% to touch 7,090.6 points

Retail and consumer services led the market, whereas health technology and technology services took a hit

US S&P futures gained 0.10% to $4,647.5
Market sentiment
The CBOE Volatility Index (VIX), a measure of expected fluctuations in US stocks, reduced to 17.66, effectively shedding yesterday's gains as market anxieties stabilised somewhat

The US dollar index dropped to $95.21

The US 10-year bond yield index also inched lower to 1.580%
Top gainers: UK and Europe
Burberry Group, Ocado Group and ITV were the top gainers in the UK

Burberry Group was one of the top gainers, as it scaled back losses and announced that earnings were back to pre-pandemic levels

Ocado Group's shares rallied as the group focused heavily on automation and innovative technology

ITV maintained its position at the top of the market, as its new show The Tower came to an end

In Europe, Deutsche Telekom, ASML NV and Kone were the best performing companies

Deutsche Telekom shares gained as the company announced a dividend increase

ASML NV investors were more confident as analyst expectations for the company were robust following a strong third quarter
Top losers: UK and Europe
AstraZeneca, Darktrace and Entain were the worst performers in the UK

AstraZeneca shares suffered after it announced that it would start making a profit on its Covid-19 vaccines, as the pandemic gets under control

Darktrace shares dropped after Deep Defence, a major stakeholder, sold off approximately $70m's worth of the company's shares

Entain shares inched lower after complications in the DraftKings takeover talks

Allianz, Danone and Volkswagen were the top losers on the Euro Stoxx 50

Allianz struggled to recover from massive losses of more than EUR 1.1bn from flooding in Europe and other catastrophes, which also caused it to report net losses for the third quarter

Danone came under fire after organic groups complained about some of its food manufacturing practices

Volkswagen shares inched lower as it was taken to court yet again, this time by Greenpeace over its failure to do enough to combat climate change
Top news: what you need to know today
Read more: Cartier maker Richemont sees 39% higher profit in pandemic year