Stocks today: European markets rise as Evergrande makes crucial payment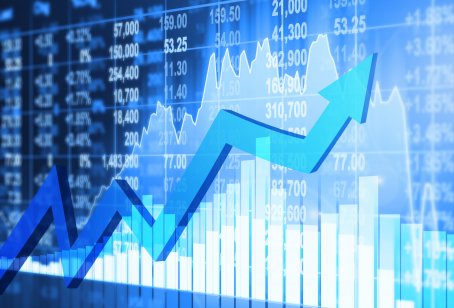 UK and European stocks climbed on Friday, led by mining companies, after Chinese property developer Evergrande made a crucial debt payment to avoid a default that could have rocked global markets.
Evergrande shares, which resumed trading in Asia after a two-week hiatus, got a boost after the company made $83.5 million in interest payments. Overnight in Asia, Hong Kong's Hang Seng index also rose along with the US S&P 500 index as well.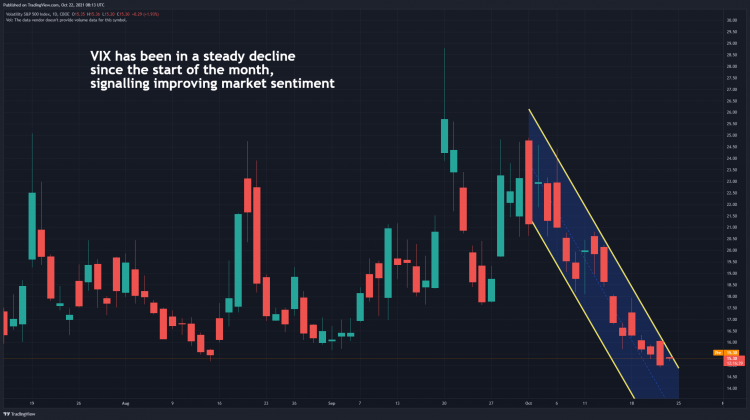 VIX chart – Credit: TradingView
Why are stocks up today?
Stocks were up today after Evergrande made a crucial payment that significantly boosted market confidence, as a default would have sent shock waves through the Asian financial system and real-estate markets. European equities also gained after the Bank of Ireland stepped up to purchase assets from Belgium-based KBC, in a €5bn deal.
What is your sentiment on UK100?
Vote to see Traders sentiment!
Market highlights
UK's FTSE 100 rose 0.4% Friday afternoon in London, paring its weekly loss to 0.2%

The Euro Stoxx 50 index advanced 0.8% after the Bank of Ireland announced its deal with KBC

Brent crude oil was up 0.8% at $84.57 as oil-market volatility persists amidst the ongoing fuel and energy crisis
Market sentiment
The CBOE Volatility index or VIX, a measure of expected fluctuations in US stocks, was little changed near 15, reflecting stable investor sentiment

The US dollar index slipped 0.1% on the day to $93.63, heading for a second weekly decline

The US 10-year bond yield index touched a six-month high of 1.71%, before slipping to 1.67%
Top stock gainers: UK and Europe
In the UK, the best performing sectors were non-energy minerals, retail trade and process industries

Evraz, J.D. Sports Fashion and Croda International were the top gainers in their respective segments

In Europe, the best gaining segments were automotive, information technology and semiconductors

Volkswagen, SAP and Infineon led gains in their respective sectors
Top stock losers: UK and Europe
On the FTSE 100, the top losers were finance, consumer services and transportation

London Stock Exchange, Intercontinental Hotels Group and International Consolidated Airlines Group led losses in their respective segments

On the Euro Stoxx 50, the sectors that were lagging behind were clothing, food and aerospace

Inditex, Danone and Airbus took a hit in their respective segments
Top news
Japanese inflation increases for the first time in one and a half years.

JD Sports Fashion gains an 80% stake in competitor Cosmos Sport

EU warns Poland of further legal restrictions as tensions continue to mount

Intel stocks fall after below-expectation data centre revenues

Bank of England speculates inflation to rise above 5%