Europe's supply crunch keeps oil price steady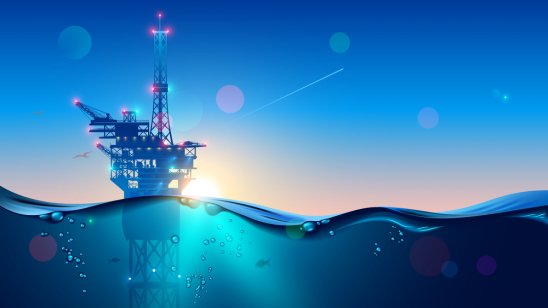 European gas prices hit record highs on 21 December, as supplies from Russia to Germany started flowing in reverse. EU Natural gas (Dutch TTF) traded at €180 (around £150) per megawatt-hour, a 22% overnight price increase. Today however the price corrected by 10%, trading at €156.
Supplies have also been tight due to disruptions in African exports. This week, Libyan national Corporation declared force majeure on crude oil exports from two of its terminals as reported by Reuters. Royal Dutch Shell's Nigerian subsidiary also declared force majeure on exports of Nigerian Forcados crude oil.
US exports of liquified natural gas (LNG) to Europe remain strong due to these regional supply shortages. LNG exports out of the US are expected to be the largest in the world by the end of 2022 according to the US Energy Information Administration (EIA).
Brent crude oil and US crude oil traded at $75.45 and $72.79 per barrel respectively at time of writing. Elsewhere, US Natural Gas traded at $3.90 per million British thermal units.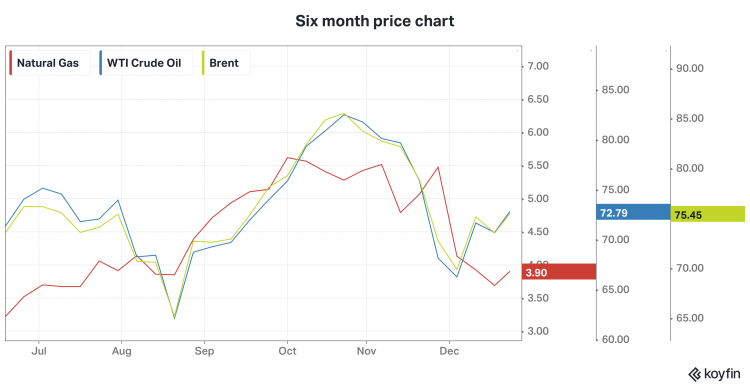 Six month spot price of energy commodities as of 23 Dec 2021 – Credit: Koyfin
Performance
Day range: $74.20 - $75.75
52 week range: $49.20 - $86.70
52 week price change: 47.36%
10-day Exponential Moving Average (EMA): $74.30
14-day Relative Strength Index (RSI): 51.27
Day range: $72.27 - $73.27
52 week range: $46.16 - £83.83
52 week price change: 51.27%
10-day Exponential Moving Average (EMA): $71.42
14-day Relative Strength Index (RSI): 51.81
Day range: $3.84 - $4.00
52 week range: $2.26 - $6.47
52 week price change: 49.58%
10-day Exponential Moving Average (EMA): $3.89
14-day Relative Strength Index (RSI): 43.66