Europe gas prices up as Belarus threatens to cut deliveries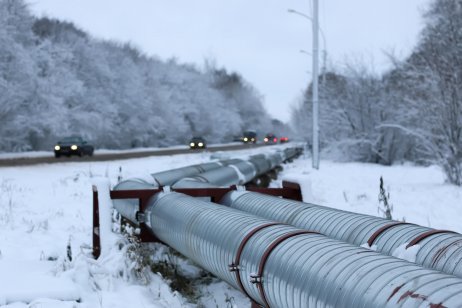 Europe gas futures rallied on renewed concern about slowing Russia gas supply after Belarus president threatened to cut gas deliveries to the continent in response to the migrant crisis at the Poland-Belarus borders.
Dutch Title Transfer Facility (TTF), the European benchmark gas futures price, for December delivery advanced 6.66% to €74.79 per megawatt hour (Mwh) on Thursday.
The Financial Times reported on Thursday that Belarus President Alexander Lukashenko has threatened to cut gas deliveries through Belarus to Europe if European Union imposed further sanctions over migrant crisis at the Poland-Belarus border.
Border row
Lukashenko responded to European Commission President Ursula von der Leyen who on Wednesday said, as reported by Reuters, that the block will widen its sanctions against Belarus over the migrant crisis
Thousands of migrants from the Middle East have gathered for days under freezing temperature at the border of Poland and Belarus to enter Europe. European Union officials blamed Minsk for orchestrating the surge of migrants to destabilise EU, Financial Times reported.
Europe gas prices had eased in the past days after Russia's state-run company Gazprom said it started to refilling underground storage facilities in Europe to relieve shortage.
But Lukashenko's threat could push up prices as Belarus is part of Russia's gas transit corridor to Western Europe. All matters related to natural gas transit, including infrastructure are established in bilateral agreement with Gazprom, according to the International Energy Agency.
Europe gas supply at risks
Fitch Solutions said in a note on Thursday that in spite of the improving supply, Europe remains at risk as the continent is still very much structurally undersupplied ahead of the winter months.
The research unit of Fitch Group expects lower than average inventories in Europe will continue to stoke appetite for Asia's liquefied natural gas (LNG) cargoes.
This will put the region's utilities and importers in direct competition for limited supply against Asia's counterparts, whose appetite for LNG cargoes are also ramping up in preparation for winter and to fill power gaps created by the acute loss in coal-generated power.
North Asia LNG price up
The rally in Europe gas price lifted the price of LNG in Asia.
The Platts Japan-Korea-Marker (JKM) – the benchmark for spot LNG in Asia – for delivery in December was assessed at $31.415 per Million British thermal unit (MMBtu) on Thursday, up from $31.14/MMBtu on Wednesday.
"Forecasts of colder weather also saw activity in the market rise. Snow has been falling heavily in northern China, raising fears that electricity demand may exceed the peak above this summer or last winter," according to analysts at ANZ Research in a note on Friday.
Read more: Gas prices decline, while oil moves in the opposite direction