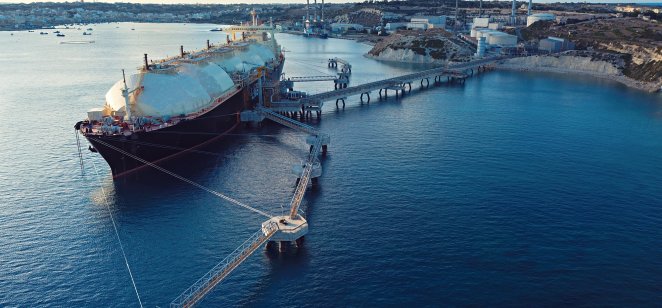 Content
The race is on to fill storage sites in Europe before winter with the European Union facing fierce competition from Asia for natural gas, including for US supplies of LNG, which could lead to a further price surge of the commodity – and more volatility for Europe gas prices.
The price of natural gas on the benchmark Dutch Title Transfer Facility (TTF) increased by nearly 8% for the September Intraday contract on Wednesday, 10 August, ending a three-session slip.
Despite the earlier dip, Capital.com commodities analyst Piero Cingari said Europe is still in a severe energy crisis that will continue to cause price volatility.
"In addition to the gas pipeline disruption, Russia has also halted oil flows via the southern leg of the Druzhba pipeline, which will affect Hungary, the Czech Republic, and Slovakia. This is additional evidence that trade tensions on the European energy market remain high and dangerous."
Cingari said any recent dip or coming one in the Dutch TTF's price may be a temporary relief.
What is your sentiment on Natural Gas?
Vote to see Traders sentiment!
US natural gas price pressure
Cingari also noted changes in natural gas prices in the US on Wednesday.
"There have recently been significant developments in the United States gas market. Henry Hub prices decreased to $7.5/MMbtu support as a result of colder-than-anticipated temperatures in North America, which reduced air conditioning usage. However, US natural gas prices have attempted a rebound over the last two sessions on news that Freeport's liquefied natural gas export facility in Texas, which was involved in a fire that affected 15% of production in early June, may resume operations sooner than expected," Cingari said.
He added this could be a significant near-term positive catalyst, as increased LNG export capacity would create additional tightness in the domestic gas market, putting upward pressure on Henry Hub prices.
"Overall, the world's gas market situation may still get worse before it gets better." Cingari concluded.
Impact of Asia demand on Europe gas price
Japan, South Korea and China are among the world's biggest importers of liquified natural gas (LNG) – and the Asian countries all share peak demand for it during the winter months, from around December to March.
| | |
| --- | --- |
| Long position overnight fee | -0.1297% |
| Short position overnight fee | 0.0928% |
| Overnight fee time | 21:00 (UTC) |
| Spread | 0.005 |
| | |
| --- | --- |
| Long position overnight fee | 0.0240% |
| Short position overnight fee | -0.0439% |
| Overnight fee time | 21:00 (UTC) |
| Spread | 0.03 |
| | |
| --- | --- |
| Long position overnight fee | 0.0486% |
| Short position overnight fee | -0.0747% |
| Overnight fee time | 21:00 (UTC) |
| Spread | 0.10 |
| | |
| --- | --- |
| Long position overnight fee | -0.0120% |
| Short position overnight fee | 0.0026% |
| Overnight fee time | 21:00 (UTC) |
| Spread | 0.020 |
China's recent lockdowns, as a result of the Covid-19 pandemic, had eased demand but competition for spot cargoes is likely to increase when the temperatures start doing the opposite.
Upward pressure on gas prices is also not likely to go away any time soon, as Piero Cingari pointed out, as relations between Russia and the West continue to deteriorate and the energy crisis is showing no sign of easing.
Gas flows from Russia to the bloc have already been reduced substantially and more cuts are in the pipeline, with the European Union still trying to ease itself away from the Kremlins commodities since it invaded Ukraine in February – and with Russia also opting to reduce flows regardless in retaliation.
Will European gas prices fall?
"The sharp fall in Russian pipeline imports – and the prospect of flows from Russia being cut further or halted completely – has led to plans to realise numerous projects, both old and new, as quickly as possible. Most of the plans are for floating LNG import facilities – known as FSRUs (floating storage and regasification units) – which can be installed more quickly than onshore, permanent import terminals. Some 25 new FSRUs are expected to be installed across the EU in the coming years, according to S&P Global Commodity Insights data, with the first facilities already expected to be operational before the end of 2022," S&P Global said in a report.
Platts Analytics LNG analyst Luke Cottell also noted that Russia's invasion of Ukraine has rapidly re-shaped commodity markets, with European gas and LNG at the epicentre.
"As we move into 2023, the deployment of new FSRUs should help to iron out large dislocations between hubs in Europe, as bottlenecks are eased," Cottell said.
However, he noted that it would not necessarily mean that prices would fall, with much set to depend on Europe's ability to secure LNG cargoes.
"While capacity constraints limiting Europe's ability to offset Russian pipeline gas with LNG will be somewhat alleviated, focus will instead turn to the availability of spot LNG on the global market, and the price that must be paid to outcompete consumers in Asia," Cottell added.
Read more