Energy commodities rally after Fed announcement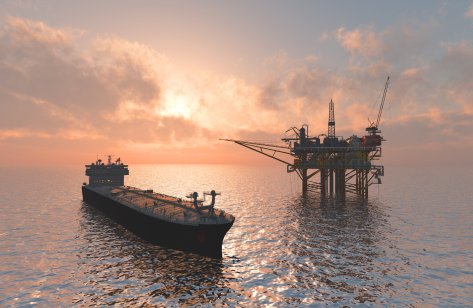 The market appears to have gained confidence in energy commodities after the US Federal Reserve (Fed) press conference on Wednesday.
In his speech, Fed chair Jerome Powell said:
"Economic activity is on track to expand at a robust pace this year, reflecting progress on vaccinations and the reopening of the economy. Aggregate demand remains very strong, buoyed by fiscal and monetary policy support and the healthy financial positions of households and businesses. The rise in Covid cases in recent weeks, along with the emergence of the Omicron variant, pose risks to the outlook."
Regarding the new variant, he added that its effect on the economy depends on how it will impact demand and supply; he is not clear on how much it will alter growth, inflation or hiring expectations. However, he said that because people are learning how to live with Covid, he does not believe Omicron will have as much of an effect on the economy as Delta did.
Brent crude oil and US crude oil both saw a slight boost in their prices today, trading at $74.45 and $71.60 per barrel respectively, with US crude rallying 0.7% more than Brent.
As per the US Energy Information Administration (EIA), crude oil production has dipped since March 2020, with production now staying close to levels last seen in 2018.
The International Energy Agency (IEA) has said there will be a dent in oil prices as demand will be lower than supply, due to new surge in Covid cases. It expects jet fuel and air travel to be the most affected.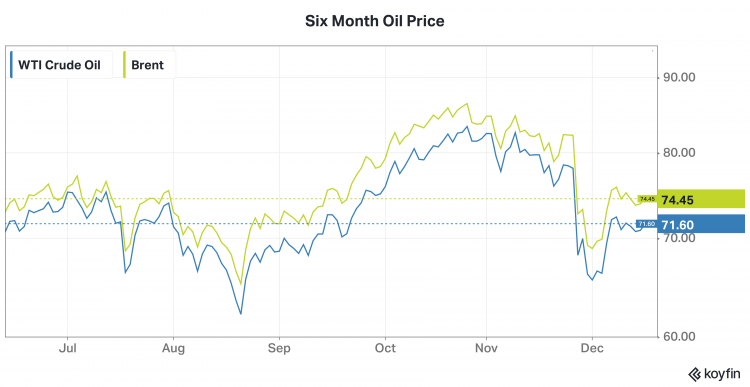 Six-month Brent crude and US (WTI) crude oil spot price – Credit: Koyfin
Performance
Day range: $73.88-$74.58
52-week range: $49.13-$86.70
52-week price change: 45.75%
10-day Exponential Moving Average (EMA): $74.32
14-day Relative Strength Index (RSI): 45.70
Day range: $71.21-$71.92
52-week range: $46.16-£83.83
52-week price change: 49.73%
10-day Exponential Moving Average (EMA): $71.13
14-day Relative Strength Index (RSI): 46.62
Day range: $3.68-$3.84
52-week range: $2.26-$6.47
52-week price change: 47.57%
10-day Exponential Moving Average (EMA): $3.96
14-day Relative Strength Index (RSI): 36.94
Read more: Oil prices retreat on lower travel expectations due to Omicron