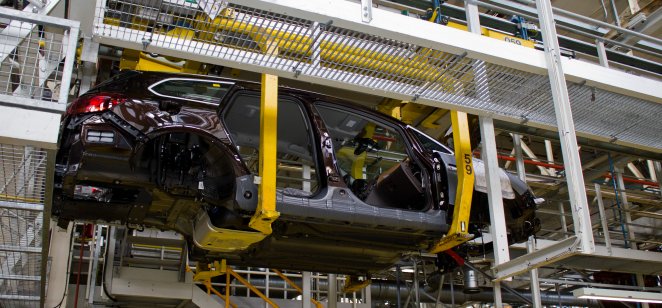 The dollar edged back from earlier gains on Thursday after a key economic indicator of manufacturing and services sector activity showed US growth slowed sharply in June.
The US dollar index (DXY) slipped 0.1% to 104.09 in late morning trade in New York, having earlier been 0.5% higher. Dollar losses came as purchasing manager (PMI) data showed growth in business activity slowed to its weakest level since the Omicron-led downturn seen in January.
PMI surveys of manufacturing and services in the UK and eurozone showed similar slowing activity, although services in the UK remained resilient, helping the pound to recover earlier losses against the dollar. Sterling (GBP/USD) returned to the flat level on the day at $1.2252, having been as much as 0.5% lower. The euro (EUR/USD) remained 0.4% to $1.0517.
Investors and traders, as well as central bankers and corporate economists and risk managers follow the monthly purchasing manager surveys closely, as they contain forward-looking elements that often presage developments in the real economy and therefore aid business planning and investment strategy.
US dollar index (DXY) price chart
What are purchasing managers' indexes – PMIs?
Purchasing manager surveys compile anecdotal data from senior executives across industrial sectors such as manufacturing, services and construction, on whether business conditions are getting better, staying the same or worsening.
They also quiz execs on what they expect conditions to be like in the months to come, answering details on staffing, order books, inventory levels, production rates, supplier deliveries and input costs such as raw materials and parts.
They are, therefore, useful on-the-spot and forward-looking indicators on a country's labour market, economic growth and inflation levels.
The data collected from the surveys are compiled to form an index – the purchasing manager's index, or PMI – which is numbered from 0-100, with 50 being the base level: an index above 50 indicates expanding economic activity, while below 50 shows economic contraction.
Let's examine this morning's surveys for the manufacturing and services sectors in the eurozone and the UK in more detail:
Eurozone PMI preliminary readings for June
| | |
| --- | --- |
| Eurozone manufacturing PMI – June | Eurozone services PMI – June |
| Headline PMI: 52 | Headline PMI: 52.8 |
| Last month: 54.6 | Last month: 56.1 |
| Economists' expectations: 53.9 | Economists' expectations: 55.5 |
As the table displays, both activity in the manufacturing and services sectors remained in expansionary territory in June, but were down from the previous month and fell by more than expected – revealed in the survey to be a 16-month low.
Thus, investors sold the EUR/USD this morning over concerns the eurozone economy could soon start contracting – or going into recession.
A dig deeper into the surveys, showed manufacturing output contracted for the first time in two years, while the outlook soured as demand stagnated – with execs blaming the rising cost of living, concerns over energy and continued supply disruptions caused by the Russia/Ukraine war and ongoing Covid effects.
It was a similar story for services, as the surge in tourism and leisure seen in the spring, slowed markedly.
"Eurozone economic growth is showing signs of faltering as the tailwind of pent-up demand from the pandemic is already fading, having been offset by the cost of living shock and slumping business and consumer confidence," said Chris Williamson, chief business economist at S&P Global, which compiles the PMI surveys.
What is your sentiment on DXY?
Vote to see Traders sentiment!
Euro-US dollar (EUR to USD) exchange rate
UK PMI preliminary readings for June
| | |
| --- | --- |
| UK manufacturing PMI – June | UK services PMI – June |
| Headline PMI: 53.4 | Headline PMI: 53.4 |
| Last month: 54.6 | Last month: 53.4 |
| Economists' expectations: 53.7 | Economists' expectations: 53 |
While business conditions worsened in UK manufacturing, the slowdown was not as marked as in the eurozone, while the services PMI held steady from the previous month and managed to beat consensus expectations.
Current conditions were broadly unchanged, but managers noted demand conditions were subdued as new orders slowed for a fourth month in a row. As in the eurozone, execs were cautious about future conditions, citing the impact on demand of rising living costs and the affects of rising production costs.
Williamson said: "Business confidence has now slumped to a level which has in the past typically signalled an imminent recession.
"The weakness of the broad flow of economic data so far in the second quarter points to a drop in GDP which the forward-looking PMI numbers suggest will gather momentum in the third quarter."
British pound-US dollar (GBP to USD) exchange rate
US PMI preliminary readings for June
| | |
| --- | --- |
| US manufacturing PMI – June | US services PMI – June |
| Headline PMI: 52.4 | Headline PMI: 51.6 |
| Last month: 57 | Last month: 53.4 |
| Economists' expectations: 56 | Economists' expectations: 53.5 |
US senior executives reported slowing demand – similarly led by rising living costs as inflation and interest rate hikes hit consumer confidence. Firms noted that inflation pressures continued to lift input costs with rising raw materials and energy prices hitting the hardest. However, many companies declined to pass on the full extent of these rising costs to customers and clients – offering discounts to encourage consumer spending.
The slowdown in growth was seen in both manufacturing and services, with the first contraction in manufacturing output experienced in two years.
Williamson at S&P Global said there had been a 'remarkable' drop in demand for goods and services during June, compared with prior months.
He added: "Businesses have become much more concerned about the outlook as a result of the rising cost of living and drop in demand, as well as the increasingly aggressive interest rate path.
"Business confidence is now at a level which would typically herald an economic downturn, adding to the risk of recession."
Read more