De La Rue's the day it said 'turnaround': Can the bank note printer find some black ink?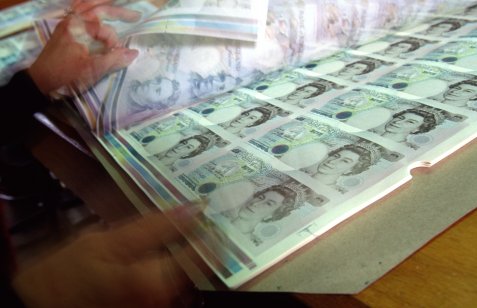 The fading fortunes of De La Rue (DLAR) were explicitly displayed in late January this year when its 'trading and turnaround plan update' was met with a 23% share price fall.
The former FTSE 100 stalwart has suffered some sharp losses since it hit a record high around £10.80 in 2009 and the stock plunged through the mid-cap FTSE 250 and now languishes as a small cap in the FTSE All Share index with a market cap of just £223m and a share price of 114p.
The UK-based manufacturer of banknotes, passports and currency security features told investors in its trading update back in January that it had been affected by supply chain shortages in chips and other process raw materials and experienced a degree of supply chain cost inflation.
As a result, the company said it expected adjusted operating profit for the full year to be broadly similar to last financial year, in the £36-£40m range, versus market expectations of approximately £45m-£47m.
The board also insisted it retained full confidence both in the turnaround plan and in its execution. The key elements of the plan were identified as the growth areas of currency, driven by the accelerating trend of conversion to polymer; and authentication, driven by increasing demand for digital and physical solutions for governments and corporations. De La Rue also promised to deliver further efficiencies and cost reductions.
No change of direction at De La Rue
Clive Vacher, CEO of De La Rue attempted to reassure investors that while the (January) trading update was disappointing, it should be seen as a delay to reaching the Turnaround Plan's objectives, rather than an indication a change of direction was required.
His reassurances it seems, largely fell on deaf ears. After a marked fall at the time, the shares have since traded sideways. The stock was at around the 111p mark at the time of the trading update in January and has been as low as 101p earlier this month before recovering slightly to today's level around 113p.
De La Rue reports full-year results on Wednesday so all eyes will be on the numbers it produces.
But, is disappointment already priced in or will the results provide the next catalyst, either for a short or long play?
While the Covid-linked supply chain issues that the CEO pointed to in his January statement may well affect the business, the reality is that the De La Rue stock price was on the decline a long time before the pandemic.
Go back five years to the day (23 May 2017) , and De La Rue's stock price was just over 665p, its share price chart since then shows a clear direction of travel – consistently downwards to today's 113p level.
What is your sentiment on UK100?
Vote to see Traders sentiment!
Profit warnings and contract bids
Pre-pandemic, the company issued a number of profit warnings as it suffered various setbacks. It failed in its bid to win a £490m contract to print the UK's post-Brexit blue passport and it had to write off £18m after Venezuela's central bank failed to pay its bills.
The company's bank note printing operation has struggled as margins have tightened and the rise of digital payments, (notably accelerated during Covid when 'cash' was no longer king) has proved a significant headwind.
City watchers will be interested to see in Wednesday's results what progress De La Rue has made in reducing debt levels and increasing efficiency..
Simply Wall St thinks that at its current depressed price, De La Rue is trading well below fair value, it estimates fair value at 618p. Simply Wall St also expects earnings to grow significantly over the next three years.