What is day trading?
Day trading is common trading strategy whereby an individual buys and sells a financial instrument over a time frame of a single day's trading with the intention of profiting from small price movements.
Day trading involves speculating on where the price of a security is heading before the close of the day's trading. This means that all positions are closed before the closing bell. The methods of day traders contrast with those of long-term traders who typically utilise buy and hold investing strategies. Day traders commonly tend to trade stocks, currency pairs, indices, commodities and cryptocurrencies.
Historically, day trading was an activity exclusive to big financial firms, banks and professional speculators, with many day traders working in investment banks or as specialists in equity investment and fund management firms. However, since the inception of retail and leveraged trading, day trading has become increasingly more accessible and many private individuals are now day traders.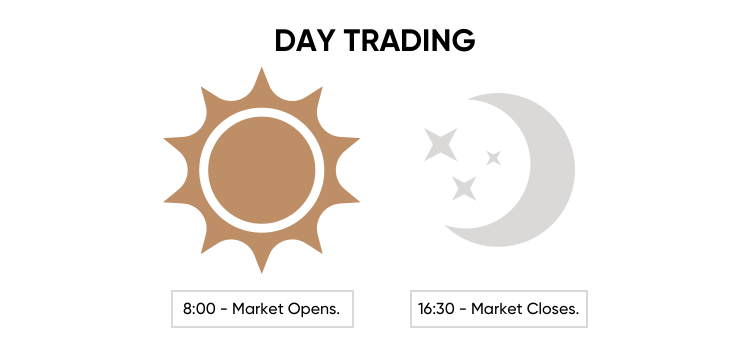 Day trading strategies and techniques
Day traders looking to maximise intraday profit often employ one or multiple of the following day trading styles and techniques. Here a few day trading strategies.
Range trading
Range trading, sometimes referred to as channel trading, is a day trading strategy that starts with an understanding of the recent price history of any given security. A trader will inspect chart patterns to identify typical highs and lows during the day while keeping a close eye on the difference between these points.
For instance, if the price of a security has been rising off a support price or falling off a resistance price, then a trader might choose to buy or sell based on their perception of the market's direction. This is known as 'trading in a range', where each time a security hits a high, it falls back to the low, and vice versa. A day trader who is using this strategy will buy the security around the low price and sell the security at the high price, or vice versa if they are short-selling.
Most range traders will use stop losses and limit orders to keep their trading in line with what they perceive to be happening in the market. A stop loss is the point at which a position is automatically closed out if the price of the security drops below the trader's entry point. A limit order, on the other hand, is the automatic closing of a position at the point by which the trader perceives a profitable run to be near an end.
Range trading requires enough volatility to keep the price moving for the duration of the day, but not so much that the price breaks out of the range and starts a new trend.
Contrarian trading
The idea behind contrarian trading is that no security will rise in price forever, and similarly, no security will fall in price forever. The trader who uses this strategy is looking to trade assets that have been rising in price before selling them, or prefers to buy asset classes that have been falling.
The idea is to buy cheap or sell dear – or rather buy assets that seem to be underpriced and sell assets that seem to be overpriced. Traders who are using this strategy need to be quick to spot the end of a trend in order to open a position at the optimal entry point. This strategy is fighting the trend and can work against traders at times. Contrarian trading favours those who know a market in depth and so know when to bet against it.
News trading
News trading is one of the most traditional, predominantly short term-focused trading strategies used by day traders. Someone who is news trading pays less attention to charts and technical analysis. They wait for information to be released that they believe will drive prices one way or another. This information could be a company announcement about quarterly earnings or new products, a general announcement about economic indicators – such as unemployment, interest rates or inflation – or simply rumours about what might be happening in a certain industry.
To do well with news trading, day traders tend to have some understanding of the markets in which they're trading. They don't necessarily undertake intense research of market makers, but they have the knowledge or expertise to determine how news will be received by the market in question in terms of the extent to which its price will be affected. They will be alert to various different news sources at the same time and know when to enter the market.
The drawback of news trading is that events which cause substantial movements in asset prices are typically scarce. More often than not, the expectations of such events are factored into the price in the run up to the announcement. It is also more difficult to automate: a trader has to see the news for themselves in order to place the order. This works well for traders who can commit to placing orders.
Pairs trading
A day trader who uses this technique searches for two related assets in the market and opens a long position on one and a short position on the other. Many traders using this method open positions in the stock market in the same industry where one stock is over-performing and the other under-performing, but the same rationale can be employed in the futures markets as well (e.g. opening a long position on interest-rate futures and a short position on metals). The idea behind this strategy is to get the greatest return from a trend that affects both assets.

What instruments do day traders typically trade?
In order to make enough profit in a day, day traders typically look for financial instruments that fit the following criteria. An asset should be: highly liquid, volatile and one for which there is an abundance of information. Leveraged trading provides better opportunities in less volatile markets because it provides greater exposure. This means your wins will be maximised, but likewise, so will your losses. There are a few instruments that fit this criteria more than others.
Forex CFDs
The foreign exchange market is open 24/7 and currency pairs are the perfect fit for day traders who enjoy their high volatility, liquidity and respectfully low capital requirements. But the right forex pairs must be selected in order to meet the conditions of day trading outlined. Day traders should pick currency pairs they are knowledgeable about and that fit with their selected day trading strategies.
Indices CFDs
CFDs that mirror indices are some of the most liquid and high-volume instruments on offer in the financial markets. Popular indices such as the NASDAQ 100, Dow Jones Industrial Average and FTSE 100 are all traded amongst day traders.
Commodity CFDs
CFDs on commodities that offer high liquidity, like crude oil and gold, present many opportunities for day traders. They have the added advantage of offering diversification to more traditional assets like index CFDs.
Cryptocurrency CFDs
Cryptocurrencies are extremely volatile. Trading a derivative like a CFD on a cryptocurrency allows for high liquidity, meaning a day trader can enter the market at any point. However, cryptocurrencies have the tendency to be more volatile than traditional asset classes, so a trader must ensure they are utilising effective risk management techniques including, but not by any means limited to, stop losses and limit orders.