Currys (CURY) sees pre-Xmas sales slowdown as stock drops 10%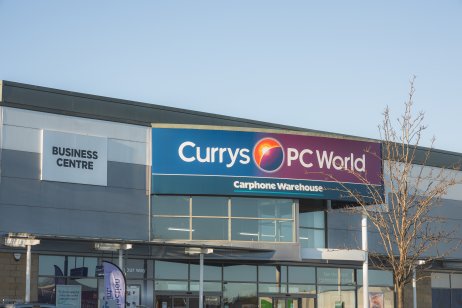 Currys stock dropped 10.48% on the London Stock Exchange on Wednesday morning after the British electrical and telecommunications retailer released its half-year results.
In the six months to the end of October, the group posted profit before tax of £48m ($64m), up from £40m in the same period a year previously.
The business said it also expects to hit its full-year profits of around £160m despite a softer market in the Christmas run-up.
"Group sales were flat year-on-year on a currency neutral basis, as +4% growth in our international business was offset by the decline in UK&I sales and the Carphone Warehouse Ireland closures," Currys said.
UK and Ireland EBIT margins up
Adjusted EBIT (earnings before interest and taxes) was also flat year-on-year. However, UK and Ireland EBIT margins increased due to a higher mix of store sales and continuing cost reductions.
"This was offset by lower Nordic profits due to a decline in gross margin after the strong performance last year, planned transformation cost and additional costs to mitigate supply chain headwinds," the retailer said.
Meanwhile, the company's operating cash flow was in-line with last year and capital expenditure and exceptional cash costs were lower than last year, but as expected, working capital inflow was substantially lower for the half, resulting in lower free cash flow, it said.
Current trading and outlook
Currys said that during the last few months global supply chain challenges have affected the industry, but said it has coped with the challenges well.
"Nevertheless, there are costs associated with some of these mitigations, and there has been some impact on our product availability and on sales of some in-demand products," the company said.
It also noted that after a strong sales performance in the first half of the year, market demand had softened in the run-up to Christmas.
"Against this backdrop, we have taken market share in the UK, margins have remained stable and customer satisfaction has further improved," the group added.
As a result, it said the immediate outlook has become more uncertain, with the omicron Covid-19 variant and associated government restrictions potentially further dampening market demand.
Nevertheless, it said the strong first-half performance from a stronger business meant it remains on track to meet expectations outlined at its Capital Markets Day last month for full-year adjusted profit before tax of around £160m.
CEO comments
Currys CEO Alex Baldock commented on the results: "We've had a strong first half of the year. We grew colleague engagement and customer satisfaction, gained market share and stabilised gross margins in the UK, grew profits and generated strong cash flow.
"Technology is now more important than ever to people's lives, and we're best-placed to make the most of that. More and more, we are doing so," Baldock said.
"Our market has been softer over recent weeks, and we may face into further headwinds from Omicron and associated restrictions, but the stronger business we've built can ride out both the industry-wide disruption to supply chains and bumpy demand. After the strong first half, we remain on track to meet the expectations we set out a month ago for full year adjusted PBT [profit before tax] of around £160m," he added.
Read more: BetaShares ETFs give Australians access to global EV market