Crypto market wrap: Prices spike despite US recession news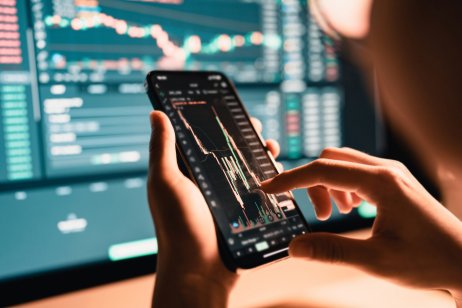 Altcoin prices spiked Thursday despite news of a US recession.
Several coins posted double-digit gains and others were also well in the as cryptocurrency prices increased across the board for the second straight day.
What is your sentiment on BTC/USD?
Vote to see Traders sentiment!
UNI

to USD
Ethereum Classic skyrockets
Ethereum Classic (ETC) was up about 33% around the time that conventional markets closed in North America, after posting a 14% gain on Wednesday. (All figures based on CoinMarketCap data.)
Uniswap (UNI) ballooned 28%, while bitcoin cash (BCH) jumped 25% and thorchain (RUNE) and convex (CVX) were both up 20%.
The increases occurred even though the US Commerce Department released data showing that American GDP declined for the second straight quarterd, signalling a technical recession.
Fed rate hike
The crypto market trended upward Wednesday after the US Federal Reserve followed through on an anticipated 75-basis-point interest-rate hike.
"It's very interesting also to see how crypto is starting to correlate with the stock market and, in general, with the planetary economy," said Damian Scavo,
CEO at algorithmic trading platform Streetbeat. "It means that the crypto market is reaching a certain level of maturity."
BCH to USD
Fed officials were clear
Fed officials were quite clear that a full percentage point hike was not a viable option even as the latest consumer price index (CPI) figure, an inflation metric, was hotter than expected earlier this month, said Mikkel Morch, executive-director for digital asset Investment Fund ARK36.
Fed chief Jerome Powell communicated the US central bank's position on the interest-rate hike beforehand, avoiding a knee-jerk reaction, Mork added.
And, the markets had enough time "to digest and fully price in" a 75-basis-point increase.
He said major crypto assets' rally in the immediate aftermath of the Fed's announcement may suggest that market participants were "actually quite fearful" of a potential 100-basis-point rise and "sighed with relief" when the actual increase aligned with Fed governors' consensus.
RUNE to USD
Room for upside
"Since the next hike doesn't come until September, there may be some room for upside now – although that will be contingent on the strength of the dollar and the wider macro environment," said Mork.
He expects the Fed's next Federal Open Market Committee (FOMC) meeting in September, when another interest-rate hike will be considered, to be "much more consequential."
"We will then have much more clarity in relation to the effect the rate hikes have had on the economy and whether we are in for a soft or a hard landing," said Mork.
"If Jerome Powel ignores the growing evidence of a recession and [the Fed] continues on its hawkish course, it will be a strong signal to the markets that they can't count on the Fed to pivot before the mid-term elections in November. So a 75- or perhaps even 50-bps rate hike in September will likely trigger a sharp sell-off in risk assets."
Bitcoin surpasses $23,000
At this point, all markets – including crypto – are "adrift," said Chris Terry, vice-president of enterprise solutions for US-based open lending platform operator SmartFi. Until the market breaks either upward or downward, not much is going to happen.
"We anticipate that bitcoin will continue to trade in this tight range of $20,000 plus or minus 10-15%," he said.
Bitcoin (BTC) surpassed $23,000 on Thursday, rising 10%. Ethereum (ETH) performed even better as it jumped 15%.
But Terry said the crypto market rally stemming from the Fed rate hike and other economic factors should be no surprise.
"We could be in this stalled market for weeks and weeks. Boring," he said.