Could these stocks survive the tech storm? AMD, NET and more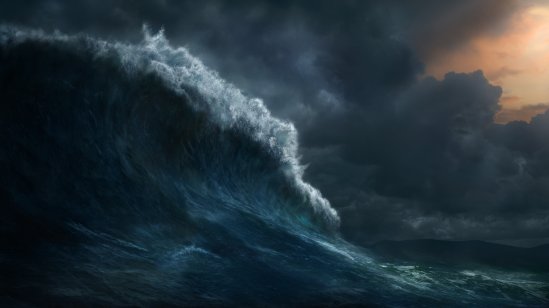 Many tech stocks soared during the Covid-19 pandemic, but companies such as Amazon (AMZN), Netflix (NFLX), and Peloton Interactive (PTON) have been seeing drops in stock price of late, off their pandemic highs.
As sentiment shifts, Capital.com takes a look at companies that might potentially survive the current tech stock slump.
The technology-heavy NASDAQ index fell 13% in April, its worst monthly performance since October 2008 in the throes of the financial crisis.
NASDAQ 100 (US100) index
"Some of the COVID (stock) winners that had a massive multi-expansion – their share prices did really, really well – now that it's falling by the wayside, the market is rationing into the reopening winners," portfolio strategy head Niladri Mukherjee at Bank of America Private Bank recently told Yahoo Finance.
What is your sentiment on AMD?
Vote to see Traders sentiment!
AMD (AMD) stock
With the PC chip market softening amid continuing supply chain issues and macroeconomic fears, investors looking to benefit from the boom in high-performance computing may want to pay attention to Advanced Micro Devices (AMD).
Founded in 1969, AMD is one of the world's leaders in the microprocessor industry. AMD chips power video game consoles such as Sony's (SNE) PlayStation and Microsoft's (MSFT) Xbox, among other things.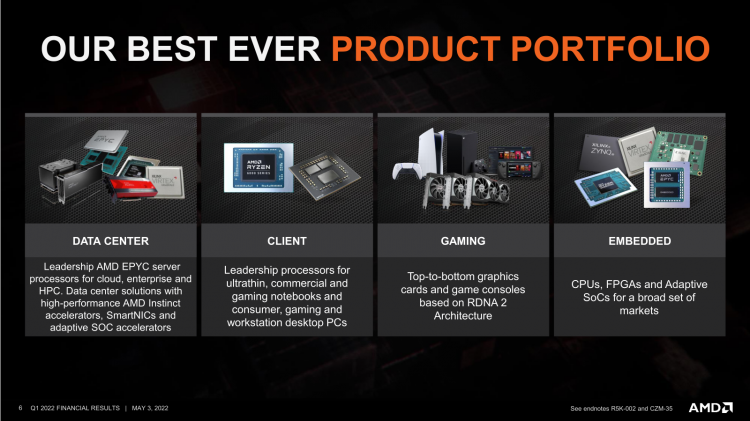 AMD
Although down 36% from the beginning of the year, Advanced Micro Devices (AMD) stock enjoyed a 7% gain on Wednesday after the semiconductor products maker reported first-quarter adjusted earnings of $1.13 on revenue of $5.89bn (£4.7bn, €5.6bn), which blew past analyst estimates of earnings 91 cents on revenue of $5.01bn.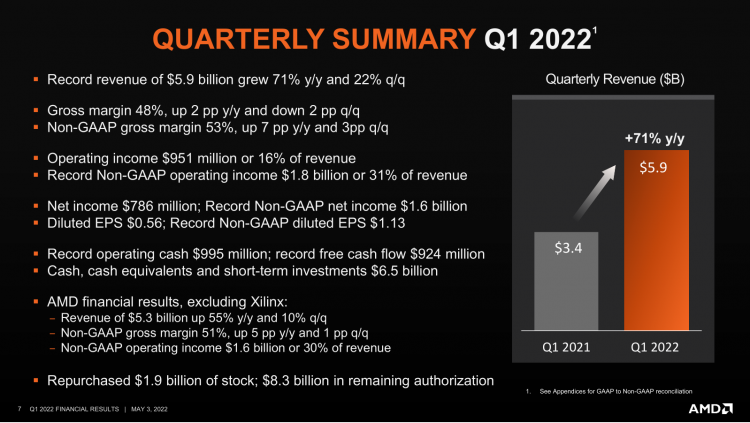 AMD
"Demand remains strong for our leadership products, with our increased full-year guidance reflecting higher AMD organic growth and the addition of the growing Xilinx business," AMD Chair and CEO Dr Lisa Su said in a statement.
Under the guidance of Su, AMD has boosted its datacentre CPU division and added new capabilities such as programmable and data-processing chips as the world's demand for data grows.
The company's high-end server-chip business looks set to continue to thrive and take market share from Intel (INTC), Barron's wrote in the wake of AMD's earnings.
Cloudflare (NET) stock
With stock up 3% over the past year, Cloudflare (NET) may be an acquisition target for a large cloud provider looking to diversify, which was seen in March when Alphabet's (GOOG) Google acquired cybersecurity services firm Mandiant for $5.4bn in a move that beefed-up its cloud security offering.
Cloudflare's services protect and accelerate any online application or website without the cost of added hardware, software or changing code. The company's intelligent global network - known as a content delivery network (CDN) - routes web traffic and helps decrease spam and other attacks.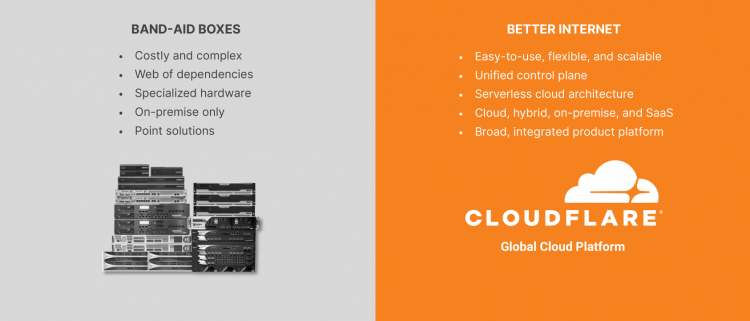 Cloudflare
Cloudflare is due to post first-quarter earnings on Thursday with analysts expecting the company to break even on earnings with revenue seen at $205.7m, according to figures widely available on financial news sites.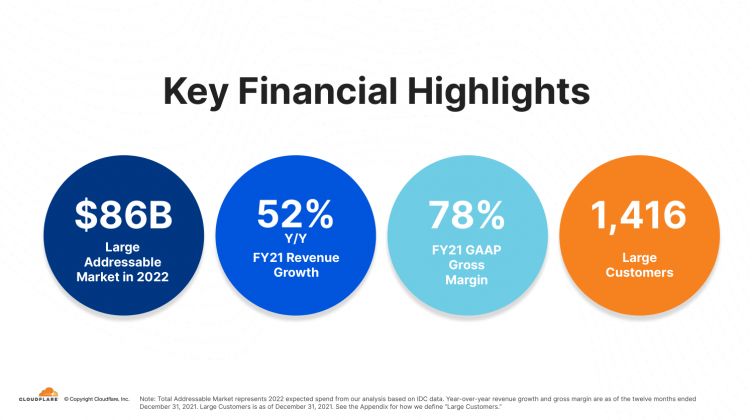 Cloudflare
Unity Software (U) stock
As Meta Platforms (FB) continues to build its metaverse and Micrososft beefs up its gaming portfolio, this company could be a possible acquisition target.
Unity's CEO is no stranger to the video games world: John Riccitiello was the CEO of Electronic Arts (EA) during the early 2000s, a period considered a golden age for gaming.
Currently trading down 65% from its all-time high of $196.65 in November 2021, Unity Software (U) makes software used by video game developers, artists, architects and filmmakers to create 3D content and apps.
Apps developed by Unity creators have been downloaded billions of times per month in recent years and much of the content on the metaverse is created using software art packages such as Unity.
In a recent note, Morgan Stanley analyst Matthew Cost estimated Unity's s total addressable market for non-gaming related sales at $25bn in five years.
In February, Unity reported that its fourth-quarter loss widened to 56 cents per share from 31 cents a year earlier as revenue rose to $315.9m from $220.3m a year ago.
"We believe that the transition from linear 2D to interactive real-time 3D, presents a massive growth opportunity for the next decades. These are strong tailwinds that help us drive growth for years to come," Unity's Riccitiello said in a statement.
Last year Unity bought New Zealand-based Weta Digital, a movie special effects company founded by Lord of the Rings director Peter Jackson for $1.63bn.
The author's views are not intended as financial advice and investors should be aware that markets are volatile and past performance is no indication of future returns.