ContourGlobal reveals double digit revenue growth this year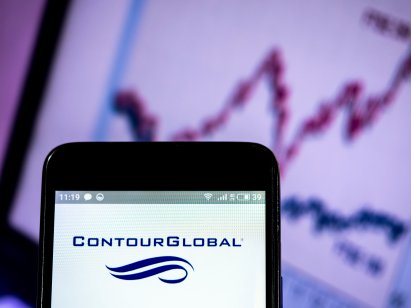 ContourGlobal, the operator of wholesale power-generation businesses, has revealed it enjoyed double-digit revenue growth this year.
In a trading statement, the London-based company announced its revenue hit $1.48m for the nine months to the end of September – up 46% on the previous year.
It has also approved a quarterly pay-out of 4.465 cents per share, equivalent to $29.3m, reflecting the group's target of 10% year-on-year dividend growth.
Strong cash flow
The company said the dividend, which will be paid on 19 November 2021, had been supported by its "strong and predictable" cash-flow generation.
It also reported adjusted earnings before interest, tax, depreciation and amortisation (EBITDA) had increased by 14% to $622.2m from $542.8m for the corresponding period in 2020.
Co-founder, president and chief executive Joseph Brandt said the business had "performed well financially" during the quarter.
"We continue to focus on operationally led low-carbon growth opportunities in our key geographies and our pipeline of attractive opportunities remains robust," he said.
What is your sentiment on GLO?
Vote to see Traders sentiment!
Health-and-safety concerns
Brandt also insisted the health and safety of employees and contractors was the company's highest goal as he reflected on a couple of incidents.
"We had two unacceptable health-and-safety failures in the third quarter: a fatality of one our contractors at a wind farm in Brazil, our first in nine years," he said.
The company also reported a 'lost-time incident' at one of its concentrated solar-power plants in Spain. "We will learn from these failures and improve, and recommit to Target Zero," he added.
Read more: Renewable energy sector grows to meet world net-zero targets
The difference between stocks and contracts for difference (CFDs):
The main difference between CFD trading and stock trading is that you don't own the underlying
stock when you trade on an individual stock CFD.
With CFDs, you never actually buy or sell the underlying asset that you've chosen to trade. You
can still benefit if the market moves in your favour, or make a loss if it moves against you.
However, with traditional stock trading you enter a contract to exchange the legal ownership of
the individual shares for money, and you own this equity.
CFDs are leveraged products, which means that you only need to deposit a percentage of the full
value of the CFD trade in order to open a position. But with traditional stock trading, you buy the
shares for the full amount. In the UK, there is no stamp duty on CFD trading, but there is when
you buy stocks.
CFDs attract overnight costs to hold the trades, (unless you use 1-1 leverage)
which makes them more suited to short-term trading opportunities. Stocks are more normally
bought and held for longer. You might also pay a stockbroker's commission or fees when buying
and selling stocks.