Conagra sales fall as pandemic behaviour subsides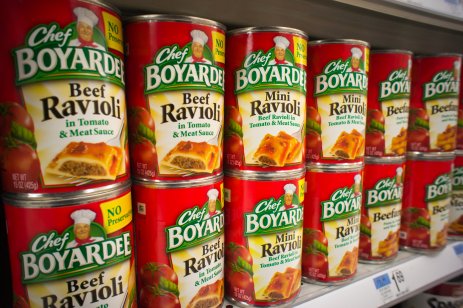 Conagra Brands, a maker of frozen, staple and snack foods, posted lower sales numbers in its latest quarterly results as consumers started to leave their homes more frequently since the pandemic restrictions began to subside.
Net sales of Conagra's brands – which include Birds Eye, Healthy Choice, Earth Balance and Chef Boyardee – decreased by 1% year-over-year to $2.7bn (£1.98bn) for the quarter ended 29 August, the company said in a filing with the Securities and Exchange Commission (SEC).
The company's earnings were negatively affected by a bad quarter comparable to a year ago when consumers were not eating out at restaurants and were instead stocking up on foods to eat at home amid the first summer of the Covid-19 pandemic.
The company believes some of the pandemic momentum that drove higher sales for its products will be maintained the future, but investors were not persuaded by that argument immediately following the call.
Conagra shares fell by around 0.39% through mid-day trading on Thursday to a price of just over $34 per share.
Consumers staying home
Although more consumers are going into offices and eating out at restaurants than they were a year ago, Conagra says the long-term trend is for more hybrid work from home, which it believes will drive additional sales.
The company noted that some food-purchasing trends, such as a larger millennial generation-forming families adopting easy-to-make frozen foods, were on the rise prior to the pandemic.
But other trends – such as remote working, a contracting workforce and greater numbers of retirees cooking more from home – came about directly as a result of the pandemic, leading to more people eating at home.
Conagra says it has a track record of attracting Millennial and Gen Z consumers at a higher rate than the segments it operates in would suggest.
"Historically, younger adults have eaten at home less than older generations, and the meaningful shift towards at-home eating tends to happen during the family formation years," Sean Connolly, president and CEO of Conagra Brands, said on the earnings call.
"Almost half of Millennials have yet to begin having kids and we fully expect their consumption of Conagra products will grow along with the growth of their families," he added.
What is your sentiment on CAG?
Vote to see Traders sentiment!
Financial results
The company's adjusted gross profit decreased 18% to $675m in the quarter as its adjusted gross margin decreased by 530 basis points to 25.4% in the quarter. At that rate adjusted gross margin fell 80 basis points more than analysts at Deutsche Bank even expected.
"Altogether, we believe Conagra's results were not surprising in the context of the current operating environment," Deutsche analysts Seve Powers and Christopher Barnes wrote in a report obtained by Capital.com. "Conagra also repurchased $50m in stock (up from Deutsche Bank estimates of $18m), a positive sign of confidence in its current guidance."
The profit declines reflected rising inflation costs, which Conagra now expects to be 11% versus prior guidance of approximately 9%.
Despite lower sales in the quarter, Conagra increased its sales guidance to +1% for the year, up from its prior guidance of approximately flat year-over-year sales. The company also maintained its guidance of 16% adjusted operating margin and $2.50 adjusted earnings per share.
Read more: Constellation Brands ups outlook as Q2 misses EPS targets