Climate activists target Amazon (AMZN) on busiest shopping day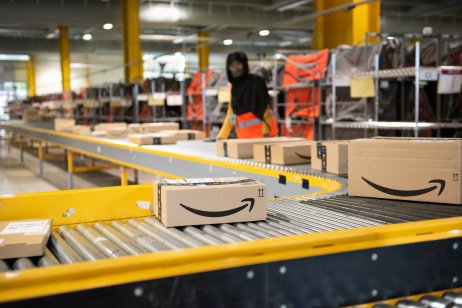 Climate activist group Extinction Rebellion targeted Amazon warehouses on Friday in a bid to disrupt operations on one of the busiest shopping days before Christmas.
The protesters targeted 13 depots across Britain on Black Friday as part of a protest against the e-commerce giant, which the environmental activist group said represents excessive consumerism.
"Black Friday epitomises an obsession with overconsumption that is not consistent with a liveable planet," Extinction Rebellion said, according to Reuters news agency.
"Amazon and companies like it have capitalised on our desire for convenience and stoked rampant consumerism at the expense of the natural world," the activists added.
Blockades across depots
Amazon's largest warehouse in Dunfermline, Fife, was one of the locations where protests have taken place.
The Evening Standard reported that protesters with "lock-ons" and placards have stopped lorries entering and leaving the site.
An Extinction Rebellion spokesperson said the action is intended to draw attention to Amazon's "exploitative and environmentally destructive business practices, disregard for workers' rights in the name of company profits, as well as the wastefulness of Black Friday."
The group also said it was targeting warehouses in the US, Germany and the Netherlands.
On its Twitter page, the group posted pictures and shared videos of the UK-wide demonstations, including a photo protestors blockading a main road and holding a banner saying: "Black Friday exploits people and planet."
The group also posted pictures of a blockade at Schiphol airport in Amsterdam on Friday morning.
Read more: Global risk assets slump as new Covid variant emerges