Chip maker Nvidia's (NVDA) deal to buy Arm faces FTC lawsuit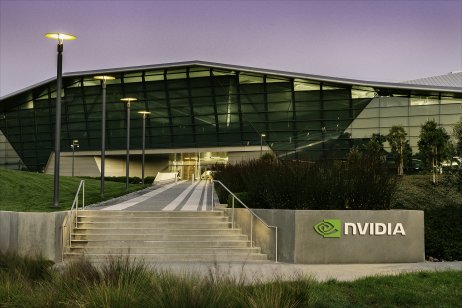 The US Federal Trade Commission (FTC) filed a lawsuit on 2 December in an effort to prevent the acquisition of UK chip design provider Arm Ltd. by Nvidia, alleging Arm's technology is a "critical input" that enables competition between Nvidia and other technology companies.
"The FTC is suing to block the largest semiconductor chip merger in history to prevent a chip conglomerate from stifling the innovation pipeline for next-generation technologies," said Holly Vedova, the FTC's bureau of competition director.
Nvidia announced on 13 September 2020 that it had a definitive agreement in place to buy Arm for $40bn (£30.2bn). At the time, the company said it expected to close the transaction in September 2021.
Nvidia shares were down more than 5% at 14:05 ET (UTC-5) to $304.07.
Competition at risk, says FTC
In a press release, the FTC contended the "proposed merger would give Nvidia the ability and incentive to use its control of this technology to undermine its competitors, reducing competition and ultimately resulting in reduced product quality, reduced innovation, higher prices, and less choice, harming the millions of Americans who benefit from Arm-based products."
The FTC complaint asserted the proposed acquisition would curtail competition in three areas: driver assistance systems in passenger cars, networking products used to help data centre servers become more efficient and secure, and cloud computing services.
Licensees of Arm's 5G technology share sensitive information with the company to help develop, debug and troubleshoot their products, the FTC said, and some of them are Nvidia's competitors. The FTC alleges that trust in Arm as a neutral supplier would be compromised and innovation would suffer. Technological advancements that conflict with Nvidia's business interests would also be at risk, according to the FTC.
What is your sentiment on NVDA?
Vote to see Traders sentiment!
"Nvidia is committed to preserving Arm's open licensing model and ensuring that its IP is available to all interested licensees, current and future."
by
NVIDIA company statement on FTC action to block $40bn acquisition of Arm
Nvidia not giving up
In a company statement emailed to Capital.com on Friday, Nvidia disputed the FTC's allegations, and argued the transaction will enhance, not stifle, competition in the marketplace.
"Nvidia will invest in Arm's R&D, accelerate its roadmaps, and expand its offerings in ways that boost competition, create more opportunities for all Arm licensees and expand the Arm ecosystem. Nvidia is committed to preserving Arm's open licensing model and ensuring that its IP is available to all interested licensees, current and future."
Nvidia also said "it will continue to work to demonstrate that this transaction will benefit the industry and promote competition."
Other regulators reviewing acquisition
Regulators in other regions have also taken notice of Nvidia's proposed acquisition, and the FTC said it has cooperated with comparable agency investigations in the European Union, United Kingdom, Japan and South Korea.
In the third quarter earnings call on 17 November, Colette Kress, Nvidia's executive vice president and chief financial officer, spoke about the scrutiny the company is facing in other jurisdictions over the Arm acquisition.
"The transaction has been under review by China Antitrust Authority, pending the formal case initiation," Kress said. "Regulators in the UK and the EU have declined to approve the transaction in Phase 1 of their reviews on competition concerns. In the UK, they have also voiced national security concerns. We have begun the Phase 2 process in the EU and UK jurisdictions."
The FTC administrative trial is scheduled to start on 9 August 2022.
About Nvidia and Arm
Headquartered in Santa Clara, California, Nvidia manufactures semiconductor chips. In 1999, the company invented graphics processing units, or GPUs, which propelled the growth of the PC gaming market. More recently, GPUs have played a significant role in modern artificial intelligence, functioning as the brain for various tech products including computers, robots and self-driving cars.
Arm is headquartered in Cambridge, England. It creates and licenses designs and architecture for microprocessors to other tech companies. SoftBank, a Japanese multinational conglomerate, acquired Arm back in 2016. Nvidia, Arm and SoftBank are all named in the FTC complaint.
Read more: Nvidia (NVDA) net income rises 84% in latest quarter
Read more: NVIDIA profit more than doubles in latest quarter