China re-opening trade: Dollar slips below 7 yuan as Covid restrictions ease
Subscribe to Weekly Highlights
The major market events for the week ahead right in your inbox.
Subscribe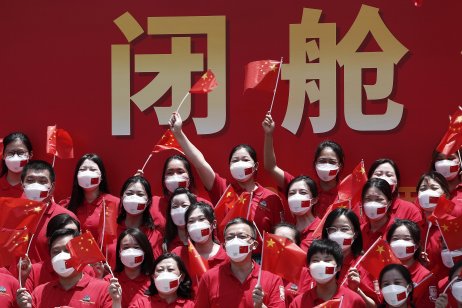 Content
Did China take a great leap forward yesterday? If so, what does it mean for CNH? China's State Council retreated from sweeping Covid restrictions on Wednesday in the hope of curtailing the economic damage wrought by over-bearing pandemic restrictions.
While USD/CNH is 1.5% now lower over the week this widens to almost 4% on the month, driven lower by less hawkish messaging from the Federal Reserve, positioning a slower pace of rate hikes.
This morning USD/CNH traded at 6.972 but markets are on edge; three large central bank aircraft drop their goods more or less together shortly: the Bank of England and European Central Bank on Thursday, the Fed a day earlier on Wednesday.
Is China heading towards a pre-pandemic 'normal'? No, the new 'normal' is still work in progress – for CNH too
FX strategist and finance consultant at Keirstone, Francis Fabrizi
USD/CNH remains below 7.00 after yesterday's bearish move to the downside. "Price is currently in a state of indecision, having unsuccessfully attempted to break above 6.80 this morning."
"If we see a break and hold above 6.80, I believe price will push higher towards the 7.00 resistance level."
"Price will remain bearish for now and will continue to gain momentum down towards 6.93. If it is able to break below this support level, we could see a further drop towards 6.85."
Other new arrivals next week include Chinese industrial production and retail sales. Iris Pang at ING predicts Chinese industrial production will grow, but at a slower clip. Retail sales "look likely to continue to contract" she warns.
At both front and sides the grim Chinese property picture adds to the murk. Pang thinks consumption will take time to get going. For the moment the People's Bank of China is set to keep the one-year medium-term lending rate at 2.75% "as this week's Politburo meeting suggested that there would be no further general easing".
What is your sentiment on USD/CNH?
Vote to see Traders sentiment!
US trade pressure bears down
Meanwhile Bloomberg has reported that Dutch officials are plotting new curbs on chip-making equipment destined for China. A fully-fledged agreement could arrive in January; no final decision is imminent but it is a sign of more trade tension to come.
Lee Hardman at MUFG Bank adds to caution on Chinese trade re-bound potential. "We continue to assume that China's economy is unlikely to be allowed to more fully re-open until Q2 with a recovery in consumption taking place in the second half of next year."
In the near-term China's economy is set to remain frail heading into next year, highlighted by a much weaker than expected trade report yesterday he adds. "The report revealed a sharp deceleration in both export and import growth to -8.7% and -10.6% respectively in November."
CNH is out of lockdown – what next?
While China's trade surplus has narrowed modestly it remains at close to record levels.
In the twelve months to November China saw a cumulative trade surplus of CNY5.9trn which compares to a surplus of CNY3.0trn over the same period before the COVID shock, November 2019, Hardman says.
But the sharp increase in China's trade surplus highlights "potential for the renminbi to strengthen further in the year ahead if re-opening proves successful and China's economy grows more strongly".
Still, a China 'recovery' has to undergo the challenges of rising Covid numbers despite widespread enforced quarantine and mass contact tracing.
Fever control
This morning the FT reported that emergency departments in Beijing "are already reporting an influx of Covid patients". China's health system could be swamped by serious illness, as well as the less serious.
Millions of Chinese will shortly be on the move as they make the journey home for the coming lunar new year holiday, exacerbating contact risk from urban dwellers to those in rural areas. The risk of sub-variants will also rise.
For now, near-term CNH upside is good news for Asian and emerging market pairs against USD. But it also begs a question: is too much good news priced in?
Around 12.15am DXY was 0.05% up at 104.85 while EUR/USD was 0.14% higher at 1.0520; GBP/USD was 0.32% lower at 1.2178; USD/JPY had lifted 0.15% to 136.78.
Related reading