ChemoCentryx shares up 96% on vasculitis drug FDA approval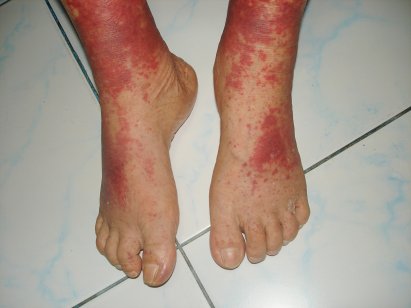 ChemoCentryx shares spiked as much as 108.3% on Friday after the US Food and Drug Administration (FDA) approved the company's vasculitis drug, Tavneos.
ChemoCentryx shares went as high as $40.80 (£29.90) in late afternoon trading before ending the week at $38.41, versus Thursday's $19.59 closing price, for a 96% increase.
Trading volume for ChemoCentryx shares topped 143 million Friday, versus a 1.6 million average daily trading volume, according to Nasdaq. The company trades as ticker CCXI.
Tavneos
Tavneos – the brand name for avacopan – is an "orally administered complement 5a receptor inhibitor for patients with severe anti-neutrophil cytoplasmic auto-antibody-associated vasculitis," the company said in the release announcing the FDA clearance.
Tavneos is the first-ever ChemoCentryx medication to gain FDA approval in its 24-year history and the first orally administered vasculitis treatment.
According to the Mayo Clinic, vasculitis involves inflammation of the blood vessels. The inflammation can cause the walls of the blood vessels to thicken, which reduces the width of the passageway through the vessel. If blood flow is restricted, it can result in organ and tissue damage.
Relief for patients
"This is the first new therapy for vasculitis in over a decade," said ChemoCentryx CEO Dr Thomas Schall said in an investor conference call following the announcement. Vasculitis is fatal in roughly 10% of patients within one year of diagnosis, Schall added.
Schall said he expects Tavneos to eventually be a billion-dollar medication. Treatment is expected to cost somewhere between $150,000 to $200,000 per year, Schall added during the call.
Distribution to clinicians is expected in the coming weeks.
"We have been planning for this day for many months," added ChemoCentryx COO Dr Tosh Butt on the same conference call. "We plan to target the market with a focussed approach in rheumatology and lymphology."
Surprise approval
The approval came as a surprise, following a split FDA vote over the efficacy of Tavneos in May, which sent ChemoCentryx shares tumbling 77.5%. On 6 May, the FDA announced it had voted nine to nine as to "whether the efficacy data support approval of avacopan," for vasculitis.
The May vote sent ChemoCentryx shares from $44.82 on 3 May down to $10.97 by 10 May.
"Today is a momentous day in the history of ChemoCentryx; the culmination of decades of effort aimed at offering new hope to patients with this and other debilitating and deadly diseases," said Schall in a prepared release, adding distribution to clinicians is expected in the coming weeks.
Tavneos was approved in Japan last month and approval is pending in the EU.
Read more: Virpax up for the second day after positive FDA report