Celer Network price prediction: Will CELR rise?
Subscribe to Weekly Highlights
The major market events for the week ahead right in your inbox.
Subscribe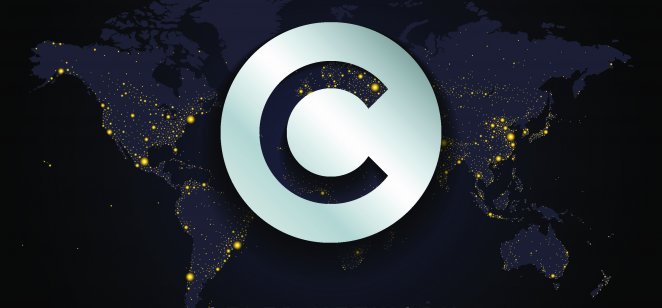 Content
Celer Network (CELR), a blockchain protocol for interoperability, witnessed a strong bull rally in mid-August. On 15 August, its price hit a 90-day high of $0.02779.
At the time of writing (24 August), the CELR token was trading at $0.01954 – 90% lower than its all-time high of $0.1987 hit on 26 September 2021, according to CoinMarketCap.
However, despite the prevailing bearishness in the cryptocurrency market, the CELR token has been in an uptrend over the last couple of weeks.
As of 24 August, 17,234 addresses were holding CELR tokens. However, the top 100 holders controlled 96.56% of the entire supply, making the token sensitive to price fluctuations.
Can the CELR token make a significant recovery amid the gloomy crypto market, or will it drop in value? Here we take a look at the token's price analysis and the latest celer network price prediction.

What is Celer Network?
Celer Network is a trustless and privacy-preserving interoperable blockchain protocol that allows users to instantly design, run, and deploy massively scalable decentralised apps (dApps).
Celer Network is built on layered architecture that enables the quick growth of each component. In essence, the architecture simplifies system design, development and maintenance so that each individual component can easily evolve and adapt to changes. Compared to other projects in the decentralised finance (DeFi) ecosystem, Celer Network has an off-chain infrastructure.
"Off-chain scaling techniques allow mutually distrustful parties to execute a contract locally among themselves instead of on the global blockchain," according to Celer's whitepaper.
"Off-chain scaling is the only way to support fully scale-out decentralised applications ("dApps") with better privacy and no compromise on the trust and decentralisation guarantees. It is the inflection point for blockchain mass adoption, and will be the engine behind all scalable dApps," it added.
In July 2021, the project officially launched the mainnet version of cBridge (a multi-channel network that allows users to swap assets across several blockchains with ease).
Celer's cBridge allows seamless token transfers. Users are now able to use cBridge to instantly transfer tokens across Ethereum, Arbitrum, Polygon and Binance Smart Chain
Besides interoperability, the mainnet version, Celer cBridge v1.0, significantly advances the speed and scalability of the interaction between Ethereum's layers 1 and 2.
What is the CELR token?
CELR is a non-refundable functional utility token. It's used to pay transaction and protection fees to service providers. The token, designed to be used solely by the network, provides on-chain data availability with a novel insurance model. This means that CELR is used as a stake in the State Guardian Network (SGN).
The State Guardian Network is a special compact side chain to guard on-chain states when users are online. CELR token holders can stake their CELR into SGN and become state guardians.
According to the company's whitepaper, before users go online, they can submit their state to SGN with a certain fee and ask the guardians to guard the state for a certain period. Based on a responsibility score, several guardians are then selected at random to be responsible for this state.
Celer Network's native digital cryptographically secure protocol token also works by incentivising the maintenance of a stable and abundant liquidity pool in the virtual mining process via Proof of Liquidity (PoLC).
The token is used to maximise liquidity interest payouts in the Liquidity Backing Auction (LiBA). LiBA offers off-chain service providers an opportunity to request liquidity, and lenders can stake their tokens to be given as loans. Off-chain operating networks gain scalability by first trading off-network liquidity.
It has a circulating supply of 6.84 billion CELR and a total supply of 10 billion, according to CoinMarketCap.
CELR/USD price analysis
According to ICODrops, CELR's initial coin offering (ICO) concluded in March 2019 at a token price of $0.0067. Since then, it has returned a negative ROI of -35%, according to CoinMarketCap, as of 24 August.
According to the CELR historical price chart, there were no significant price swings until 2021. At the start of 2021, the price action turned bullish. It surged from $0.0048 on 1 January to $0.0926 on 30 March. However, amid the meltdown in the global cryptocurrency market, the CELR token declined to $0.0267 on 23 May, having lost 71% of its value.
After a bearish summer in 2021, the Celer Network cryptocurrency rebounded and reached its all-time high of $0.1987 on 26 September. The retracement sent the price to $0.06 on 14 December. It closed the year at $0.0732.
CELR had a bullish start to 2022, reaching $0.09758 on 15 January. Between January and February, the token's price action turned bearish, declining to $0.03659 on 21 February. The downtrend continued, and the price reached a 52-week low of $0.0111 on 12 May.
| | |
| --- | --- |
| Long position overnight fee | -0.0500% |
| Short position overnight fee | 0.0140% |
| Overnight fee time | 22:00 (UTC) |
| Spread | 5.50 |
| | |
| --- | --- |
| Long position overnight fee | -0.0500% |
| Short position overnight fee | 0.0140% |
| Overnight fee time | 22:00 (UTC) |
| Spread | 0.2922 |
| | |
| --- | --- |
| Long position overnight fee | -0.0500% |
| Short position overnight fee | 0.0140% |
| Overnight fee time | 22:00 (UTC) |
| Spread | 0.0014056 |
| | |
| --- | --- |
| Long position overnight fee | -0.0500% |
| Short position overnight fee | 0.0140% |
| Overnight fee time | 22:00 (UTC) |
| Spread | 0.00351 |
At the time of writing (24 August), the token was trading at $0.1954 and had a market capitalisation of $137m.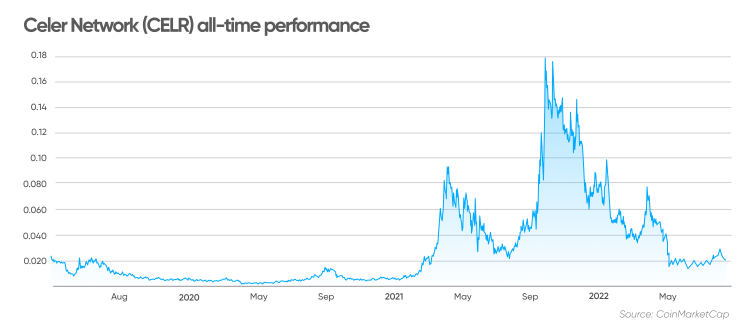 Celer Network news and price drivers
The project has undergone a number of significant milestones and developments lately, which could drive the celer (CELR) future target price.
Launch of Celer's IM Scan
Celer Network released IM Scan in August 2022, a tool that can scan on-chain data for any protocols or applications established or connected with the Celer Inter-chain Messaging (Celer IM) architecture.
Users can employ Celer IM Scan to query any cross-chain transfer that employs Celer IM by searching on the query portal using the "Address" or "Transaction Hash".
Celer IM Scan also includes a real-time ecological data graph for the Celer IM ecosystem, which provides for total transaction counts, the total number of transactions in the last 24 hours, daily transaction counts over the previous 31 days, and a list of the different chains supported by Celer IM and their corresponding transaction counts.
????️Our amazing community has created a unique tool where you can query info about cross-chain transfers based on the Celer Inter-chain Messaging (Celer IM) framework by searching with the "Address" or "Txn Hash"!????
????Try it here: https://t.co/ZTnmkOmnz9https://t.co/fUSf7IEoJF

— CelerNetwork (@CelerNetwork) August 13, 2022
Partnership with MUX Protocol
Celer Network partnered with decentralised leveraged trading protocol MUX Protocol in August 2022 to roll out MUX's multi-chain, native future trading decentralised exchange (DEX) enabled by Celer technology.
With the inclusion of Celer's cross-chain bridging functionality for their muxTokens (muxETH and muxUSD), MUXLP can be staked on or withdrawn from any supported chain, including BNB Chain, Avalanche and Fantom. This considerably improves the interoperability, user experience and the protocol's overall liquidity efficiency.
Partnership with Nervos and Klaytn for cross chain asset transfers
Celer Network secured two critical partnerships in July and August 2022 with Nervos, a public blockchain ecosystem, and Klaytn, a public blockchain centred on metaverse and GameFi ideas.
Users can now bridge USDT, USDC, ETH, WBTC and DAI between Ethereum and Nervos and Ethereum and Klaytn quickly, safely and cheaply.
Partnership with PlatON
Celer Network and next-gen internet infrastructure protocol PlatON partnered in April 2022 to facilitate cross-chain transfers between the two protocols. Consequently, users can transfer WETH, WBTC, USDC, USDT, DAI, GRT, and LINK between Ethereum (ETH) and PlatON.
Partnership with Flow
In April 2022, Celer Network also partnered with Flow (FLOW), a developer-friendly blockchain designed as the foundation for a new generation of games, apps and the digital assets that power them. The partnership will enable bridging of both digital assets and non-fungible tokens (NFT) to all 27 chains connected to Celer cBridge.
Dr. Mo Dong, Celer's Co-Founder, said: "As the broader ecosystem becomes increasingly decentralised and multi-chain, we are seeing plentiful opportunities for projects, developers, and creators to flourish by taking advantage of unique offerings on different chains."
Celer will enable NFT bridging after the first phase of the agreement in order to broaden the reach of self-custodial Flow-issued NFTs such as Legendary NBA Top Shot, NFL and UFC.
Users can also import additional NFTs from outside the Flow ecosystem using Celer's cBridge.
Partnership with SynFutures
Earlier in March 2022, Celer Network partnered with SynFutures derivatives exchange to support multi-blockchain future trading so that users can list and trade futures on any Celer Network partner chains.
Celer network price prediction: Targets for 2022, 2025 and 2030
celr token price prediction - ~1 time
According to the celer network price prediction from CoinCodex based on technical analysis, as of 24 August, the token's price could increase by 6.22% to reach $0.020920 by 29 August 2022.
Meanwhile, several algorithm-based forecasting services provided a bullish CELR coin price prediction for 2022 and beyond:
According to Wallet Investor's CELR crypto price prediction, the CELR token could be a bad long-term investment. Its celer network price prediction for 2022 suggested that the token could reach $0.00171 by the end of 2022 and $0.00393 by the end of 2025. Its five-year CELR price prediction indicated that the token could reach $0.000829 in August 2027.

According to DigitalCoinPrice's CELR token price prediction, the token's average price could be $0.0260 in 2022, $0.0282 in 2023 and $0.0299 in 2024. Its celer network price prediction for 2025 suggested that the token price could rise to $0.0379 in 2025, $0.0799 in 2029 and $0.10 in 2031.


According to Price Prediction, the CELR token could average $0.029 in 2022 and $0.080 in 2025. Price Prediction's celer network price prediction for 2030 indicated that the coin could reach $0.49.
When looking for a celer network coin price prediction, bear in mind that analysts' and algorithm-based expectations can be wrong. Their projections are based on fundamental and technical studies of the CELR token's past performance. Past performance is no guarantee of future results.
It's essential to do your research and always remember your decision to trade depends on your attitude to risk, your expertise in the market, the spread of your portfolio, and how comfortable you feel about losing money. You should never trade more money than you can afford to lose.
FAQs
Is celer network a good investment?

Celer is a blockchain interoperability protocol that has secured numerous partnerships with various blockchains and provides users access to various chains, DeFi, GameFi and NFT projects. Since reaching an all-time high in September 2021, its price action has been bearish. Whether the coin is a suitable asset for you to trade will depend on your circumstances and risk tolerance. Before trading, you should do your own research and remember that analysts' celer network crypto price predictions could be wrong.
Will CELR coin price go up or down?

According to the CELR/USD forecast from Price Prediction (as of 24 August 2022), it could hit $0.73 by 2031. However, Wallet Investor suggested the coin could be a bad long-term investment option. Remember that analysts' forecasts can go wrong.
How high can celer network go?

According to the celer network price prediction from Price Prediction (as of 24 August 2022), it could go as high as $0.84 in 2031. Please note that algorithm-based price targets can be wrong.
Should I invest in celer network?

The price of CELR token has been bearish lately, in line with the broader cryptocurrency market. Whether it is a good fit for your portfolio will depend on your own outlook and personal circumstances such as risk tolerance and investment goals. You should never trade or invest money that you cannot afford to lose.
Related reading