Content
A US car dealer's stock inched upwards on Friday as it delivered quarterly earnings that beat consensus despite a "challenging" market environment.
CarMax (KMX) stock was up almost 3% in pre-market US trading, rising to 5% by mid-morning. Over the last six months the stock is down 28%.
CarMax (KMX) stock
With 230 stores across the US, CarMax is the largest retailer of used cars in the country. It offers a variety of vehicle delivery methods including home delivery, express pickup and in-showroom appointments.
What is your sentiment on KMX?
Vote to see Traders sentiment!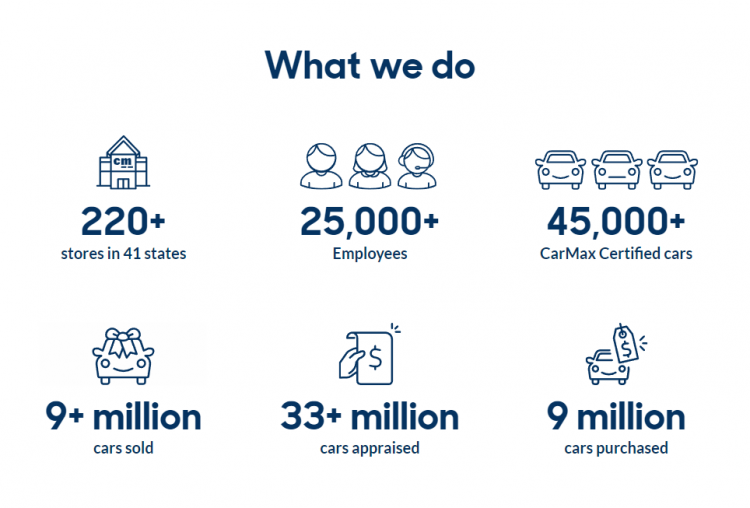 CarMax
Q1 earnings
For the fiscal first quarter ended 31 May, CarMax reported earnings of $1.56 per share on sales which grew 14% to $9.31bn (£7.58bn, 8.84bn).
Analysts were expecting earnings of $1.49 per share on sales of $9.06bn, according to figures widely available on financial news sites.
"While the used vehicle market environment was challenging in the first quarter, we continued to make progress on the key strategic priorities that enable CarMax to grow profitable market share, now and into the future," CarMax President and CEO Bill Nash said in a statement.
During the quarter, CarMax bought 362,280 vehicles from consumers and dealers, up 6.2% on the prior year. Sales of vehicles however was down 5.5% at 427,257 vehicles.
CarMax said income from its Auto Finance unit declined 15.4% as the effects of robust growth in the unit's net interest margin and receivables was outweighed by an $82.2m provision for bad loans in the quarter, reflecting a "more normalised" environment.
Car market
US car dealer sentiment softened in the three months to May as dealers' attention turned to inflation, high costs and tight inventory, according to the latest data from industry watcher Cox Automotive.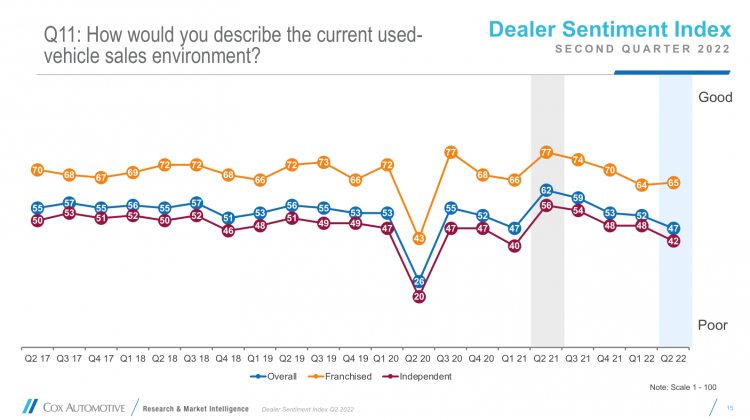 Cox Automotive
"US auto dealers are certainly feeling the pressure of inflation and tight inventory," said Cox Automotive Chief Economist Jonathan Smoke.
While all dealers are impacted by higher costs of doing business, the profit story is also different for independent dealers, as used vehicles have started depreciating again."
Overall, most car dealers view used vehicle sales as weak, Cox Automotive concluded.
Outlook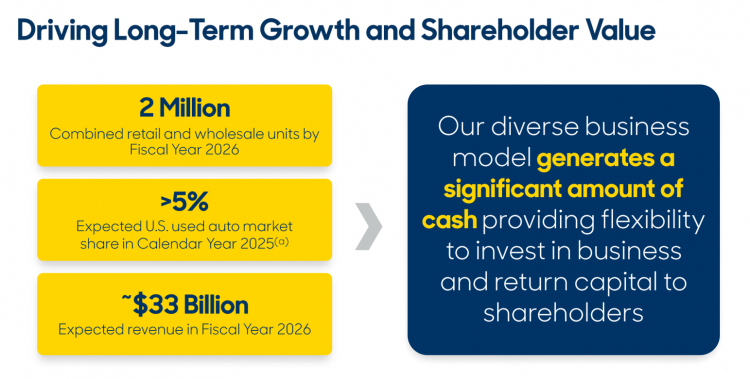 CarMax
Looking ahead, the company said it would prioritise improving CarMax's offering to consumers.
"We will now turn our efforts to further improving the experience for customers and associates by focusing on the seamlessness of our online and in-store offerings," Nash said.
Late last year, CarMax opened a Technology Centre in Plano, Texas, in order to make the car-buying process easier, using solutions such as machine learning, data science and software development.
Further reading...