Can summer travels help easyJet share price overcome recent travails?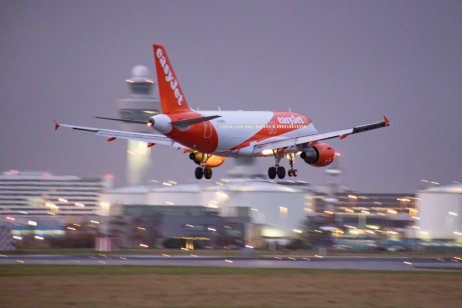 The EasyJet share price has been facing a bit of travel turbulence lately, down around 25% this year and 22% in the past month, as airport staffing problems hit.
But is demand recovering, and can the budget airline overcome higher costs and boost profits over the summer and into the winter?
EasyJet (EZJ) share price chart
Despite it being summer season for Europe, easyJet (EZJ) is experiencing some chilly weather at present.
Ongoing disruption means easyJet downgraded expectations on Monday. It now expects its third quarter capacity to be around 87% of pre-pandemic levels, down from predictions of 90%. It anticipates building to 90% for the final quarter. This, together with increased investment to improve operations, means easyJet (EZJ) will exceed its underlying cost guidance for the full year.
What is your sentiment on EZJgb?
Vote to see Traders sentiment!
PR firestorm
Flight cancellations are being caused by staff shortages, air traffic control delays, increased turnaround times, flight caps at some airports. The group has decided to consolidate several flights, and hopes most customers can rebook on separate flights with the same departure date.
Sophie Lund-Yates, equity analyst at Hargreaves Lansdown wrote in a note: "This year's summer season was meant to be a festival of resilience for airlines, a chance to show off their strength at getting through the pandemic, and successfully ferrying customers on their seriously long-awaited holidays."
"Instead, the industry has been hit by a PR firestorm, as scaled back workforces buckle under the weight of returning demand, leading to last minute cancellations. EasyJet has now announced plans to consolidate its planned departure list, with hopes most customers will be able to rebook without changing their leaving date," Lund-Yates added
Share price may get a boost
With easyJet's share price taking a bit of a hit, can the summer period of holiday travel help its stock price to rebound?
Well, Lund-Yates stresses that easyJet's (EZJ) current plans are not only going to prolong its total recovery, but the costs associated with ramping operations back up will be huge.
With that said, it's not all bad news for easyJet (EZJ). Trends are positive and demand for travel is there. Not being able to service that demand is a challenge, but analysts believe the future does bode well for the airline.
Analysts at Peel Hunt, however, have retained their 'buy' recommendation for easyJet (EZJ) but have cut the target price from 670p to 550p on the stock. But with the current price at around 405p, that still leaves nearly 36% upside to Peel Hunt's target price.
"While demand is robust, with good forward bookings and fares, staff shortages are impacting airports and airlines, causing increased turnaround times and cancellations," Alexander Paterson, analysts at Peel Hunt wrote in a note.
Despite this, Paterson believes labour shortages should be less acute in Winter 2022/23, which may help easyJet share price.