BuzzFeed (BZFD) releases full-year outlook, shares lower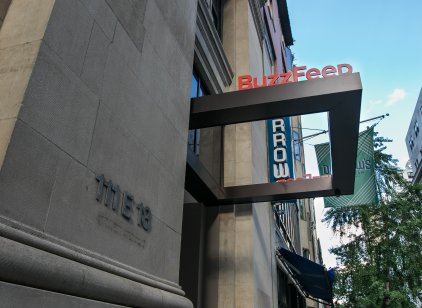 BuzzFeed shares are lower Thursday after the digital media company released a full-year outlook for the year ending 31 December. The guidance shows growth in advertising and commerce revenue and a decline in content revenue.
The owner of brands including BuzzFeed Entertainment, HuffPost and Tasty is forecasting "low 30s percentage growth" in ad revenue on a year-over-year basis. "Low 30s" would be double what BuzzFeed took in during 2020. Ad revenue grew 16.6% to $149.7m (£112.5m) in 2020.
Content revenue is expected to decline by a "low single-digit" percentage. Content revenue fell 20.6% to $119.8m in 2020.
Commerce and other revenue should increase by a "high teens" percentage. Commerce and other revenue grew 34.2% to $51.8m in 2020.
BuzzFeed did not forecast total revenue.
The adjusted EBIDTA margin is forecast at 10%, matching 2020, and better than the negative 3% from 2019.
Complex Networks acquisition
The year-end forecast excludes CM Partners (Complex Networks). BuzzFeed closed the $300m acquisition of the global youth entertainment company on 3 December.
BuzzFeed said it sees "low 30s percentage growth" by Complex Networks, outside of related party revenue, which fell 7% to $99.8m in 2020.
Shares fall
The 2021 financial results will be the first yearly report for Buzzfeed as a public company. BuzzFeed went public on 3 December through a merger with special purpose acquisition company (SPAC) 890 5th Avenue Partners.
The stock was down 3% to $5.36 per share at 12:05 ET (UTC-5).
Shares debuted on 6 December on the Nasdaq at $10.95 and fell more than 22% by day's end to $8.56 on news that 94% of the investors who backed BuzzFeed's merger decided to redeem their shares at $10 per share rather than stay invested in the combined entity.
Read more: BuzzFeed (BZFD) shares fall 20% below offer price in debut