Buzzfeed (BZFD) gets rug pulled by SPAC IPO share redemption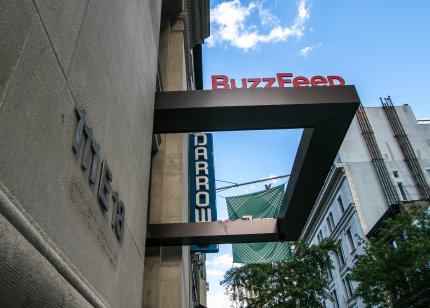 While investors in the blank-cheque firm merging with Buzzfeed approved the business combination late Thursday, 94% of them decided to redeem their shares at $10 per share rather than stay invested in the combined entity.
SPAC 890 5th Avenue Partners stock fell as much as 14% when US trading began Friday to as low as $8.50 per share, versus Thursday's $9.91 closing share price. Eighth Avenue Partners trades over the Nasdaq exchange under the ticker "ENFA".
Just under 80% of 809 5th Avenue Partners shareholders voted, with 98.2% of voting shareholders approving the merger. Of that total, however, just 6% opted to invest in the combined entity, according to records filed with the US Securities & Exchange Commission.
As a result, when factoring in the $150m in convertible private investment in public equity (PIPE) notes, Buzzfeed raised $166.0m in proceeds, instead of the $437.5m it expected.
Merger closing Friday
The merger closes Friday and Buzzfeed is scheduled to begin trading Monday on the Nasdaq exchange under the ticker "BZFD". At the $9.91 per share price of SPAC 890 5th Avenue Partners at the time of the vote, the new company is valued at roughly $1.5bn.
The PIPE financing comes from a June funding round led by Redwood Capital Management for $250m. The funding round included CrossingBridge Advisors, Cohanzick Management and Silver Rock Financial, Buzzfeed previously announced.
Acquiring Complex Networks
Buzzfeed's planned acquisition of Complex Networks from Verizon Communications, including The Huffington Post and Tasty, also closes Friday. The Complex acquisition is funded by a combination of cash and equity totalling $300m.
Buzzfeed reported a $15.7m net loss for the nine months ended 30 September on revenue of $251.8m. Revenue grew 27% year over year during the period. The net loss narrowed 25% from $21.1m in the prior period.
Union negotiations
The merger comes amid labour strife, as Buzzfeed is in contentious negotiations with the Buzzfeed News Union, a member of NewsGuild New York. Buzzfeed News staff unionised in February 2019 and have been in collective bargaining negotiations since.
"We've been bargaining our contract for almost 2 years, but BuzzFeed won't budge on critical issues like wages — all while preparing to go public and make executives even richer," the Buzzfeed News Union said Thursday in a statement. "So (Thursday), we're walking out to send a reminder that there's no BuzzFeed News without us."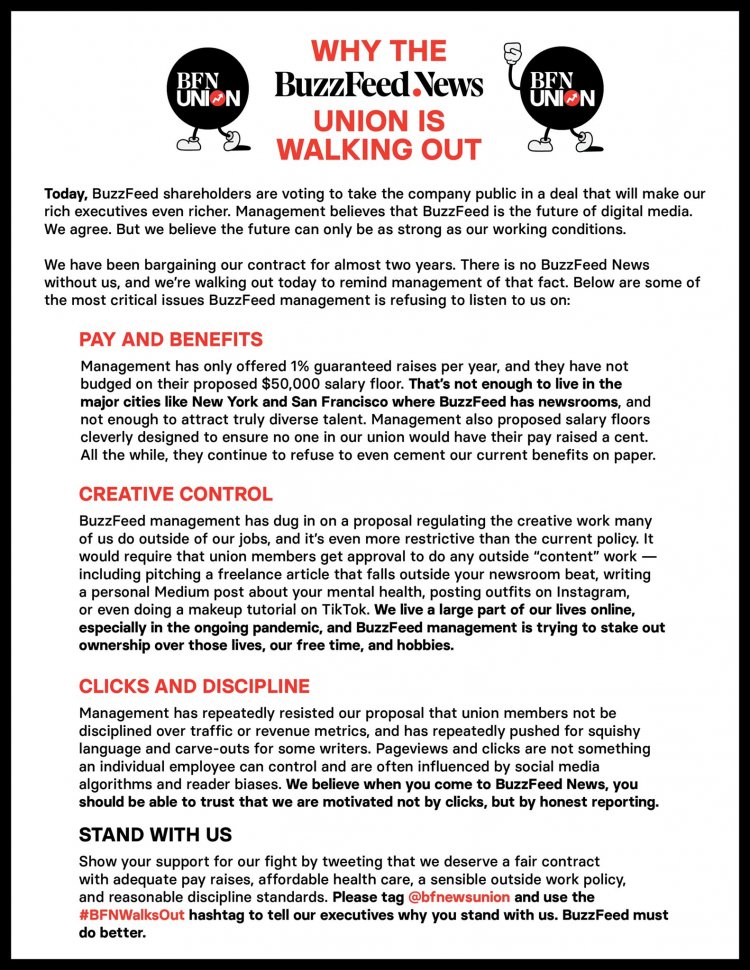 Buzzfeed News Union Walk Out
Read more: BuzzFeed plans job cuts reorganisation after revenue miss