Broadcom (AVGO) earnings, buybacks propel stock to new highs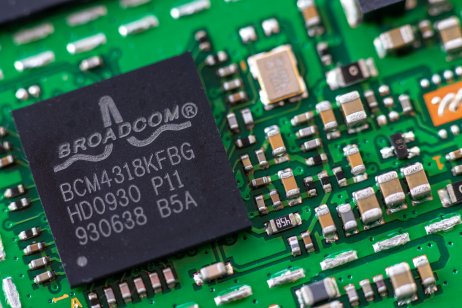 Broadcom stock rose to new highs on Friday after reporting strong fourth quarter earnings that positions it as the most profitable semiconductor company in the world, according to analysts at the Bank of America.
The chip maker's stock rose as high as $644.75 per share on Friday for a 10.5% gain over Thursday's close and marking a new all-time high for Broadcom. The company's stock has gained $107 per share since the start of November and is now trading more than 50% higher year to date.
Bank of America said the stock has room to climb another 100 points to a price target of $750 per share, according to a report sent to Capital.com. Broadcom trades under ticker AVGO on the Nasdaq Composite exchange.
"We believe AVGO is uniquely positioned as the most profitable semi company (50%-plus free cash flow margins), with proprietary/sticky products across cloud, enterprise, networking, 5G and smartphone," Bank of America analysts wrote in the report.
Quarterly results
Broadcom reported revenues of $7.4bn (£5.58bn) during its latest quarter ended 31 October, which is up 15% year over year. For the full fiscal year 2021, net revenue is up to $27.45bn from $23.88bn last year.
By segment, Broadcom's semiconductor solutions revenue is up 18% year over year to $20.38bn as demand for chips continues to surge as it has through the pandemic. Broadcom expects total revenue to continue to rise to $7.6bn in the first quarter of fiscal year 2022.
What had the stock really popping on Friday was the announcement of a new $10bn share repurchase authorisation to be executed through 2022 and an increase in the company's dividend by 14% compared with consensus estimates of 10%, according to Bank of America.
"The initiation of a new share repurchase program reflects the confidence of the board of directors in Broadcom's strong cash flow generation and provides us with a complementary tool to deliver value to our stockholders," said Kirsten Spears, CFO of Broadcom.
What is your sentiment on AVGO?
Vote to see Traders sentiment!
Business positives and risks
Broadcom continues to benefit from the increased demand for semiconductors, which is up 30% year over year across all enterprise uses, according to Bank of America.
The company already has one of the highest profit margins in the industry at 61.5% EBITDA. Bank of America notes the company could further benefit from its partnership with General Motors as supply chain issues abate and car sales increase.
But risks persist, especially from Apple, which accounts for around 20% of Broadcom's sales. Apple cut its estimates for iPhone 13 units shipped in 2021 by 10 million in October and earlier this month, it was reported that the company may not be able to fulfill those lost orders in the first quarter as was previously expected.
Additionally, Broadcom is attempting to limit double ordering and ship to true end-demand. The company continues to look for potential acquisition deals that could potentially limit growth in the short term, Bank of America noted.
Read more: Apple (AAPL) shares fall 3% on weaker iPhone 13 demand