Bangladesh taka forecast: BDT under pressure as Bangladesh Bank counts cost of dwindling foreign reserves, IMF bailout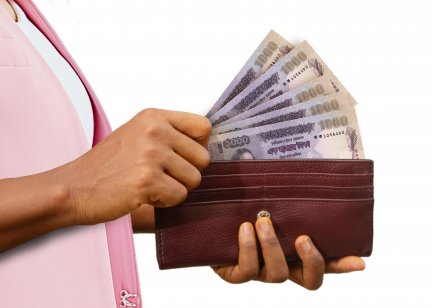 Content
The Bangladesh taka (BDT) has weakened by over 15% against the US dollar (USD) across the year. A combination of dwindling foreign reserves as exports decline and oil and gas prices rise has pulled the taka to a record low.
Read on for the latest USD/BDT news and analysts' Bangladesh taka price predictions.
What is the Bangladeshi taka (BDT)?
The Bangladeshi taka is the official currency of the People's Republic of Bangladesh. The central bank of Bangladesh controls the currency and its issuance.
USD/BDT measures how many Bangladeshi taka are equal to one US dollar. For example, if USD/BDT is 95, it means that 95 BDT is equal in value to one USD.
The USD/BDT exchange rate is set by several dealer banks, which buy and sell currency, and the rate fluctuates depending on supply and demand. The Bangladeshi central bank, on occasions, intervenes in the forex market, purchasing US dollars to maintain orderly market conditions.
Bangladesh taka historical performance
At the start of 2012, USD/BDT traded at 75.65. The pair rose to 84.30 by February of the same year.
However, those gains were short-lived, and USD/BDT eased back to the 77 level until late 2015. The pair started steadily creeping higher from here, rising to 85 by June 2018.
Once again, the pair stabilised at this level until early this year, when the Bangladesh taka weakened again, and USD/BDT rose steeply higher, hitting a succession of all-time highs.
USD/BDT started 2022 at around 85. By June the taka had weakened considerably to a record low of 92, before breaking through 100 taka for 1 USD on September 15.
The pair reached 106.90 on October 19, a new record low for the taka. Since then the taka has recovered slightly to 100.27 where it trades at the time of writing.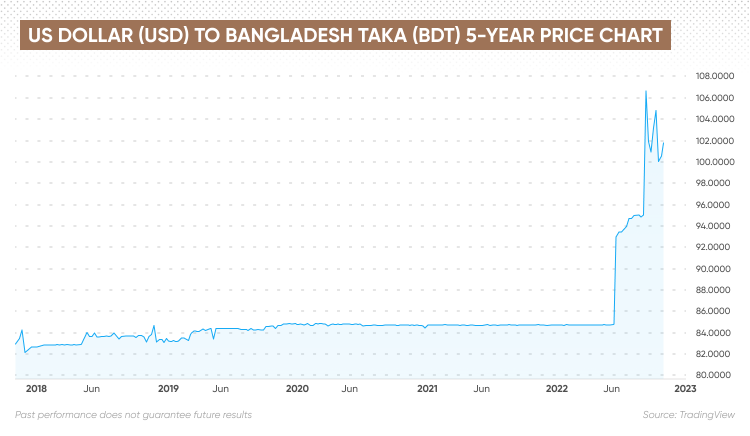 What drives the value of the taka?
Several factors can influence the Bangladeshi exchange rate. These include:
Interest rates
Central bank monetary policy is a key driver of foreign exchange rates. Higher interest rates are more attractive for foreign investors, boosting demand for the currency and lifting its value. When interest rates are cut, investors will often pull money from the country and look to invest elsewhere, which can lower the currency's value.
Central banks make monetary policy decisions, such as whether to hike or cut interest rates, depending on economic growth, inflation levels and the health of the labour market. The rate at which the US Federal Reserve (Fed) is raising or cutting interest rates could also be an influencing factor.
Economic growth and inflation levels
A central bank could look to raise interest rates when inflation is rising and an economy is growing at a solid pace, lifting the currency's value. When economic growth slows, and inflation cools, a central bank will look to cut interest rates to stimulate the economy.
The Bangladesh economy has experienced strong growth and development in its short history, owing partly to its success in textiles and as an exporter of garments. However, more recently, high inflation, food and fuel crises, and falling forex reserves have weakened the macroeconomics of the country.
According to the World Bank Bangladesh's gross domestic product (GDP) is expected to grow by 6.1% in 2023 after being downwardly revised 0.6% in October. This fiscal growth is expected to be 6.7%
Foreign currency reserves
Currency reserves are another influential factor affecting a country's exchange rate. The central bank uses reserves to help maintain a steady rate. Reserves buffer against headwinds that could impact the economy or exchange rate.
Trade deficit
A trade deficit is when imports exceed exports and typically means that international demand for that currency is weaker. As a result, the value of the currency can fall. If a country is heavily dependent on oil and gas imports, and the price of these commodities rises, the trade deficit can widen quickly.
What has been driving the taka recently?
Forex reserves held by Bangladesh's central bank were $35.84bn on 26 October, a steep decline from $46.49bn a year earlier and the lowest level in over two years. It was approximately enough to cover just four months of imports.
Foreign exchange reserves are falling due to the imbalance in imports and exports, a high dependency on imported oil and gas, and a slowing inward remittance trend.
Bangladesh reportedly received inward remittance of $1.53bn in September, down from $2.09bn in July.
Furthermore, exports are declining as external demand for apparel falls following the Russian invasion of Ukraine. With multi-decade high inflation in the US and the deepening cost of living crisis in Europe, exports, particularly for women's garments, are declining.
Bangladesh has a high dependency on oil and liquefied natural gas (LNG), the prices of which have risen sharply since the start of the Russia-Ukraine war. As a result, foreign exchange liabilities have soared in line with increasing oil and gas prices in the global market.
Money for fuel oil to make electricity is dwindling quickly, meaning power cuts are becoming more frequent.
The Bangladesh bank highlighted these concerns in its FY 2022 to 2023 monetary policy statement:
"Bangladesh has been facing growing inflationary and exchange rate depreciating pressures since the second half of FY22, mainly due to the spillover effect of unexpectedly higher global inflation rate along with widening current account deficits."
Concerns over debt levels are also rising. At the end of the fiscal year, in June, outstanding foreign loans stood at $95.85bn, up from $81.57bn a year earlier. A total of $20.65bn in short-term foreign loans, mainly in the private sector, are of concern, given the shortage of foreign currency in Bangladesh
The International Monetary Fund (IMF) has started loan talks with Bangladesh amid rising concerns over its foreign reserve levels and its ability to manage debt. The country follows in the footsteps of Sri Lanka and Pakistan, making it the third South Asian country to approach the IMF for a loan this year.
Reports suggest the government is hoping to secure $4.5bn, which would go towards building a buffer for foreign exchange reserves. A decision is expected by mid-November, and any deal could include policy reforms, particularly surrounding the financial sector.
Bangladesh has also been seeking assistance from the World Bank and Asian Development bank.
Bangladesh taka forecasts for 2022 and beyond
USD/BDT forecasts
As of 1 November, analysts at TradingEconomics expected the taka to continue weakening. In their USD/BDT forecast, analysts predicted the pair could be at 103.03 by the end of the quarter and 109.05 in 12 months.
The USD/BDT forecast from algorithm-based forecaster Wallet Investor predicted that the BDT could weaken in the near term, with USD/DBT ending 2022 at 101.36. Its US dollar Bangladesh taka forecast for 2025 predicted a rate of 109.16 by the end of the year.
The forecaster's USD/BDT prediction for 2027 saw the pair rising to 114.79. Continuing with this trend, the US dollar Bangladesh taka forecast for 2030could be higher still as the taka continues to weaken. However, at the time of writing, no services offered a forecast so far into the future.
EUR/BDT forecast
Waller Investor's euro to Bangladesh taka forecast for 2022 had the pair ending the year at 100.00. The service predicts that the taka will continue to weaken against the euro over the coming years. The services' EUR/BDT forecast for 2025 is 102.11.
It is important to remember that analysts' and algorithm-based US dollar to Bangladesh taka forecasts can be wrong. Always conduct your own due diligence before trading, looking at the latest news, technical and fundamental analysis, and analyst commentary. Past performance does not guarantee future returns. And never trade money that you cannot afford to lose.
FAQs
Is Bangladesh taka a good investment?

The Bangladesh taka has weakened considerably over the past year and, according to the latest forecasts, could continue to fall. However, should the country agree on a deal with the IMF, then the selloff in the taka could ease.

Whether it is the right investment for you depends on your trading objectives. It's important to do your own research, taking into account your attitude to risk, your expertise in the market, the spread of your portfolio and how comfortable you feel about losing money. Remember to never trade more than you can afford to lose.
Will the Bangladesh taka go up or down?

No one can say for sure. Where USD/BDT goes from here could depend on the economic conditions in both countries.
Should I invest in Bangladesh taka?

Only you can decide whether you should invest in the Bangladesh taka. Be sure to do your own research, considering the country's economic outlook, GDP, imports, exports, inflation data, and foreign exchange reserves. Never invest money you cannot afford to lose.