Aussie wheat output to reach record high in 2021/2022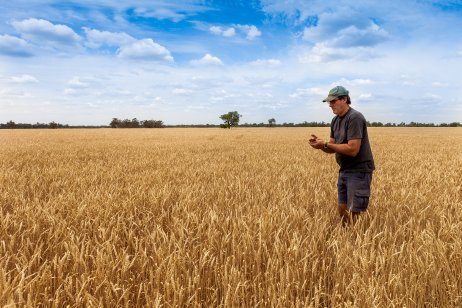 Australian Bureau of Agricultural and Resource Economics and Science (ABARES) has revised up its forecast for winter wheat production to 34.4 million tonnes for 2021/2022 from its previous estimate of 32.6 million tonne due to favourable weather during the growing period.
The production will set a new record and it will be 3% higher than the previous record set in 2020/2021, according to ABARES in its Australia Crop Report on Tuesday. According to the data, Australia produced 33.34 million tonnes of wheat in 2020/2021.
Apart from wheat, the bureau forecast canola ouput to reach a new record of 5.7 million tonnes, or 27% increase from the previous record in 2020/2021. Barley production is expected to increase marginally to 13.3 million tonnes, about 2% below the previous record set in 2016/2017. Canola production is forecast to reach a new record of 5.7 million tonnes, 27% above the previous record set in 2020/2021.
Record national output
With estimated record output for wheat and canola, the country's winter crop production for 2021/2022 is forecast to reach a new national record of 58.4 million tonnes, according to the bureau.
"Crops were generally in good condition at the end of winter and a combination of sufficient rainfall and mild temperatures over spring further improved crop prospects nationally," ABARES said.
The bureau noted that heavy rainfall in November associated with La Niña has delayed harvests in eastern states and South Australia. The wet weather is also likely to downgrade the quality of crops in some areas.
Summer crop outlook
The wet weather from the La Niña will also increase the chance of above average rainfall across much of northern and eastern Australia during summer.
As for summer crop, the bureau forecast area planted to summer crops in 2021/2022 to increase by 36% to reach 1.4 million hectares due to favourable soil moisture levels in late spring and high water storage levels.
Read more: Wheat price forecast: Will it stay at 9-year high?