Asian stocks up as investors less wary on Omicron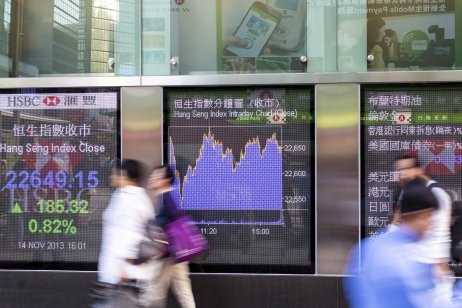 Asian stocks rose on Tuesday, tracking overnight gains on Wall Street, as investors are less wary on Omicron variant of the coronavirus as preliminary data suggests that the newly identified strain may not be as bad as initially feared.
Rebound in tech stocks help lift major bourses in the region. At midday, the Hang Seng index rose 1.5%, with Alibaba surging 9.1% after losing nearly 6% on Monday.
Tencent rose 1.9%, while the cash-strapped property developer Evergrande up 0.6% after plummeting over 20% to all-time low in the previous session.
Softbank reverses losses
In Japan, Softbank jumped 8.3%, reversing a seven-day losing streak. The Nikkei 225 index rose 1.9%, with automaker Toyota up 1.7%.
South Korea's KOSPI rose 0.35% with Samsung Electronics gaining 1.3%. On mainland China, the Shanghai composite edged up 0.1%.
Over in Australia, the S&P/ASX200 rose 1.1%. Oil Search jumped 3.9% as proxy votes favour a $6.2bn buyout bid from Santos, which rose 2.3%.
Read more: US market close: Dow jumps 650 points, S&P and Nasdaq up