AMC stock split: Shares dive on announcement of proposed reverse stock split and capital raise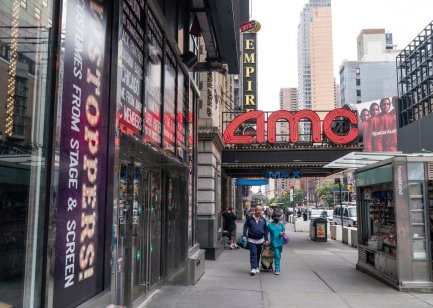 Content
AMC Entertainment (AMC) announced on 14 March that its investors have approved a 1-for-10 reverse stock split and plans to now increase the total number of shares. However, following the announcement, AMC share price fell over 15% on 15 March.
Shareholders of the theatre chain voted to issue new shares of stock in the hope that it will inject the company with cash and save them from bankruptcy.
The approval of the reverse stock split will now pave the way for the movie theatre chain to keep raising cash, whilst reducing its debt load through stock sales and ultimately increase its shareholder base.
Preliminary results for APE conversion proposal passed with 978 million votes. The second proposal, which was the reverse split of the company's common shares at a ratio of 10:1, also passed by a similar majority.
In 2022, AMC lost three-quarters of its stock value, as the company's valuation was hit by a deterioration in macroeconomic conditions while senior management systematically diluted shareholdings by raising capital via the sale of a new class of shares called AMC Preferred Equity Units – also known as APEs.
AMC stock news, as of 19 December, the company had sold $153.2 million worth of APEs to sanitize its balance sheet by using the proceeds to reduce its corporate debt.
In late December, the firm announced the sale of another $110 million equity stake via the sale of more APE shares that will be purchased by a firm called Antara Capital LP at $0.66 per share.
In addition, AMC Entertainment's Board of Directors is proposing an AMC reverse stock split and the conversion of APE shares into AMC common shares at a ratio of 1-for-1.
As of 16 March 2023, AMC stock traded at $4.09, having shed close to 71% of its value over the past year.
AMC Class A Stock Live Price Chart
What does this AMC share split means for existing shareholders and how it can affect the AMC stock price? In this article, we provide further details about this corporate action and its implications.
What is AMC Entertainment (AMC)?
AMC Entertainment is one of the world's largest movie theater chains. It was founded in 1920 by the Dubinsky brothers in Kansas City but has expanded its footprint to several countries. Its largest market by revenue is the United States.
As of 16 March, AMC owned and operated 943 theatres worldwide and more than 10,000 available screens. Meanwhile, during the first nine months of the year, its venues attracted 151.38 million attendants and produced revenues of $2.92 billion.
The US market is the most important for AMC as it accounted for approximately three-quarters of its revenues during these first nine months. The top two revenue segments for the firm are ticket sales and food and beverage with the second being the most profitable for AMC Entertainment.
Adam Aron is AMC's Chief Executive Officer (CEO). He has been at the helm since January 2016. The company employs over 25,000 people and is headquartered in Leawood, Kansas.
AMC Entertainment became a public company in December 2013 when it sold its shares to the public at $18 apiece.
AMC became part of the meme-stock trading frenzy in 2021. That new cash from retail investors pushed share prices as high as $72.62 in May of that year, but it ultimately wasn't enough to lift the company's fortunes.
Since 2019, the value of AMC stock has dropped by over 70%. During this same period, the S&P 500 Index (US500) and the tech-heavy Nasdaq 100 Index (US100) generated gains of 38% and 69% respectively.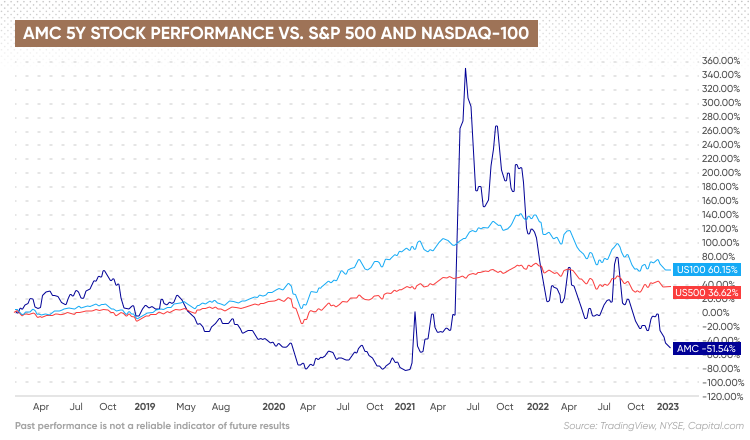 What is a stock split?
A stock split is a corporate action that consists of increasing the number of common shares in circulation of a certain publicly traded entity. These newly issued shares are distributed among existing stockholders, meaning that the transaction does not have a dilutive effect
Once the operation is completed, the price of each individual stock typically declines as the number of shares in circulation increases while the total value of the company's equity remains unchanged.
Corporations usually engaged in this type of operation to increase the liquidity of their shares in the open market as a lower price could attract retail investors with relatively low investment budgets.
However, the introduction of innovative financial products such as contracts for difference (CFDs) and fractional shares have made it easier for investors who have a relatively small investment budget to buy shares of virtually any company without committing that much money.
Another reason that may justify a stock split is that some investment funds may not be permitted to buy shares whose price is lower or higher than a certain threshold. Attracting those funds could be considered a good reason for splitting a stock.
AMC stock split history
In the case of the above-mentioned AMC stock split, the Board is proposing a reverse stock split. This operation involves the opposite of a regular split as it will eliminate a certain number of shares to increase the price of the stock.
This typically occurs if a firm needs to maintain the price of its common shares above a certain threshold to comply with the minimum requirements of the exchange where they are listed. The AMC stock split that the Board is proposing is a 10:1 reverse split, meaning that stockholders will end up owning one common share for every ten they previously held.
According to data from StockSplitHistory.com and other similar financial data providers, an AMC stock split has not occurred since the company went public in 2013.
This means that, if approved, the Board's proposed 10-for-1 reverse stock split will be the first of its kind in the history of the company.
What is your sentiment on AMC?
Vote to see Traders sentiment!
AMC stock split approved but will lawsuit hinder it?
As of 14 March 2023, investors have approved a 1-for-10 reverse stock split and plans to increase the total number of shares. The approval will enable AMC to convert a series of recently issued preferred shares, APE, into common stock.
On 14 March, CEO Adam Aron said:
"I would like to commend our shareholders for the wisdom exhibited in your votes by approving these proposals, and doing so by a wide margin. This is a landslide victory that shows your determination to keep AMC a strong and innovative company and the leader of our industry."
Aron also said that the APE conversion vote will eliminate the gap between the value of AMC shares and the preferred dividend, which has hampered the company's efforts to sell stock.
As well as its declining share price, AMC has a further hurdle to overcome and that will be concerning its court hearing on 27 April at Delaware Chancery Court. The hearing relates to a class-action lawsuit by disgruntled shareholders that were originally against the issuance of the APE preferred stock.
Eric Wold, analysts at B. Riley securities believes it will be difficult for the Delaware judge to oversee upcoming the class-action lawsuit and rule against the validity of the vote, given the fact that the majority of shareholders voted for it to proceed.
Wold continues to view a positive path for AMC to raise capital, repair its balance sheet and also chase M&A opportunities but Wold maintains a 'neutral' recommendation and $4.50 price target until final approval has been given.
AMC Entertainment (AMC): Analyst sentiment
According to data from MarketBeat, the consensus recommendation from analysts for AMC Entertainment stock was "reduce", based on 4 analysts ratings, a consensus analysts price target of $3.12, which is a downside of over 26%.
CNN finance said the 5 analysts offering 12-month price forecasts for AMC Entertainment Holdings Inc have a median target of 2.00, with a high estimate of 4.50 and a low estimate of 0.50. The median estimate represents a -52.49% decrease from the last price of 4.21.
On 29 December, analysts from Wedbush Securities commented:
"AMC has the cash to continue operating through an improved theatrical environment in 2023, with its vast network of premium large format screens".

"We expect revenue to near 2019 levels while (earnings before interest, taxes, depreciation, and amortization) margin continues to lag behind with various macroeconomic pressures not present in 2019".
FAQs
Who owns the most stock in AMC?

The majority of AMC Entertainment shares are in the hands of retail investors as indicated by data from GuruFocus. Only 29.75% of the company's stock float is in the hands of institutional investors as of 4 January.
Is AMC a good stock buy?

The consensus recommendation for AMC Entertainment stock (AMC) as of 4 January was "hold" based on the opinion of 4 analysts as indicated by data compiled by MarketBeat. However, analysts can and do get their predictions and stock price targets wrong. Always do your own research before trading or investing. And never trade more than you can afford to lose.
How high will AMC stock go?

The highest 12-month prediction from analysts according to data from MarketBeat stood at $8.5 per share. This implies an upside potential of more than 100% in the near term. This should not be considered a recommendation to buy AMC stock. Past performance is not a guarantee of future results. Always do your own research before trading or investing, and never invest more than you can afford to lose.