AMC stock forecast: red flags all over as cash keep shrinking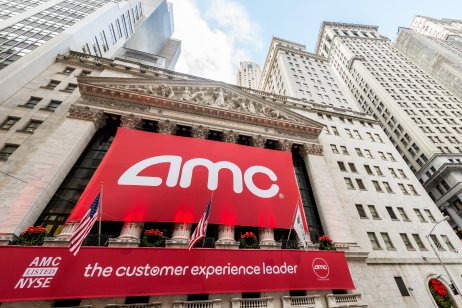 The performance of AMC Entertainment (AMC) stock remains disappointing compared to the eye-popping gains delivered during the meme stock craze of 2021 as macroeconomic conditions in the United States continue to deteriorate and sentiment across the market remains relatively pessimistic.
Even though the 18% jump that the stock experienced on 27 May was encouraging for retail investors who hoped that a short squeeze may have started to unfold, the stock quickly shed most of those gains to close last month with an 18.6% loss.
It appears that shattering a 15-year-old record for domestic box office sales during the latest Memorial Day weekend did not help the stock in attracting fresh buying interest.
What could be expected from this meme stock in a challenging environment where the words recession and stagflation keep being uttered?
In this article, we assess the latest AMC stock news along with its price action and fundamentals to outline plausible scenarios for the future.
AMC stock analysis: Technical views and price drivers
The AMC stock market price has been on a sharp downtrend ever since the stock hit all-time highs in June 2021 amid the short and gamma squeezes led by retail traders buying short-dated derivatives en-masse to force short sellers to cover their losses.
Since then, the stock has not moved anywhere near the AMC highest stock price of $72.62 a share from those days.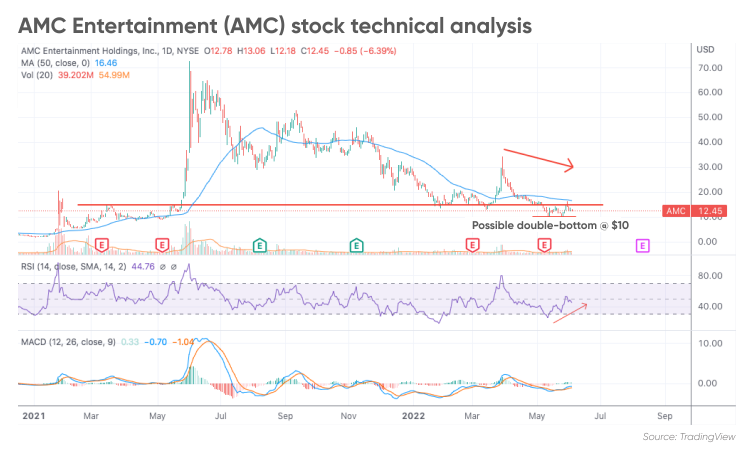 The technical analysis shows that AMC has failed to move above the 200-day simple moving average on multiple occasions since 2022 started, making lower lows.
That said, a double-bottom pattern may have emerged in the past few weeks as the stock bounced off the $10 level in two separate instances. Double bottoms are considered bullish formations that might lead to an uptrend if the stock's former highest high is broken.
However, it is still too early to tell if the pattern will play out as expected. For this to happen, the stock would have to move above the $17 level in the next few sessions.
If that happens, the price could rise to at least $25 per share to tag AMC's 200-day simple moving average. This would result in an upside potential of 100% based on 3 May's closing price of $12.45 if that target is hit.
Momentum indicators have been favouring a short-term bullish outlook, as of 6 June, as the Relative Strength Index (RSI) was rising despite the price not moving aggressively higher. This phenomenon is known as a bullish divergence and it points to an upcoming reversal in the price trend. Moreover, the Moving Average Convergence Divergence (MACD) just moved above the signal line and, even though the indicator remains in negative territory, histogram readings have also turned positive in the past few sessions.
Note that any positive technical signals alone should not be considered a recommendation to trade AMC stock as macroeconomic, sector-specific and some AMC share price news may unexpectedly affect the stock's performance.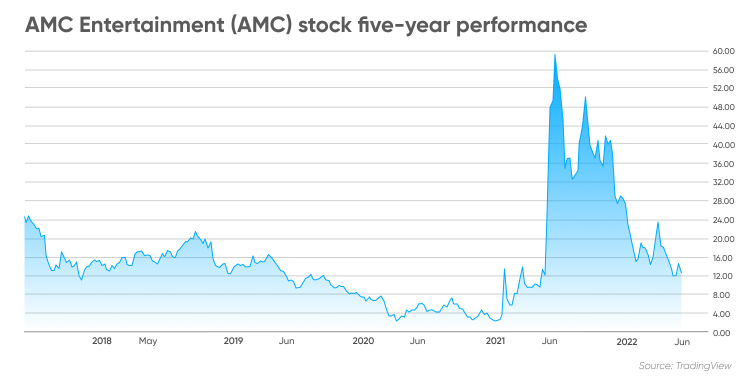 AMC fundamental analysis: Latest earnings
On 9 May, AMC reported its financial results covering the first quarter of the 2022 fiscal year. During the three months ended 31 March, total revenues produced by the movie theatre chain experienced a significant boost at $785.7m compared to $148.3m the firm reported during the same period a year ago as attendance has continued to normalise.
In the United States alone, the company catered to 39.08 million attendants during this quarter, compared to 6.8 million the previous year, while the number of average active screens rose 50.2% to 10,099 as more venues have been successfully reopened.
"Welcome back to the cinema, welcome back to the world of AMC!"
Net operating losses were more than 3 times smaller than a year ago at $166.9m. Net losses stood at $337.4m, compared to $567.2m the firm shed in Q1 2021.
By the end of this period, AMC reported total corporate borrowings of $5.52bn, resulting in a $100m increase on a year-on-year basis, while cash and equivalents diminished by more than $400m, compared to previous year. As a result, liquid reserves stood at $1.16bn by the end of the quarter, while assets for the firm finished the quarter at $10.35bn.
Free cash flows were similar to a year ago at $329.8m. This puts pressure on the management team to raise more capital in the near future.
Could growing attendances boost the company's performance and push AMC stock higher? The success of TOP GUN: MAVERICK has contributed to the AMC theatres' record-breaking performance lately.
According to the
press-release
: "In all, nearly 4 million guests came to an AMC in the United States to see a movie during the holiday weekend. In addition, approximately 1.1 million guests came to see a movie at our international theatres. That's more than 5 million guests who came to a global AMC this past weekend, versus nearly 2.6 million the same weekend in 2021."
AMC stock projections: Analyst sentiment
The consensus recommendation from analysts surveyed by MarketBeat was 'sell' for AMC, as of 6 June. This painted a bleak picture for the future of AMC stock.
The average AMC price target was standing at $6.75 a share implying a 45.78% downside risk based on last Friday's closing price. Moreover, the highest 12-month AMC projected stock price from analysts was set at $7.50 and the lowest at $6.
In regards to the stock's outlook, analyst Eric Handler from MKM Partners recently commented: "[W]e remain concerned about the slower-than-anticipated pace of the theatrical industry's overall recovery, most notable a 30% decrease in content volume attributed to the lack of mid-level movies.
"In addition, specific to AMC, it could take many years for the company to grow into its capital structure, which has seen a 400% increase in shares outstanding since the start of the pandemic along with its sizable $5.57 [billion] of debt."
According to David Jones, Capital.com's Chief Market Strategist: "It could be surprising to some that interest still remains in the meme stocks, almost 18 months after the frenzy started. The price is down by more than 80% since June of last year and although there may still be some of the faithful hanging blindly on, it is difficult to see much excitement for AMC in the short to medium term.
"Arguably a short-term base has appeared around $10 so weakness back to here could bring some buyers out - but now this just looks like a stock that has been weak for 12 months although admittedly rallies can be sharp and impressive - but these don't last long before the stock turns lower again."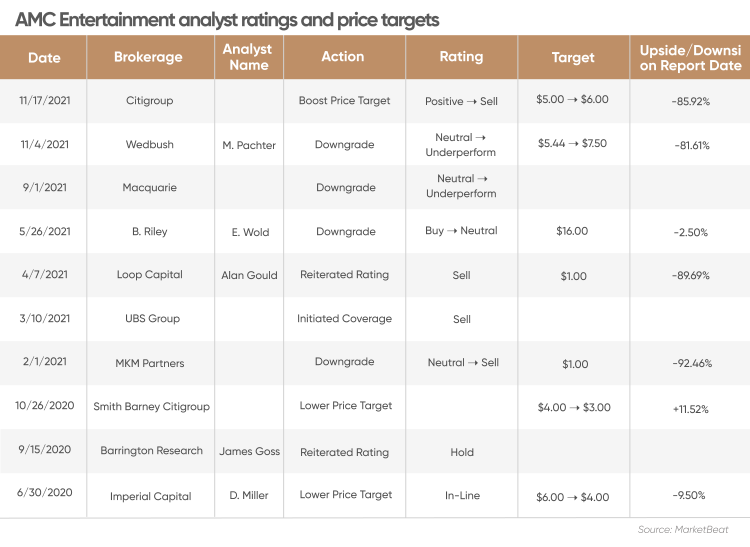 AMC stock forecast: Targets for 2022-2025
What's out there for the AMC future stock price for the rest of 2022 and beyond? Several algorithm-based forecasting services gave mixed AMC price predictions, as of 6 June.
Wallet Investor's short term AMC share price forecast was bearish based on an analysis of its technical indicators in the past 30 days. However, the algorithm estimated that the price of AMC could rebound and close the year at an average price of $18.888.
Meanwhile, the baseline AMC stock price prediction for 2025 was set at $51.356. Although the service did not provide AMC stock trading guidance for 2030, its five-year price target was at $67.005.
In contrast, the baseline AMC Entertainment stock forecast from GovCapital saw the price ending the year at $1.835, implying a sizable decline in the mid-term.
Looking forward, this service anticipated that the company could go bankrupt by the end of January 2023, with the stock price falling to zero.
When looking at AMC Entertainment (AMC) stock forecasts, it's important to bear in mind that analysts' and algorithm-based predictions can be wrong. Their predictions are based on analysis of the AMC share price history. Past performance never guarantees future results.
It's important to do your own research. Your decision to trade depends on your attitude to risk, your expertise in the market, the spread of your portfolio and how comfortable you feel about losing money. You should never trade more than you can afford to lose.
FAQs
Is AMC a good stock to buy?

AMC Entertainment is a money-losing business that is burning millions of dollars in cash every quarter. The firm's shrinking cash reserves are a concerning factor. Whether AMC is a suitable asset depends on your own trading objectives – and the opinion based on your own research. Remember, it's important to reach your own conclusion of the company's prospects and likelihood of achieving analysts' targets. You should never trade more than you can afford to lose.
Is AMC stock a 'buy', 'sell' or 'hold'?

According to analysts surveyed by MarketBeat as of 6 June, AMC stock was a 'sell'. Meanwhile, algorithm-based forecasting tools had conflicting views. Wallet Investor favoured a positive mid-to-long-term outlook, while Gov Capital predicted that the share price could fall to zero 7 months from now.
Will AMC stock price go up or down?

Analysts and algorithm-based forecasting tools provided mixed views on the future of the AMC stock, as of 6 June. This highlights the importance of conducting your own research and analysis of the stock before making any trading decision.
Can AMC stock hit $50 in 2022?

According to the views of Wall Street analysts, compiled by MarketBeat as of 6 June, the AMC stock could plunge to an average price of $6.75 in one year. Wallet Investor, which gave a positive AMC stock forecast, suggested the stock could end 2022 at an average price of $18.89.
Why has the AMC stock price been going down?

The valuation of companies with weak fundamentals such as AMC have been suffering amid a shift in macroeconomic conditions, hikes in interest rates and a reduction of the Federal Reserve's balance sheet.