Aluminium price retreat from six weeks high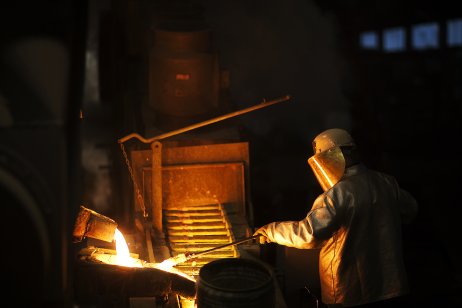 The aluminium price gave up its recent gains on Monday after rising to its highest in over six weeks last week following China's weak alumina output data.
The benchmark aluminium futures price on the London Metal Exchange (LME) dropped by 1.01% $2,707.75 per tonne.
The price of the metal rose 3.1% on Friday to hit the highest since 1 November at $2,749/tonne after China's official data showed the country's raw material alumina production in November dropped by 4.5% to its lowest in 18 months, Reuters reported.
The output decline highlighted risks of tight supply of the metal. Alumina is smelted to produce aluminium used in industries, from household appliances, car to aircraft.
Power crisis ease
Aluminium has retreated from a 13-year high of $3,156/tonne hit in middle of October as power shortage in China, which had forced power rationing in the energy-intensive smelting sector, have gradually been easing and demand showed signs of slowing.
However, ANZ Research said in its note on 17 December that aluminium output in the country will continue to be constrained by power rationing and emission curbs. China has been limiting output in its steel and aluminium smelters to cut emission.
"China is likely to maintain its heavy industry emissions limits ahead of the Winter Olympics in February," ANZ Research analysts said.
Production remain low
While profitability of Chinese domestic aluminium smelters has improved, output remains low due to the impact of environmental protection and energy consumption dual control policy, Shanghai Metal Market (SMM) reported on its note on Monday.
SMM said arrivals of aluminium ingots in east and south China were limited as cargoes were piling up at railway stations in Xinjiang.
The slow arrivals of aluminium ingots and the fresh outbreak of coronavirus in Zhejiang may slowdown the decline in aluminium ingot inventories, it added.
Benefit producer
High aluminium prices bode well for Chinese producers. CreditSights on 17 December gave outperform recommendation for Chinese state-owned aluminium producer Aluminium Corporation of China (Chalco) on the back of elevated aluminium price trends and increasing Chalco's bauxite output.
"High aluminium prices and higher output, supported by the ramp up of the Boffa bauxite mine, should boost Chalco's future revenues," CreditSights said.
The world's largest alumina and refined alumina producer's revenue in the first half of 2021 surged by 43.5% from CNY0.84bn ($131.677m) in the same period last year due to the rise in aluminium prices, according to CreditSight.
Read more: Aluminium price forecast: what's next after 10-year highs?