Microsoft's Activision Blizzard acquisition: Can regulators stop MSFT's proposed ATVI purchase?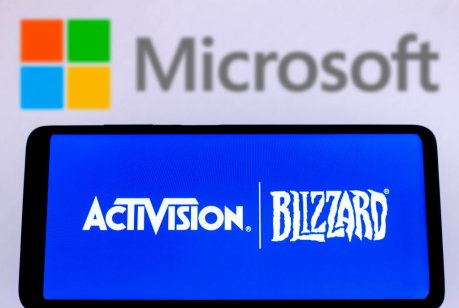 It's a $68.7bn (£56bn) takeover: US tech giant Microsoft (MSFT) is planning to acquire gaming company, Activision Blizzard Inc (ATVI), in what some analysts believe will be the biggest ever in gaming. But this billion-dollar takeover could be in jeopardy, as regulators around the world question its legality and fairness.
ATVI, which makes games such as Candy Crush and Call of Duty, will help accelerate growth in Microsoft's gaming business across mobile, PC, console, and cloud and "will provide building blocks for the metaverse".
With three billion people actively playing games today, MSFT's decision to purchase ATVI has been fuelled by a new generation's love for interactive gaming entertainment, which MSFT said is now the 'largest and fastest growing form of entertainment'.
Microsoft (MSFT) share price chart
The deal to buy Activision Blizzard (ATVI) is currently going through and scheduled to complete in June 2023, at which point, ATVI will be delisted from the Nasdaq (US100) and will no longer be a publicly traded company. However, with global regulators scrutinising the takeovers fairness, the acquisition may be more difficult than first thought.
Here is a list of all the global regulators looking into the deal with a fine-tooth comb.
What is your sentiment on MSFT?
Vote to see Traders sentiment!
The Securities and Exchange Commission (SEC)
The acquisition was announced by Microsoft on 18 January. Fast forward a few months and the SEC started an investigation into insider trading. Music and film executive, David Geffen, broadcasting manager, Barry Diller, and Diller's stepson Alexander von Frustenberg, all collectively invested over $108m and purchased stocks in ATVI at $40 a share on January 14, a few days before the takeover statement was made public by MSFT. ATVI current share price is around $80.
In a report by the Wall Street Journal, Diller said: "It was simply a lucky bet. We acted on no information of any kind from anyone. It is one of those coincidences."
Diller and ATVI CEO, Bobby Kotick both serve together on the Coca-Cola (KO) board of directors, despite the announcement that Kotick is leaving his position on the board later this year, he was talking to Microsoft about a potential takeover since November, according to an SEC filing.
The US Federal Trade Commission (FTC)
The US FTC is looking into an antitrust review of the deal to determine if the takeover would give Microsoft, which also owns and makes gaming console, Xbox, an unfair competitive advantage.
Activision Blizzard Inc. (ATVI) share price chart
UK Competition and Markets Authority (CMA)
It's not just the US that need to check through the acquisition, the UK's Competition and Markets Authority (CMA), launched an antitrust investigation into the takeover, stating that it may have a harmful impact on consumers and competitors. On 6 July, the CMA said:
"The Competition and Markets Authority (CMA) is considering whether it is or may be the case that this transaction, if carried into effect, will result in the creation of a relevant merger situation under the merger provisions of the Enterprise Act 2002 and, if so, whether the creation of that situation may be expected to result in a substantial lessening of competition within any market or markets in the United Kingdom for goods or services."
"We'll consider if gamers could end up paying higher prices, with less choice or lower quality," the statement concluded.
CMA's deadline for its investigation is 1 September.
Nasdaq (US100) share price chart
European Commission (EC)
The EC has launched an antitrust investigation in to whether Microsoft (MSFT) would shut out its competitors from Activision Blizzard's popular gaming library.
A questionnaire was circulated by the commission to rival firms in July to discuss their concerns and the acquisition. Regulators are keen to know how Microsoft could selectively degrade the compatibility and accessibility of Game Pass [MSFT video game subscription service for Xbox and PC User] on competitor platforms.
According to a report in Politico, competitors have concerns over whether Microsoft could potentially restrict access to some of Activision's titles for rival subscription gaming services if the deal goes through.
The EC's formal review can only take place once MSFT file for approval in Europe, but this questionnaire has been sent during what the regulators call the 'pre-notification' period and helps regulators gather information and identity possible antitrust issues.